In this thought-provoking blog post, Ijeoma Njaka shares her journey to Poland with the production "Remember This: The Lesson of Jan Karski" and reflects on the profound impact of teaching truth. As a learning designer, Njaka explores the connection between education, art, and the shaping of futures. She recounts her visit to the Jewish Historical Institute in Warsaw and the powerful archival materials that document the experiences of Polish Jews during the Holocaust. Through the lens of Jan Karski's legacy, Njaka emphasizes the importance of truth-telling in the classroom and its role in creating a just and inclusive future.
"I tell my students we have a future because we are speaking the truth." - Jan Karski
This is one of my favorite lines from Remember This: The Lesson of Jan Karski. It arrives near the end of the play as Prof. Karski discusses why he began telling students about witnessing the Holocaust during World War II as a Polish resistance spy and refugee. As an educator, I always find it illuminating to hear about the how and why of someone's teaching. Yet I am also struck by the idea of teaching as a way of looking forward. Though the play is performed live and the text is in the present tense, Prof. Karski speaks to us from the past. For me, it is moving to be in the future that he is not only speaking to and about, but also is a future made possible because of his dedication to teaching the truth. 
For three years, I have worked with Remember This playwrights Clark Young and Derek Goldman to design and teach a Georgetown class called "Bearing Witness: The Legacy of Jan Karski Today." In the class, we ask students to look closely at this piece of art and Karski's story to see how it resonates with them today. In January 2023, the Remember This production had the great pleasure of touring in Karski's home country of Poland with stops in Warsaw, Łódź, Krakow, and Poznan. At first, I felt surprised to be invited; though I could easily understand why the actor, director, playwrights, producers, and stage manager were critical for a tour, it was less clear to me why anyone would want to bring the curriculum nerd. Yet being included on this trip truly felt like an honor because, again, I kept seeing how we were in a future made possible by teaching and truth-telling. 
While in Warsaw, our wonderful colleagues at the Taube Center for Jewish Life and Learning graciously hosted two workshops for us to talk about our work in Bearing Witness with local, Polish educators. However, learning about their work, mission, and dedication was a profound learning experience for me that underscored the role of teaching truth for the sake of the future.  
Before one of our workshop sessions, Taube Center Director, Helise Liebermann, shared some of the site's history. The building we were in, she explained, sat on the site of The Great Synagogue in Warsaw. In 1943, the synagogue was bombed and destroyed by the Nazis. Yet, that attack did not destroy the Judaic Library and Institute of Judaic Studies across the street from the synagogue. 
Now called the Jewish Historical Institute, Helise told us to look at the floors which are marbled with deep, dark lines and scars. She explained that they were burn marks from the synagogue bombing, now preserved in the entryway to a library, cafe, bookstore, and archives today.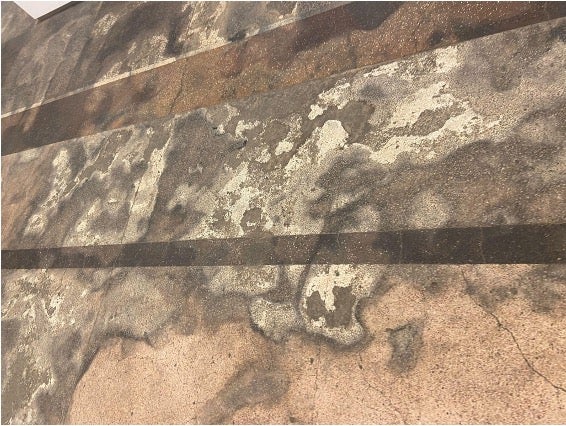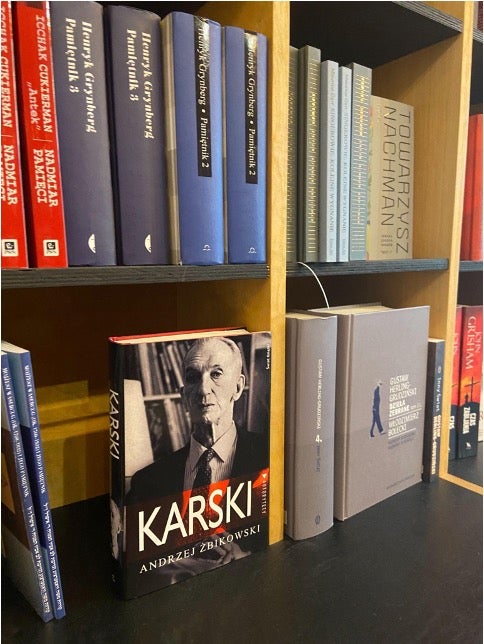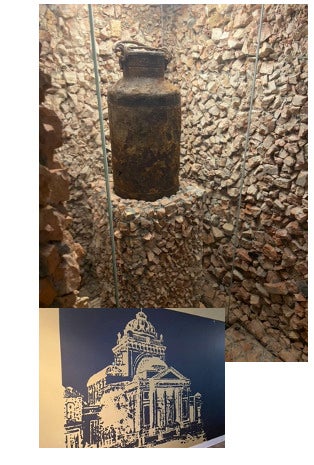 To be in the presence of a clear, determined insistence was astonishing and humbling. I was in complete awe—not to mention the impact of the archive itself which was profound. On display alongside the documents stood a weathered, metal canister in which many of these materials were buried underground so as to safeguard it for the future. Of the many extraordinary materials in the archive, we looked at the drawings and reflections from artist and mother Gela Seksztajn who, while writing about her own death, warned against allowing destruction on this scale to happen again. She drew, wrote, and archived with a vision for the future in mind. And in seeing how her messages for the future had made it to the future, I was awestruck by how a dedication to truth made that possible. 
Immersed in the documents and artifacts the Oneg Shabbat preserved, I continued reflecting on what Remember This says about teaching and the work we do in class. Prof. Karski's motivations and the impact of his story are remarkable, and so is his choice to teach. At the archives, I wanted to learn more so that I might tell future Bearing Witness students one day; I kept thinking about all we could teach from these archives to keep this truth in the future.  
In Bearing Witness, we read an essay by art historian Sarah Elizabeth Lewis on the power of moments with art or arresting visuals may change our perceptions of humanity, the crux of social movements—lives, ultimately. In discussing her work, teaching visual literacy, to college students, Lewis describes teaching as "a way of speaking faith over the future" (p. 361). I think Prof. Karski would agree, seeing the connection between a just future, truth-telling, and teaching as inherently intertwined. Speaking about injustices, marginalization, and systemic oppression in the classroom is critical for students and educators alike. We need to grapple with these kinds of truths in classes not only to create a future, but specifically to witness, respond to, and imagine futures that can support all of us. 
For me, visiting Poland reminded me that we honor Prof. Karski through not only the art of Remember This and the truth-telling we convey with audiences in this future—the present—but also by being in a classroom with students whom we trust will shape futures to come anchored in truth and justice.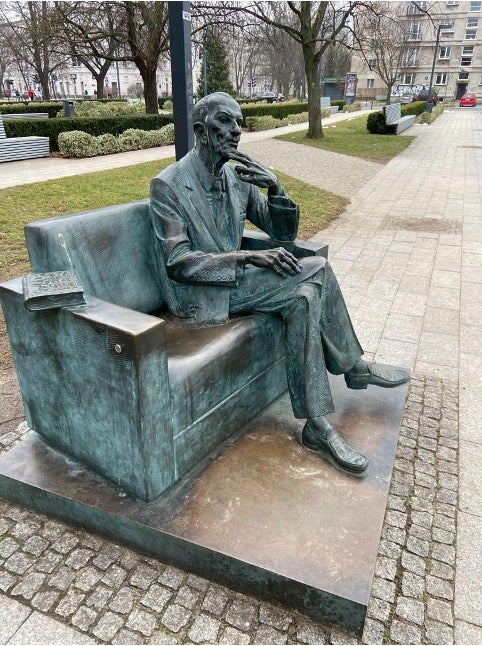 Ijeoma Njaka is the Senior Learning Designer for Transformational and Inclusive Initiatives at the Red House and the Laboratory for Global Performance and Politics at Georgetown University. In this joint position, she specializes in arts-based approaches to inclusive and anti-racist teaching, curricula, and faculty development. In addition to co-teaching the "Bearing Witness: The Legacy of Jan Karski Today' 'course, Njaka also teaches classes on critical speculative design for anti-racism as well as arts and enduring meaning. Njaka holds an MA in Learning, Design, and Technology from Georgetown University as well as an A.B. from Brown University. Learn more at www.ijeomanjaka.com.