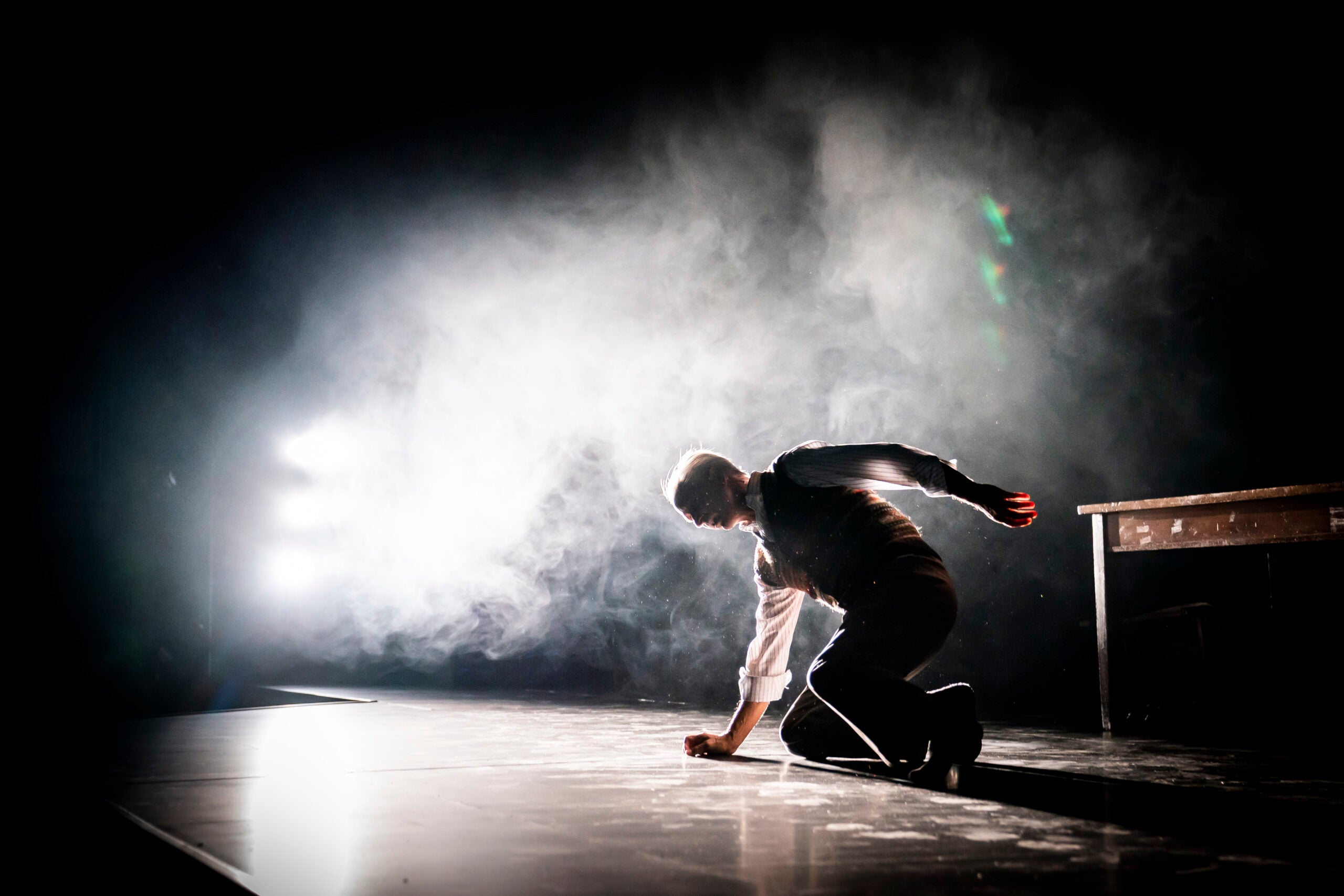 Remember This: The Lesson of Jan Karski
"Masterful…this story is more timely than ever."    
-Chicago Sun Times
"This incredible story of bravery and moral responsibility feels especially poignant and timely today."   
-Chicago Reader
"Strathairn delivers an incredible performance to resonate at every emotional, mental and physical level with a direct connection to the hearts, minds, soul and spirit of the audience…transformative theatre [that is] never-to-be-forgotten."    –Chicago Tribune
The Remember This film featuring David Strathairn makes its world premiere at The San Francisco Jewish Film Festival on July 24, 2:20 p.m. at The Castro Theatre. Actor David Strathairn, directors Derek Goldman and Jeff Hutchens, and producer Eva Anisko are expected to attend.
For more information and to get tickets visit: https://jfi.org/sfjff-2022/film-guide/remember-this
You can also follow along about the film's trajectory on the film's website: https://rememberthiskarskifilm.com
In a tour-de-force, solo performance, Academy Award-nominee David Strathairn (Good Night and Good Luck, Lincoln, Nomadland)  portrays World War II hero and Holocaust witness Jan Karski, a messenger of truth who risked his life to carry his harrowing report from war-torn Poland to the Allied Nations and, ultimately, the Oval Office only to be ignored and disbelieved. Bearing witness to the despair of the Warsaw ghetto and standing tall in the halls of power, Strathairn captures the remarkable life of this self-described "insignificant, little man" whose forgotten story of moral courage and individual responsibility can still shake the conscience of the world.
The theatrical production of Remember This: The Lesson of Jan Karski, written by Clark Young and Derek Goldman and directed by Goldman, was produced by The Laboratory for Global Performance and Politics at Georgetown University.
Originally conceived as an ensemble production starring Strathairn, the play was first performed in its current form as a solo performance in November 2019 as a featured part of the Centennial Celebration Weekend of Georgetown's School of Foreign Service, and then in London in January 2020 as part of the 75th Anniversary Commemoration of the Liberation of Auschwitz, in partnership with Human Rights Watch, after which it was invited for performances at leading theaters and festivals around the world.
Strathairn, who has starred in the piece throughout its evolution, says of the production: "I've always felt that one of the vital roles, even a responsibility, of the artist/citizen, is to provide palpable, emotive, and relevant insight into the most pressing issues concerning our common humanity. By dramatizing the legacy of Jan Karski, we are striving to do just that."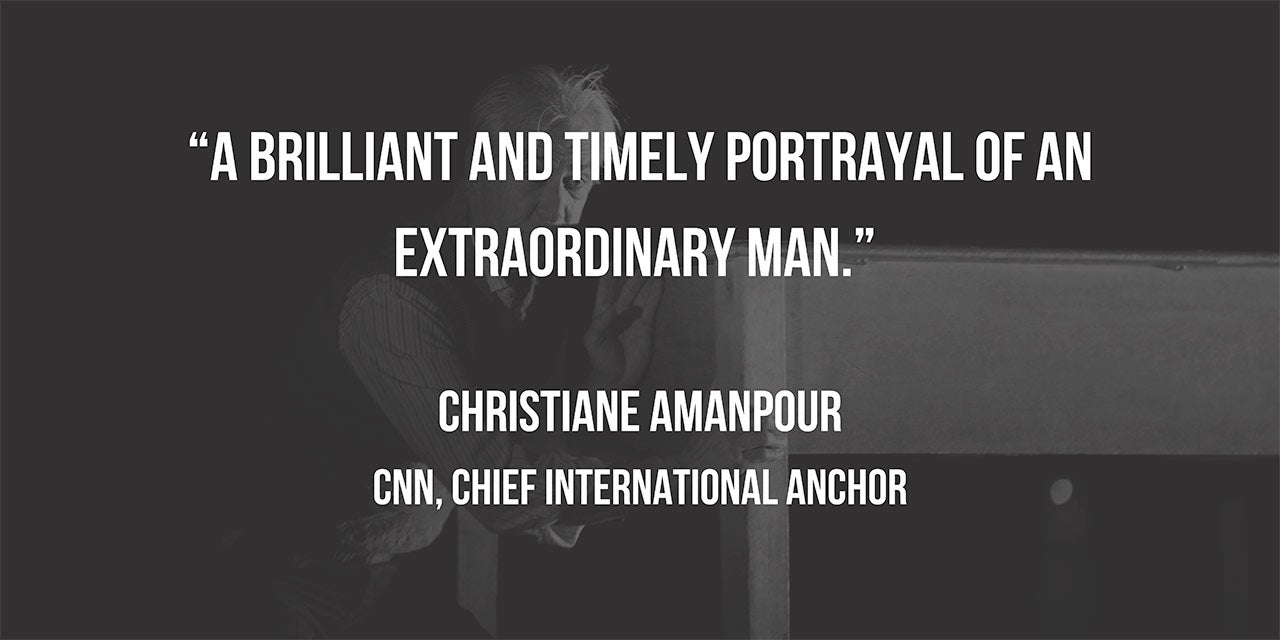 A Statement from Director Derek Goldman:
At each turn these past six years, new aspects of Karski's legacy emerge as urgently relevant. It is gratifying to be now teaching a course on Karski centered around the production and to learn how students today are grappling with and inspired by the lessons of Karski's life.
As Karski did, we are living through a time characterized by unprecedented challenges. The example of Jan Karski speaks directly to our current moment, and he is an inspiring and timely account of the importance of individual responsibility and moral action in the face of hatred and injustice.
It is our hope that the play offers audiences intimate and enduring access to Karski's singular life and that, through it, Karski will inspire others to stand for justice and do what is right.
April 2014: My Report to the World, the first iteration of what is now Remember This, is first presented as part of the Karski Centennial Celebration in Gaston Hall at Georgetown University. This version of the play starred David Strathairn and featured an ensemble cast of Georgetown students.
October/November 2014: My Report to the World is performed in Warsaw as part of the opening of the Museum of the History of Polish Jews.
December 2014: My Report to the World  returns to Georgetown for a performance at Gonda Theatre and then moves toTheater Row in New York City.
June/July 2015: My Report to the World takes up  residency in New York, produced in partnership with the Museum of Jewish Heritage in NYC and the United States Holocaust Memorial Museum in DC. This residency culminates in a one-night-only performance at the Shakespeare Theater Company's Sidney Harman Hall in DC.
February 2016: My Report to the World is performed for the last time at theMcCarter Theatre in Princeton, New Jersey.
November 2019: For the first time,  Remember This: The Lesson of Jan Karski premieres at Gaston Hall as the featured performance of the SFS Centennial Celebration. This new version stars Strathairn without the ensemble.
January 2020:  Remember This has its international premiere at Queen Mary University in London.
March 2020: Planned performances in Scotland, Poland, New Jersey, and Washington, DC are put on hold by the Covid-19 pandemic.
July 2020: The creative team works with Emmy Award-winning filmmaker Eva Anisko to develop a filmed version of the play during the first months of the pandemic. The film will premiere in 2022.
October 2020: Co-authors Clark Young and Derek Goldman develop 'Bearing Witness: The Legacy of Jan Karski Today,' with Lab Inclusive Pedagogy Specialist Ijeoma Njaka.
November 2020: A virtual event featuring David Strathairn in conversation with House Speaker Nancy Pelosi attracts a large crowd. Strathairn and Pelosi discuss the Karski story and its relevance to the contemporary political moment.
October 6-17, 2021: Shakespeare Theatre Company
November 3-14, 2021: Chicago Shakespeare Theatre
Fall 2021: Publication of illustrated volume Remember This: The Lesson of Jan Karski.
Spring 2022:
Gonda Theater, Georgetown University | May 12-22, 2022 | The run was a massive success and received critical acclaim.
May 2022:
The Wellbeing Summit for Social Change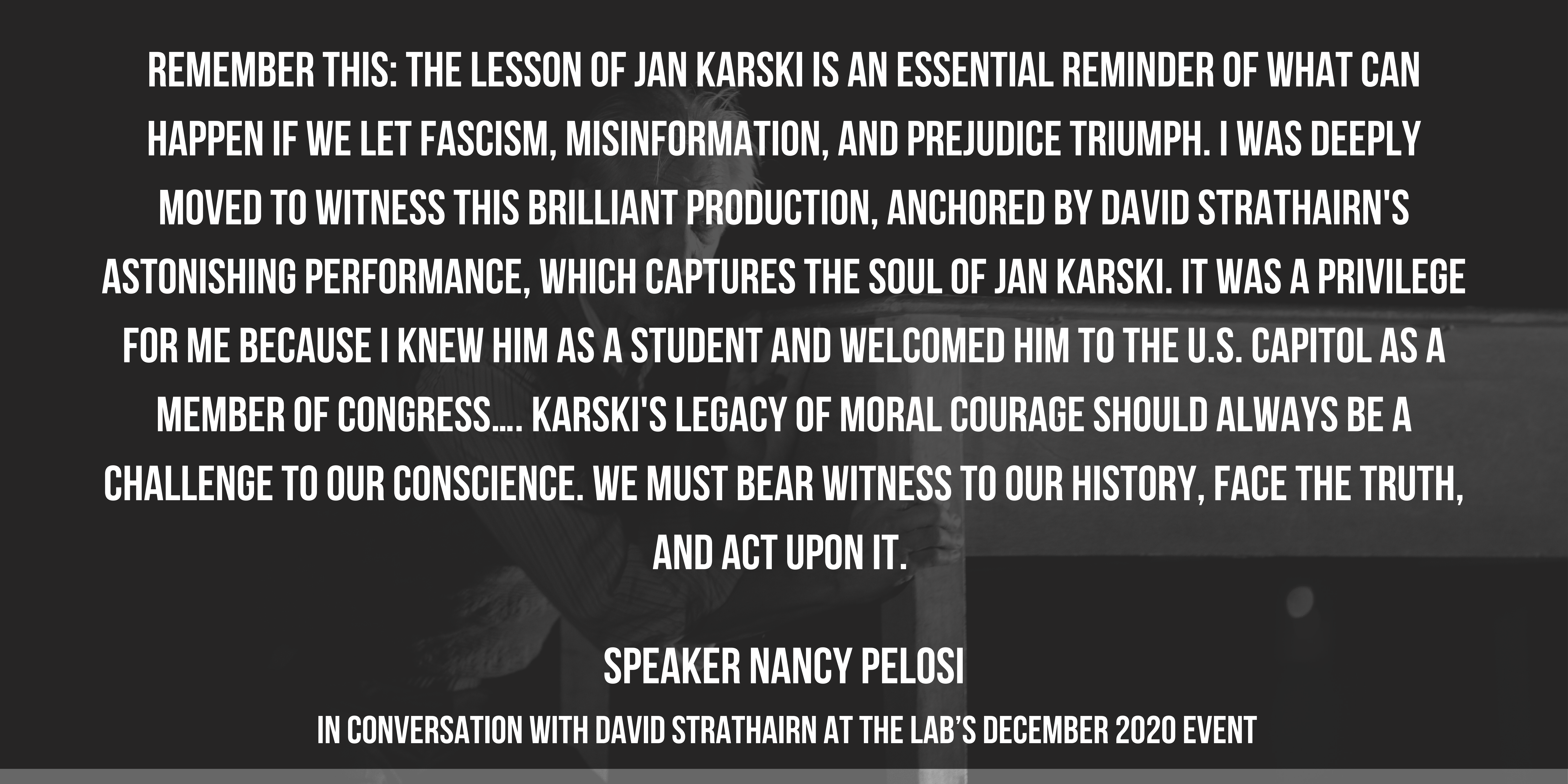 In November 2021, Georgetown University Press published a special illustrated volume of Remember This: The Lesson of Jan Karski featuring black-and-white stills from the upcoming film adaptation. The play is accompanied by essays and conversations from leading diplomats, artists, and writers.
A forthcoming special illustrated volume of the play is set to be published by Georgetown University Press in the Fall.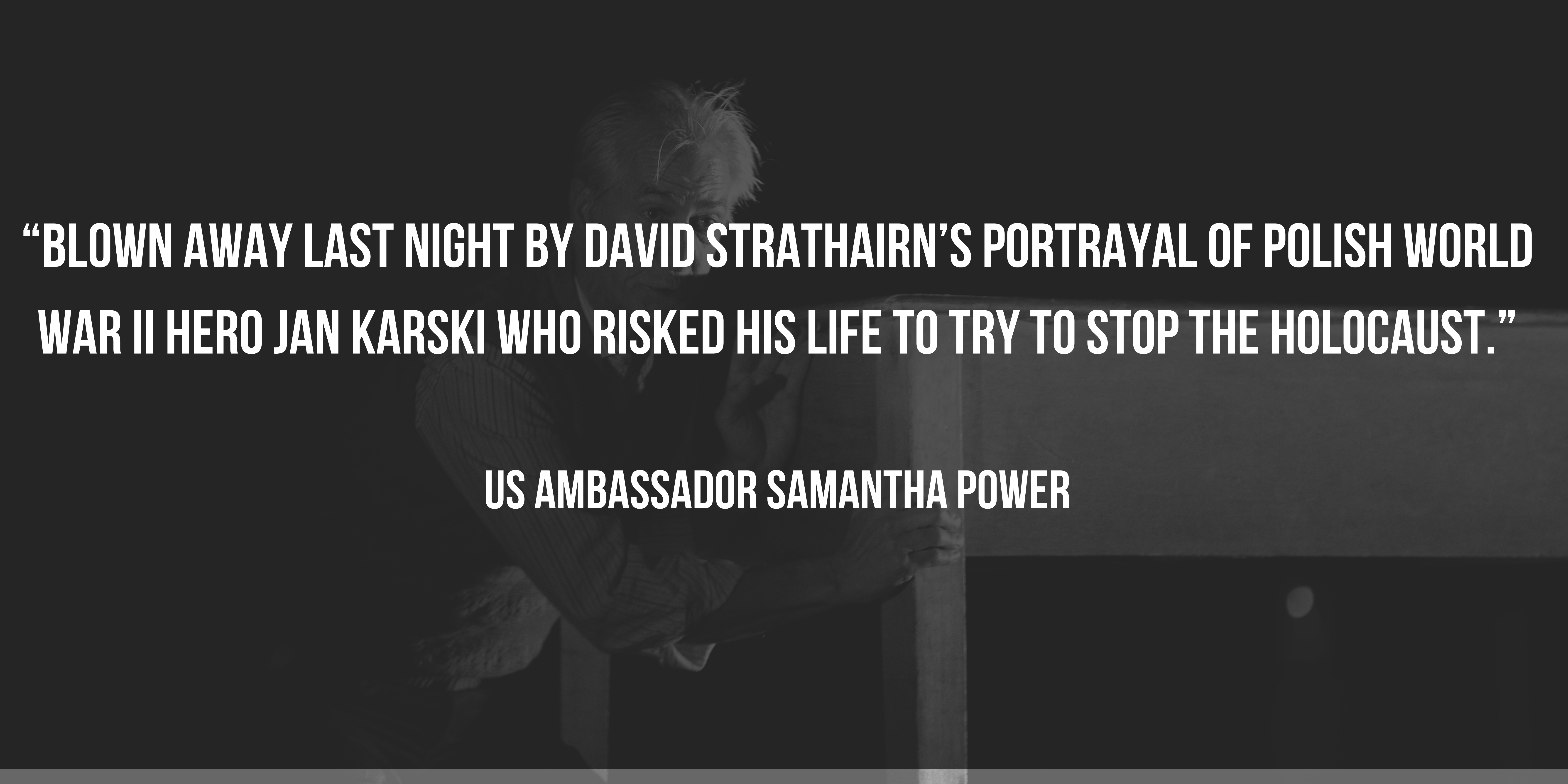 The volume, written by Clark Young and Derek Goldman includes contributions from:
Madeleine Albright, former US Secretary of State;
Samantha Power, USAID Administrator and former US Ambassador to the UN; Aminatta Forna, OBE, award-winning author;
Azar Nafisi, NYT best-selling author of Reading Lolita in Tehran;
Stuart Eizenstat, former US Ambassador to the EU and Holocaust restitution expert; Deborah Tannen, NYT best-selling author; Timothy Snyder, leading author and historian;
Amb. Cynthia Schneider, American Diplomat and co-founder of The Lab; and
Father Leo J. O'Donovan, former GU President.
The co-authors created an educational platform and course alongside The Lab's Inclusive Pedagogy Specialist Ijeoma Njaka. The course, entitled "Bearing Witness: The Legacy of Jan Karski Today," is now in its second year at Georgetown University and the curriculum is engaging both undergraduate and graduate students across disciplines. This dynamic, experiential approach to learning uses the filmed theatrical production and archival clips and interviews with the extraordinary thinkers and leaders who have engaged with the play. It is the goal of the course to allow students to articulate their own applications of bearing witness in local, national and global contexts, as they follow in Karski's example to continue to "shake the conscience of the world."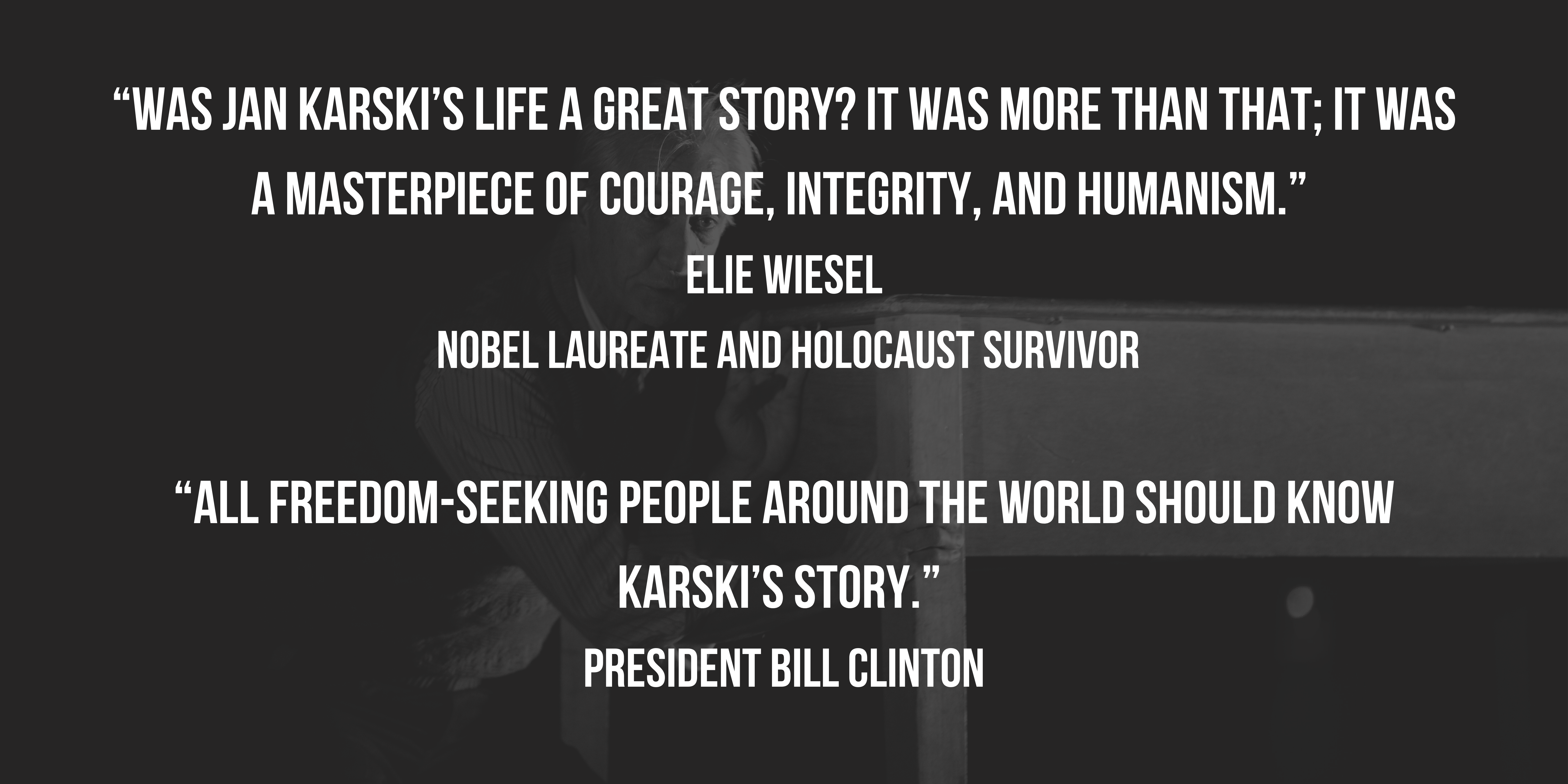 A fortuitous meeting with documentary filmmaker Eva Anisko laid the groundwork for one of the most exciting developments of the Karski project: a film version!
Anisko, who has earned an Emmy Award for her documentary work, fell in love with the Karski story after seeing the London production.
Anisko's interest and efforts helped The Lab turn the frustration of Covid-19 into an opportunity to produce a narrative feature film based on the play: REMEMBER THIS. Straithairn reprises his role as Karski in this thrilling, devastating, and ultimately inspiring adaptation of Karski's story.
The film has already been accepted by major film festivals and will premiere later in 2021.
Head over to the official website for more information https://rememberthiskarskifilm.com/