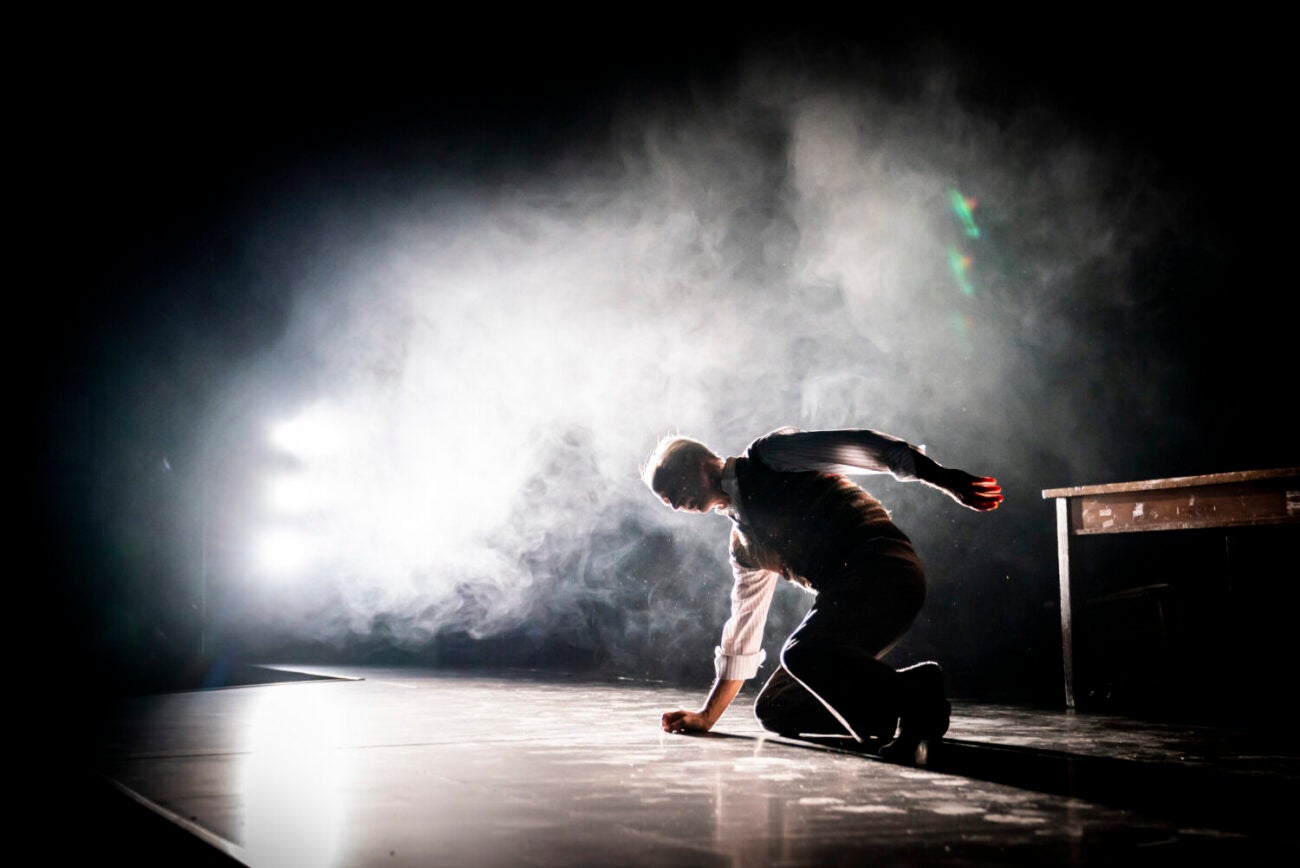 Remember This: The Lesson of Jan Karski
"Masterful . . . packs a powerful punch . . . this story is more timely than ever. . . Instead of easy platitudes, [Remember This]  zooms in on the intractable knot of one of humanity's worst sins — complacency. . . And that is [its] triumph. "Remember This" poses the radical thought that every action, no matter how small, has great meaning."
– Sheri Flanders, Chicago Sun-Times
"Strathairn delivers an incredible performance to resonate at every emotional, mental and physical level with a direct connection to the hearts, minds, soul and spirit of the audience… an incredible and rare opportunity…transformative theatre… never-to-be-forgotten."
– Philip Potempa, Chicago Tribune
NY TIMES CRITICS PICK: "Starring a masterly David Strathairn, and adapted from Karski's own words by Clark Young and Derek Goldman, it brings Karski's recollections to anguished life. 
– Alexis Soloski, NY Times
"The play reminds us of inconvenient truths, challenges us, and offers us the opportunity to transform ourselves through the experience of theater . . . Young and Goldman never let us off the hook. This is not just about the Holocaust but about those things still happening today in our midst."
 Susan Galbraith, DC Metro Theatre Arts
I was deeply moved to witness this brilliant production, anchored by David Strathairn's astonishing performance, which captures the soul of Jan Karski – Nancy Pelosi
The theatrical production of Remember This: The Lesson of Jan Karski, written by Clark Young and Derek Goldman and directed by Goldman, was produced by The Laboratory for Global Performance and Politics at Georgetown University. 
Originally conceived as an ensemble production starring Strathairn, the play was first performed in its current form as a solo performance in November 2019 as a featured part of the Centennial Celebration Weekend of Georgetown's School of Foreign Service, and then in London in January 2020 as part of the 75th Anniversary Commemoration of the Liberation of Auschwitz, in partnership with Human Rights Watch, after which it was invited for performances at leading theaters and festivals around the world.
"GRIPPING…Starring a virtuosic David Strathairn…under [Derek] Goldman's inspired direction." – Celia Wren, The Washington Post
REMEMBER THIS: THE LESSON OF JAN KARSKI
Stay tuned for more upcoming performances of  The Lab's original production of REMEMBER THIS: THE LESSON OF JAN KARSKI 
"A gripping one-man tour-de-force …powerful, long-lasting lessons for humanity"
 — James Ambroff-Tahan, San Francisco Examiner
In a virtuoso solo performance, Academy Award-nominee David Strathairn (Good Night, and Good Luck, Lincoln, Nomadland) portrays Jan Karski in this genre-defying true story of a reluctant World War II hero and Holocaust witness. After surviving the devastation of the Blitzkrieg, Karski swears allegiance to the Polish Underground and risks his life to carry the first eyewitness reports of war-torn Poland to the Western world, and ultimately, the Oval Office.  Escaping a Gestapo prison, bearing witness to the despair of the Warsaw ghetto and confronted by the inhumanity of a death camp, Karski endures unspeakable mental anguish and physical torture to stand tall in the halls of power and speak the truth.  Strathairn captures the complexity and legacy of this self-described "insignificant, little man" whose timely story of moral courage and individual responsibility can still shake the conscience of the world.
You can also follow along about the film's trajectory on the film's website and social channels below: 
PBS Great Performances Full Feature 
Now Available to Stream on the PBS App
BEST NARRATIVE
WOODSTOCK FILM FESTIVAL
REMEMBER THIS, directed by
Jeff Hutchens & Derek Goldman, starring David Strathairn
The Best Narrative Feature is selected by the audience by a popular vote from the festival's lineup
BEST FICTION FEATURE
MONTCLAIR FILM FESTIVAL
                                      REMEMBER THIS, directed by
                                                       Jeff Hutchens & Derek Goldman,                                                                     starring David Strathairn
The Best Fiction Feature is selected by the audience by a popular vote from the festival's lineup
CHANGEMAKER AWARD
WOODSTOCK FILM FESTIVAL
REMEMBER THIS, directed by
Jeff Hutchens & Derek Goldman, starring David Strathairn
The Change Maker Award award goes to a film that is driven by commitment and passion to commemorate the human resilience against atrocities of the past, so that going forward no one will forget and no one will repeat them or anything like them ever again.
April 2014: My Report to the World, the first iteration of what is now Remember This, is first presented as part of the Karski Centennial Celebration in Gaston Hall at Georgetown University. This version of the play starred David Strathairn and featured an ensemble cast of Georgetown students.
October/November 2014: My Report to the World is performed in Warsaw as part of the opening of the Museum of the History of Polish Jews.
December 2014: My Report to the World  returns to Georgetown for a performance at Gonda Theatre and then moves toTheater Row in New York City.
June/July 2015: My Report to the World takes up  residency in New York, produced in partnership with the Museum of Jewish Heritage in NYC and the United States Holocaust Memorial Museum in DC. This residency culminates in a one-night-only performance at the Shakespeare Theater Company's Sidney Harman Hall in DC.
February 2016: My Report to the World is performed for the last time at theMcCarter Theatre in Princeton, New Jersey.
November 2019: For the first time,  Remember This: The Lesson of Jan Karski premieres at Gaston Hall as the featured performance of the SFS Centennial Celebration. This new version stars Strathairn without the ensemble.
January 2020:  Remember This has its international premiere at Queen Mary University in London.
March 2020: Planned performances in Scotland, Poland, New Jersey, and Washington, DC are put on hold by the Covid-19 pandemic.
July 2020: The creative team works with Emmy Award-winning filmmaker Eva Anisko to develop a filmed version of the play during the first months of the pandemic. The film will premiere in 2022.
October 2020: Co-authors Clark Young and Derek Goldman develop 'Bearing Witness: The Legacy of Jan Karski Today,' with Lab Inclusive Pedagogy Specialist Ijeoma Njaka.
November 2020: A virtual event featuring David Strathairn in conversation with House Speaker Nancy Pelosi attracts a large crowd. Strathairn and Pelosi discuss the Karski story and its relevance to the contemporary political moment.
October 6-17, 2021: Shakespeare Theatre Company
November 3-14, 2021: Chicago Shakespeare Theatre
Fall 2021: Publication of illustrated volume Remember This: The Lesson of Jan Karski.
Spring 2022:
Gonda Theater, Georgetown University | May 12-22, 2022 | The run was a massive success and received critical acclaim.
May 2022:
The Wellbeing Summit for Social Change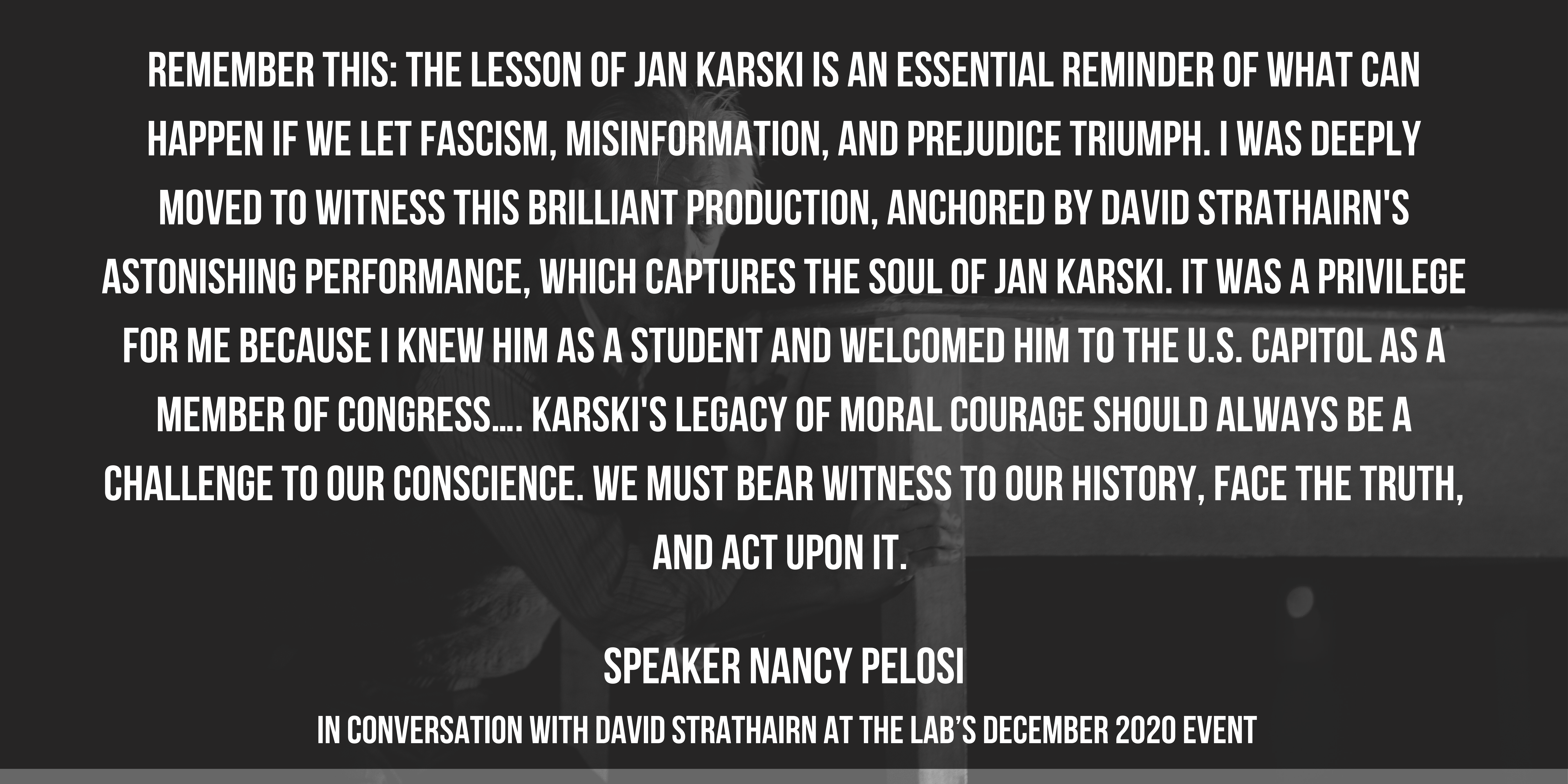 In November 2021, Georgetown University Press published a special illustrated volume of Remember This: The Lesson of Jan Karski featuring black-and-white stills from the upcoming film adaptation. The play is accompanied by essays and conversations from leading diplomats, artists, and writers.
A forthcoming special illustrated volume of the play is set to be published by Georgetown University Press in the Fall.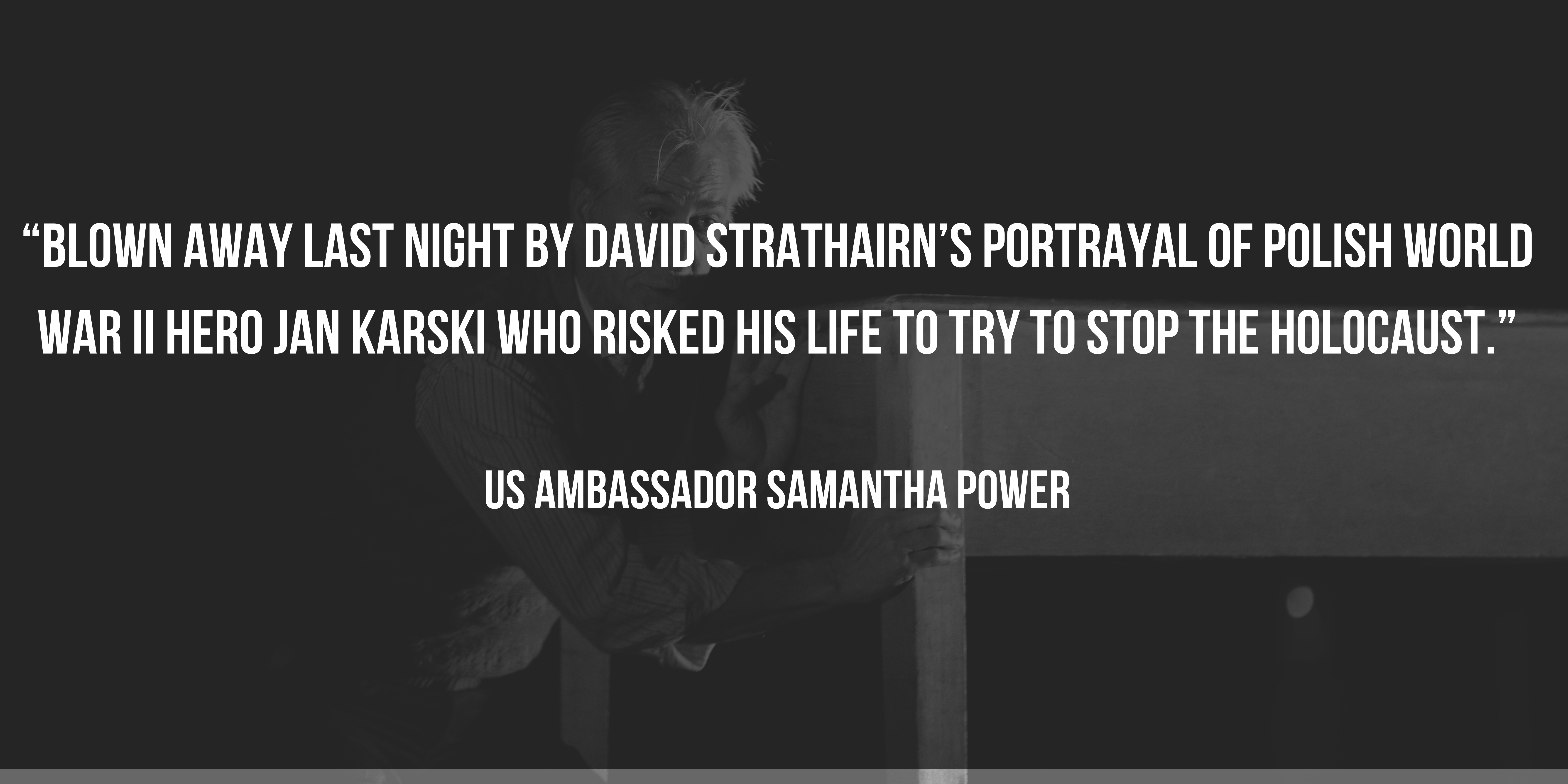 The volume, written by Clark Young and Derek Goldman includes contributions from:
Madeleine Albright, former US Secretary of State;
Samantha Power, USAID Administrator and former US Ambassador to the UN; Aminatta Forna, OBE, award-winning author;
Azar Nafisi, NYT best-selling author of Reading Lolita in Tehran;
Stuart Eizenstat, former US Ambassador to the EU and Holocaust restitution expert; Deborah Tannen, NYT best-selling author; Timothy Snyder, leading author and historian;
Amb. Cynthia Schneider, American Diplomat and co-founder of The Lab; and
Father Leo J. O'Donovan, former GU President.
The co-authors created an educational platform and course alongside The Lab's Inclusive Pedagogy Specialist Ijeoma Njaka. The course, entitled "Bearing Witness: The Legacy of Jan Karski Today," is now in its second year at Georgetown University and the curriculum is engaging both undergraduate and graduate students across disciplines. This dynamic, experiential approach to learning uses the filmed theatrical production and archival clips and interviews with the extraordinary thinkers and leaders who have engaged with the play. It is the goal of the course to allow students to articulate their own applications of bearing witness in local, national and global contexts, as they follow in Karski's example to continue to "shake the conscience of the world."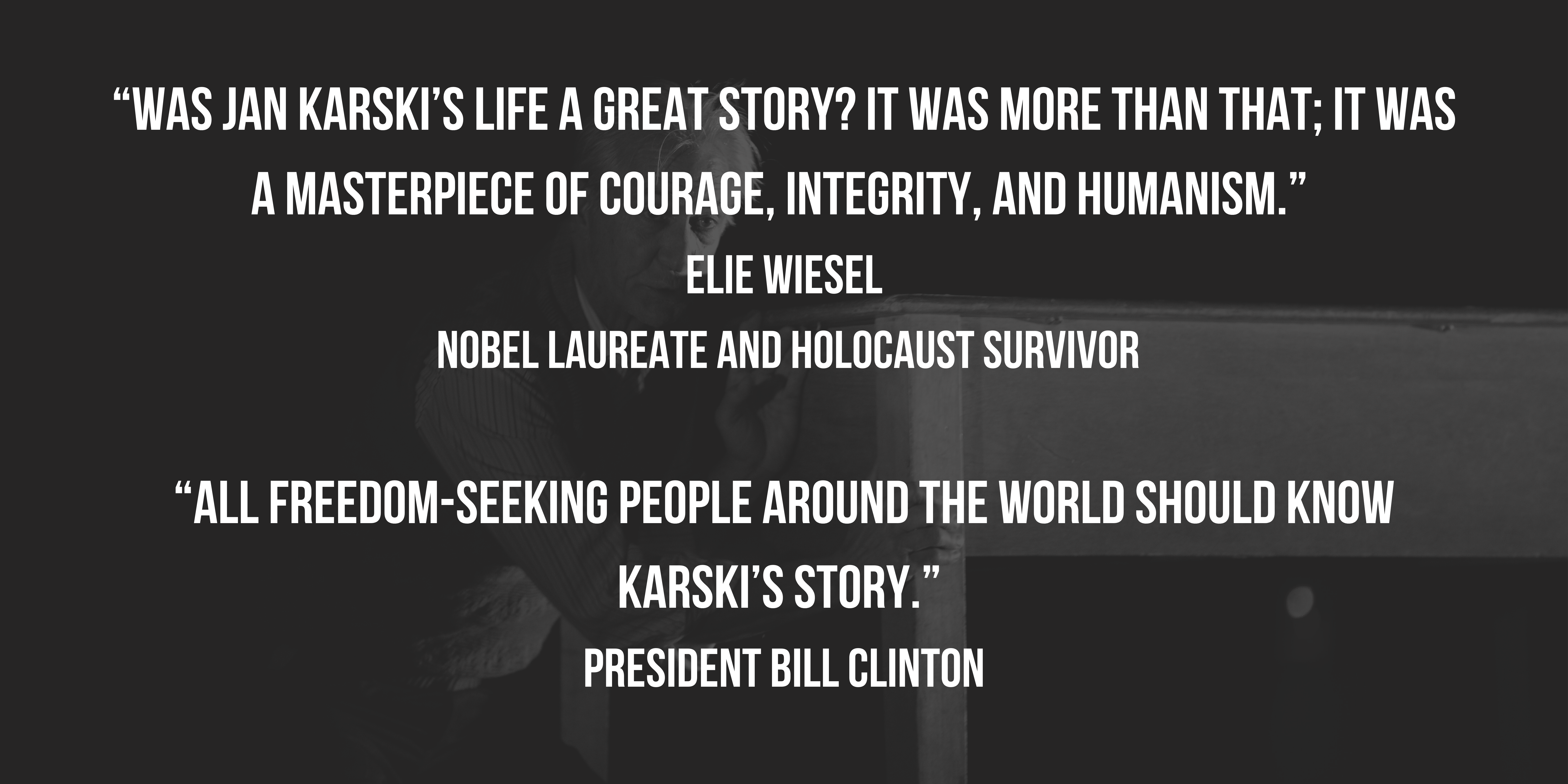 A fortuitous meeting with documentary filmmaker Eva Anisko laid the groundwork for one of the most exciting developments of the Karski project: a film version!
Anisko, who has earned an Emmy Award for her documentary work, fell in love with the Karski story after seeing the London production.
Anisko's interest and efforts helped The Lab turn the frustration of Covid-19 into an opportunity to produce a narrative feature film based on the play: REMEMBER THIS. Straithairn reprises his role as Karski in this thrilling, devastating, and ultimately inspiring adaptation of Karski's story.
The film will premiere on Sunday, July 24th at the San Francisco Jewish Film Festival in the iconic Castro Theatre
Head over to the official website and social channels for more information
Film Tags: #RememberThisKarskiFilm #RememberThisKarski #KarskiFilm 
Website : https://rememberthiskarskifilm.com/
Facebook: https://www.facebook.com/RememberThisKarski
Instagram: https://www.instagram.com/rememberthiskarskifilm/
San Francisco Jewish Film Festival – World       Premiere
           Sunday, July 24, 2022 at 2:50pm
Castro Theatre, San Francisco, CA

Woodstock Film Festival – East Coast Premiere
Wednesday, September 28, 2022 at 6:30 pm
Woodstock Playhouse, Woodstock, NY
Heartland Film Festival – Midwest Premiere
Friday, October 7, 2022 at 7:45pm at Glendale Landmark Theater 12
Sunday, October 16, 2022 at 7:15pm at Living Room Theaters – Theater 1
                    Indianapolis, IN     
Adirondack Film Festival
            Wood Theater
207 Glen St, Glens Falls, NY 12801
                                   October 14, 2022, 11:00 AM – 12:30 PM EDT
Portland Film Festival
Monday, October 17, 2022 at 7:30pm
Koerner presents Oregon Shore Crab Theater
Portland, OR
Website
Jewish International Film Festival Australia – International Premiere
October-November, 2022
Brisbane, Hobart, Perth, Sydney, Melbourne, Canberra, and Gold Coast
Website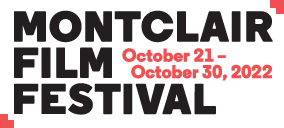 Montclair Film Festival 
October 30, 2022
Clairidge Cinema  1
486 Bloomfield Ave, Montclair, NJ 07042
In 2014, I was invited to develop a theatrical project as part of the Centennial 
celebration of Jan Karski at Georgetown University. I had been at Georgetown for a decade as Artistic Director and Professor, and I had co-founded The Laboratory for Global Performance and Politics, with a mission to humanize global politics through the power of performance. Georgetown had been home to Karski as a beloved and legendary professor for decades. I had passed by the Karski commemorative bench on campus hundreds of times, and yet, even as a longtime Holocaust educator, I was only familiar with the outlines of Karski's story. Working alongside my former student and co-writer Clark Young, I began to learn how profoundly Karski's life and legacy embodied The Lab's mission.
When I reached out to David Strathairn, with whom I had collaborated previously, he enthusiastically agreed to participate. David's deep, egoless commitment to finding the soul of this self-described "insignificant little man" quickly became the heart of our project, through its development in residencies and workshops in Warsaw, New York, and Washington DC alongside professional actors, and both American and Polish students. Only in 2019 did we fully reimagine our production as a solo performance, allowing David to embody Karski and all other characters from his story. Our process benefited immensely from spending time with so many people who knew Karski well, including dozens of his former students and colleagues whose memories of him inspired our work.
When our team was invited to perform the production in London as part of the 75th-anniversary commemoration of the Liberation of Auschwitz, we met producer Eva Anisko and began to discuss the possibilities of a film. In the midst of the COVID-19 pandemic, our scheduled performances were postponed, and the timeline for making the film accelerated. Eva connected us with director and cinematographer Jeff Hutchens. There was immediate synergy about how we might all collaborate to translate the play to a new medium. Already the theatrical production was highly cinematic in its spare and distilled form, its relationship to time, and its expressionism. Jeff brought a brilliant photographic eye and a vision of how the film might use a black-and-white landscape to stay faithful to the theatricality of the staging while providing the audience with more intimate and intense access to the psychic space of Karski's mind and memory. It has been a beautiful collaboration.
At each turn these past eight years, new aspects of Karski's legacy emerge as urgently relevant.   This relevance has been brought home by the opportunity we have had to share Karski's story with many hundreds of students, including through our curriculum Bearing Witness: The Legacy of Jan Karski Today, and it has been inspiring to experience the learn about the contemporary resonance of this story through students' eyes as they grapple with the immediacy of the questions Karski poses in our own lives now.  One of our great hopes for the film is that it will make Karski's legacy accessible to many more audiences, especially young people around the world, than the live performance ever could.
Karski bore witness to the worst of humanity and revealed firsthand what happens when nationalism and populism turn to extremism. Despite feeling a failure, he devoted his life to teaching young people, and sought to enlighten the world about what he had witnessed and attempted to expose. The example of Jan Karski speaks directly to our current moment, and his is an inspiring and timely account of the importance of individual responsibility and moral action in the face of hatred and injustice.