The Lab was founded in 2012 by co-directors Derek Goldman, award-winning professional theater artist, leader in the field of global performance, and Professor of Theater & Performance Studies, and Ambassador Cynthia Schneider, Distinguished Professor in the Practice of Diplomacy and former US Ambassador to the Netherlands (1998-2001), as an outgrowth of a Convening on Global Performance, Civic Imagination, and Cultural Diplomacy. In that time, The Lab has emerged as a global leader, widely recognized as unique for its pioneering interdisciplinary approaches integrating the performing arts and international relations.
Want to learn even more about The Lab? Take a look at the timeline below, or dive into our digital version of  The Lab Leave Behind.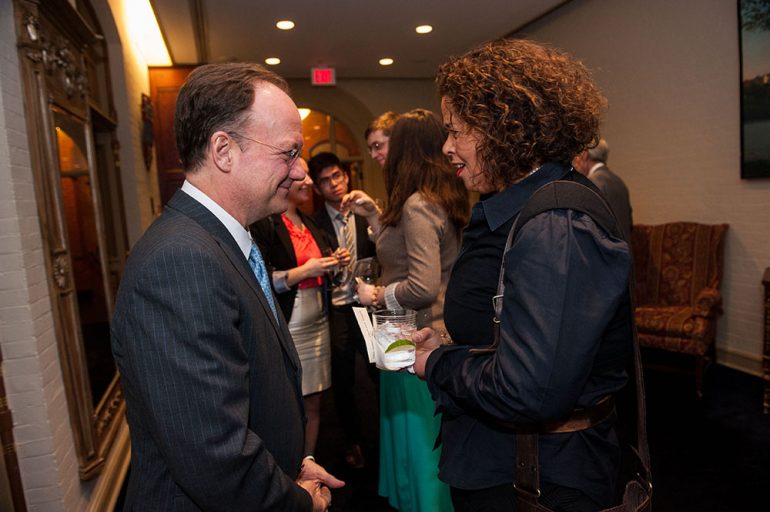 Timeline (current projects)
Remember This: The Lesson of Jan Karski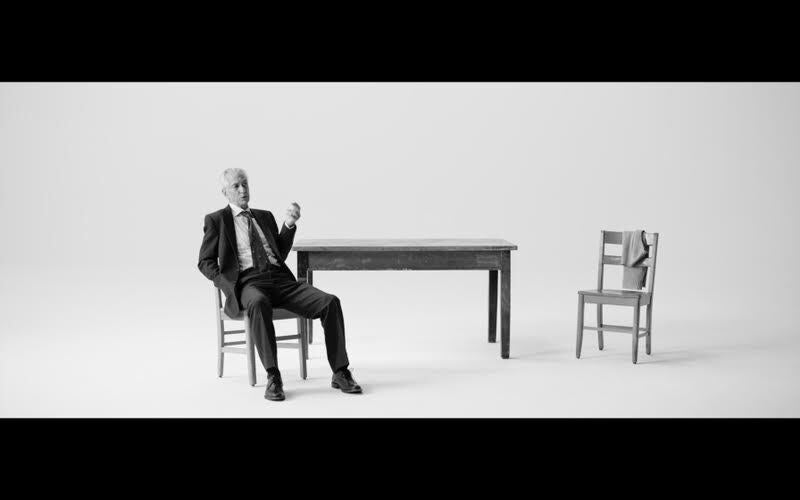 April 2014: My Report to the World, the first iteration of  what is now Remember This, is first presented as part of the Karski Centennial Celebration in Gaston Hall at Georgetown University. This version of the play starred David Strathairn, but unlike Remember This it featured an ensemble cast of Georgetown students.
October/November 2014: My Report to the World is performed in Warsaw as part of the opening of the Museum of the History of Polish Jews.
December 2014: The play returns to Georgetown for a performance at Gonda Theatre. It also plays on Theater Row in New York City.
June/July 2015: A three-week residency in New York, produced in partnership with the Museum of Jewish Heritage in NYC and the United States Holocaust Memorial Museum in DC, is a great success. This residency includes a one-night-only performance at the Shakespeare Theater Company's Sidney Harman Hall in DC.
February 2016: My Report to the World is performed for the last time in its original version at McCarter Theatre in Princeton, New Jersey.
November 2019: Remember This: The Lesson of Jan Karski premieres at Gaston Hall as the featured performance of the SFS Centennial Celebration. A packed house, including House Speaker Nancy Pelosi and countless SFS alumni, respond enthusiastically to the production. This version, based on My Report to the World and directed by Derek Goldman, still stars Strathairn, but does not include an ensemble.
January 2020:  Remember This has its international premiere at Queen Mary University in London.
March 2020: Planned performances in Scotland, Poland, New Jersey, and Washington, DC are put on hold by the Covid-19 pandemic.
August 2020: A film version of Remember This, directed by Emmy Award-winning filmmaker Eva Anisko, is filmed in Brooklyn. The film is due to premiere in 2021.
October 2020: 'Bearing Witness: The Legacy of Jan Karski Today,' a course built around Karski's life and Remember This, begins meeting.
November 2020: A virtual event featuring David Strathairn in conversation with House Speaker Nancy Pelosi attracts a large crowd. Strathairn and Pelosi discuss the Karski story and its relevance to the contemporary political moment.
Upcoming: Premiere of the Remember This film; resumption of life performances as public health situation allows.
Here I Am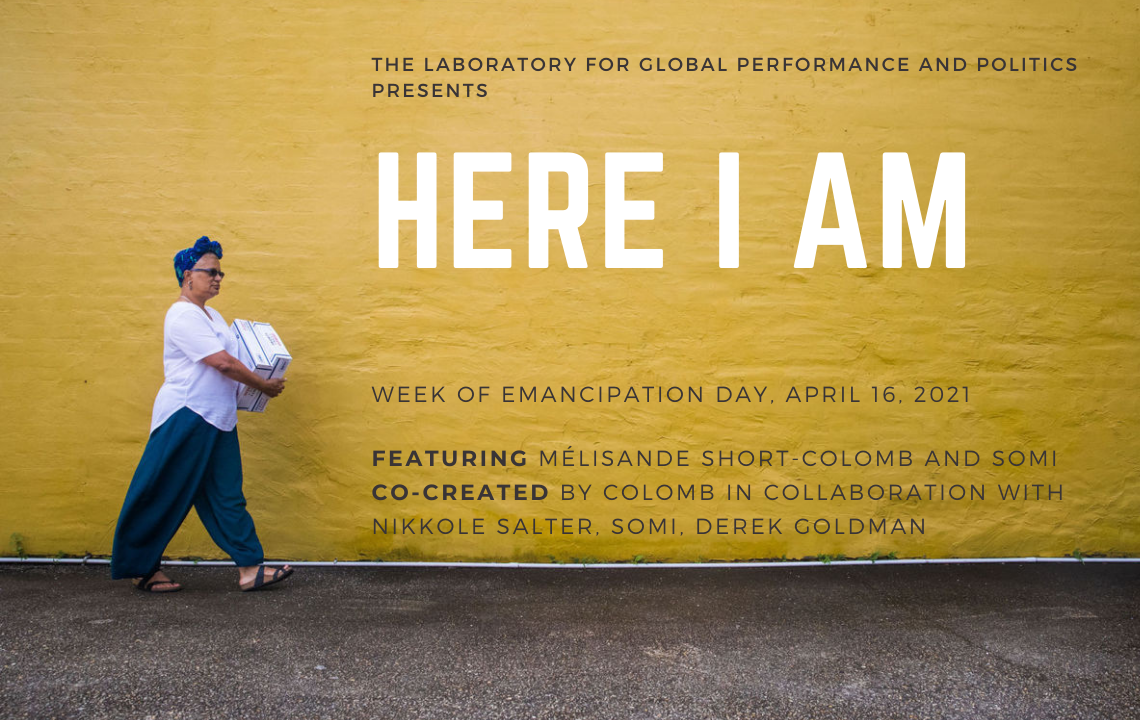 Fall 2017: Mélisande Short-Colomb arrives for her first semester at Georgetown University. Colomb is the direct descendant of Abraham Mahoney and Mary Ellen Queen, two of the 314 enslaved people (widely known as the GU272) owned and sold by the Maryland Jesuits in 1838 to save Georgetown University from bankruptcy. Leaving her life as a chef in New Orleans, Colomb arrives in Washington to begin the process of reckoning with the history of her family, her university, and her country. She is 63 years old.
Spring 2019: Colomb emerges as a leader of the GU272 movement, a student-led campaign created to advocate for reparations for the descendants of people enslaved and sold by the Maryland Jesuits. While juggling her coursework, speaking engagements, and interviews, Colomb asserts herself as a ubiquitous and powerful presence at GU272 rallies, protests, and meetings. A reparations referendum passes with strong student support.
Summer 2020: Colomb, along with Lab co-director Derek Goldman, begins work on a one-woman performance piece based on her life story. The project is tentatively titled Here I Am.
Fall 2020: Grammy-nominated singer and songwriter Somi agrees to score the production, and Obie Award-winning playwright Nikkole Salter is brought in to assist Colomb and Goldman with the script.
Week of April 16, 2021: Here I Am is set to premiere in celebration of Emancipation Day. Exact date and time TBA.
Timeline (The Lab)
June 2012: The three-day Convening on Global Performance, Civic Imagination, and Cultural Diplomacy is led by Lab co-founders Derek Goldman and Cynthia Schneider, and attended by more than 75 artists, activists, and policymakers. The event 'explores how to maximize the potential of theater and performance in the context of international challenges.'
Acclaimed playwright Heather Raffo's 9 Parts of Desire is presented as part of the Convening. The play tells the stories of nine Iraqi women, and includes participation by students and faculty from the University of Baghdad.
The Laboratory for Global Performance and Politics is co-founded by Derek Goldman and Cynthia Schneider as an 'outgrowth' of the Convening on Global Performance, Civic Imagination, and Cultural Diplomacy.
March 2013: Award-winning actress and playwright Anna Deveare Smith and cellist Joshua Roman participate in a residency at Georgetown, showcasing their ongoing work with Smith's On Grace. Former Secretary of State and current Georgetown professor Madeleine Albright speaks on the play's political relevance.
June 2013: 'Zeitgeist: Theater of the Voiceless,' a symposium on documentary theater, is hosted at Georgetown in partnership with Zeitgeist DC, the Austrian Cultural Forum, the Goethe-Institut, and the Embassy of Switzerland. The event culminates in a staged reading of Hate Radio by Milo Rau, directed by Derek Goldman. The play 'engages the Rwandan genocide by reconstructing the studio of the country's most popular radio station.
September 2013: Actors from Freedom Theatre, a company based in Jenin Refugee Camp in the West Bank, present The Island, a 'classic South African apartheid-era drama.' The play is performed at Georgetown.
December 2013: Czech theatre company Laterna Magika performs Anticodes, a multimedia dance theatre production based on Václav Havel's collection of experimental poetry of the same name. Madeleine Albright, herself of Czech background, speaks on Havel and his importance to Czech history and culture.
March 2014: 'Recasting Home: Conflict, Refugees, and Theater' is performed at the Kennedy Center in partnership with KC World Stages Festival. Derek moderates a panel discussion with Joanna Sherman (Bond Street Theater, New York/Afghanistan), Nabeel al-Raee (Freedom Theatre, West Bank) and Ali Mahdi Nouri (Al-Buggaa Theater, Sudan).
May 2014: The Lab produces 'Zeitgeist: Participatory Theater' in collaboration with Zeitgeist DC, Shakespeare Theatre Company, Studio Theatre, dog & pony dc, and Sojourn Theater. This event highlights the participatory theater tradition and encourages critical thinking about theater, art, and politics through the direct engagement of the audience.
September 2014: The Lab presents 'Voices Unheard: Syria: The Trojan Women Summit.' The summit is conceived as a live discussion with the cast of Syria: The Trojan Women, an adaptation of the Euripides classic reinterpreted by Syrian refugee women living in Lebanon. However, because the cast members were denied visas by the US, the event is reorganized to include behind-the-scenes footage of rehearsals, a Skype call with the women in Lebanon, and discussions with academics and experts.
January 2015: 'Amrika Chalo: Destination USA' is performed by the Ajoka Theatre company from Pakistan as part of Myriad Voices: A Cross-Cultural Performance Festival. The play, which takes place in the US Embassy in Islamabad, satirizes US-Pakistani relations, and includes contributions from Georgetown students.
'Politics, Comedy, and the Dangers of Satire,' a forum on political satire, is presented in conjunction with 'Amrika Chalo.' Participants discuss the threats faced by satirical artists like Ajoka Theatre, and the lingering effects of the recent Charlie Hebdo shooting.
April 2015: The Lab presents 'Generation Wh(Y): Global Voices on Stage,' an immersive theatrical experience based on a year of dialogue and collaboration between Georgetown students and youth from Egypt, Syria, Afghanistan, Sudan, Pakistan, Saudi Arabia, Qatar, and Iraq. The event is part of the Myriad Voices festival, and is produced in collaboration with LaGuardia Community College.
The Lab is the first organization in DC to host a 'Portal,' a shipping container with immersive audio and visual technology that allows participants to have one-on-one conversations with people at Hariwa University in Herat, Afghanistan. The Portals were designed by Amar Bakshi of SharedStudios.
October 2015: The Lab hosts Ali Mahdi Nouri for a one-week 'Residency' at Georgetown. Nouri, founding artistic director of Al-Buggaa Theatre Troupe in Sudan and a Lab Think Tank member, leads talks and workshops based on his experience working with child soldiers and war orphans.
November 2015: Derek Goldman presents a staged reading of his adaptation of 'The Bridge of San Luis Rey,' Thornton Wilder's Pulitzer Prize-winning novel about the collapse of an Incan bridge in Peru.
December 2015: 'Ping Chong + Company's Beyond Sacred: Voices of Muslim Identity' tells the stories of five Muslim New Yorkers post 9/11. An example of oral history theater, the production was written by Lab Think Tank member Ping Chong, and is presented as part of Ping Chong + Company's Undesirable Elements project.
'Noura,' Heather Raffo's reimagining of A Doll's House by Henrik Ibsen, is performed as a workshop production at Georgetown University. The play tells the stories of Arab American women, and premieres in its final form in 2018 at Shakespeare Theatre Company.
April 2016: Derek Goldman, Lab Think Tank member Cynthia Cohen, and former Lab Managing Director Jojo Ruf participate in 'Performance and Peacebuilding: Healing Our Wounds,' a post-show discussion following a performance of David Grossman's Falling Out of Time. The play and discussion take place at Theater J.
June 2016: Cynthia Schneider and Jojo Ruf moderate 'The Who and the What Post-Show Discussions' following Round House Theatre's production of The Who and the What by Ayad Akhtar. Panelists include international broadcaster Malike Bilal, Lab Think Tank member Raza Rumi, and State Department Employee Kiran Pervez.
The Lab hosts the 'Global Pre-Conference: Finding Home: Migration, Exile, and Belonging,' a precursor to the Theatre Communications Group's National Theater Conference. The event draws 200 participants from 25 countries, and features a range of performances that could not be presented in home countries due to political circumstances.
September 2016: A post-show discussion, 'Honoring the Legacy of Anne Frank in the 21st Century,' follows a production of The Diary of Anne Frank at Olney Theatre Center, directed by Derek Goldman. Panelists discuss authoritarianism and the refugee crisis.
The Lab presents 'A Conversation with Bassem Youssef,' an event focused on free speech and censorship in the Middle East. Youssef, who has been called 'the Jon Stewart of the Arab World,' hosted a political satire show in Egypt before being exiled by the Egyptian government. The event is co-hosted by the Culture and Politics major.
November 2016: 'Politics, Revolution, and Art: A Theatrical Symposium' explores the 'theatricality of global politics.' Taking place during the closing weekend of Kiss by Guillermo Calderon at Woolly Mammoth Theatre Company, the discussion unpacks the relationship between theater, political activism, and global politics.
2017/2018: Inaugural cohort of The Lab's Global Fellows is selected and the Fellowship is launched. 10 artists, directors, performers, and theatermakers are chosen for 'an 18-month, transnational residency that connects Fellows to a community of peers, fosters collaboration, and inspires intersectional and international dialogue.' The Fellowship includes regular virtual meetings between the Fellows and two in-person convenings. The inaugural Fellows' names and bios can be found here.
March 2017: 'World Theatre Day: Dreams Deferred' coincides with Arena Stage's production of A Raisin in the Sun by Lorraine Hansberry. Panelists discuss recent performances of Hansberry's play in South Africa, Sweden, and Washington, DC.
June 2017: Derek Goldman moderates a post-show discussion at the Global Theatre Institute's 'Global Pre-Conference: Beyond the Four Walls' in Portland, Oregon. The discussion follows a performance of Amarillo by Teatro Linea de Sombra and deals with the transcendence of borders and boundaries.
July 2017: The Lab's global reach is demonstrated by its leadership in the 'Student Festival and ITI World Congress,' a festival in Segovia, Spain curated by Derek Goldman. The festival includes workshops, performances, and discussions of pedagogy with representatives from international academies. 
The festival includes a presentation of I Pledge Allegiance, a meditation on what it means to be American, devised and performed by Lab Fellows Velani Dibba and Devika Ranjan and Lab Trailblazers Ben Lillian and Aly Panjwani.
August 2017: The 'Lab Fellows Convening 2017' is the first in-person convening of the inaugural Lab Fellows cohort. Hosted by the University of Edinburgh, the Fellows engage with Edinburgh's diverse cultural festivals, with a special focus on seven key themes: highbrow and lowbrow, voice, witness, empathy, anger and anxiety, culture wars, and the global.
September 2017: 'National Theatre of Ghana's Ten Blocks on the Camino Real,' a West African perspective on the classic Tennessee Williams play, is performed in Red Square on Georgetown's campus. Derek Goldman moderates a panel discussion following the performance.
October 2017: The Lab, in partnership with the Goethe-Institut, presents 'Digital Eye @BlindWhino' – 'an exciting, interactive event merging theater, film and a live game show that explored how the Digital Age is affecting our everyday lives.' The event features a number of micro-plays, including Deburkanization, directed by Derek Goldman.
'Burning to Tell You: Critical Conversations with Risk-Taking Artists' explores the relationship between art, liberty, repression, and the state. The discussions include many banned or censored artists, including Pussy Riot, Azar Nafisi, and Belarus Free Theatre. 
Spring 2018: The Lab launches its SFS Centennial Lab, Politics and Performance, co-taught by Derek Goldman and Cynthia Schneider. Georgetown students from a variety of disciplines join for a semester of rich discussion of the role of art and performance in a politically fragmented world. The 2018 and 2019 cohorts travel to Cambodia for a week of cultural engagement and study; due to the Covid-19 pandemic, the 2020 cohort finishes the course remotely.
February 2018: The 'AsidesLIVE: Theatre as Politics Symposium' is presented in collaboration with the Shakespeare Theatre Company. It explores the relationship between theater and politics through a discussion of the two shows on at STC, Shakespeare's Hamlet and Heather Raffo's Noura, and features a framing lecture by Derek Goldman.
September 2018: 'Dominio Publico,' an interactive, three-dimensional interrogation of agency and power conceived by Catalan artist Roger Bernat, is co-presented by The Lab and the Embassy of Spain.
January 2019: The Lab co-produces 'As Far as My Fingertips Take Me,' an interactive experience designed by Tania El Khoury in which participants stick their arm through a hole in the wall to have it drawn on by a refugee, while listening to a rap song by Syrian musician and refugee Basel Zaraa.
March 2019: The 'Lab PerForum,' a series of public discussions inspired by the KC World Stage's production of The Last Supper by Ahmed el Attar, is held. Discussion participants include el Attar, actor Khaled Abol Naga, graffiti artist Ganzeer, author Ahmed Naje, and Executive Director of the Tahrir Institute Nancy Okail.
April/May 2019: The Lab hosts hundreds of artists, academics, and theatermakers for CrossCurrents 2019, a citywide festival of performance and discussion. Performers and speakers include Grammy-nominated recording artist Somi, Iranian author Azar Nafisi, and Nobel Laureate Wole Soyinka. The festival culminates in The Gathering, which brings together more than 200 artists from 40 different countries 'to celebrate and highlight how their innovative work harnesses the power of performance to address the pressing challenges of our world.' CrossCurrents is a biennial festival, but the Covid-19 pandemic has pushed the next festival from Spring 2021 to Spring 2022.
November 2019: Remember This: The Lesson of Jan Karski premieres at the SFS Centennial Celebration in Gaston Hall. The result of nearly five years of iteration, the play, co-written by Derek Goldman and Clark Young, stars Oscar-nominated actor David Strathairn as Holocaust witness, resistance fighter, and Georgetown professor Jan Karski. Plans for a world tour were put on hold by the Covid-19 pandemic, but a film version is currently in development, and The Lab continues to host events related to the project. The latest event features a conversation between Strathairn and House Speaker Nancy Pelosi. 
2020/2021: The second cohort of Lab Fellows begin their Fellowship. 10 Fellows are selected from 190 applicants representing more than 60 countries.
Spring 2020: A five-credit course, In Your Shoes, is launched after two years of development and iteration. A collaborative project between The Lab, Georgetown's Democracy and Governance Studies program, and students from Georgetown and Patrick Henry College, In Your Shoes uses storytelling and performance to foster empathy and respectful dialogue between students of different backgrounds.
October 2020: The Lab co-produces 'Flash Acts,' a virtual and bi-national theater festival featuring plays written by leading Russian and American playwrights. Written and performed in the midst of the Covid-19 pandemic, the plays explore the theme of isolation. Each work is performed twice: once by an American cast and with an American director, and once with a Russian cast and a Russian director. The Lab's partners in Russia include the Lubimovka Young Playwrights Festival, the US Embassy in Moscow, and the Center for Modern Drama in Yekaterinburg. The plays can be viewed here.
2021: Here I Am, an autobiographical play written by and starring Mélisande Short-Colomb (in her theater debut) and directed by Derek Goldman, will premiere in 2021. The play gives voice to Meli's journey from her job as a chef in New Orleans to Georgetown University, where she enrolled at the age of 63 as a legacy student, shortly after Georgetown extended legacy status to the descendants of slaves owned and sold by the university. Here I Am will explore Meli's complicated relationship with the institution that enslaved her ancestors, and contribute to this country's ongoing reckoning with its long history of racial injustice.