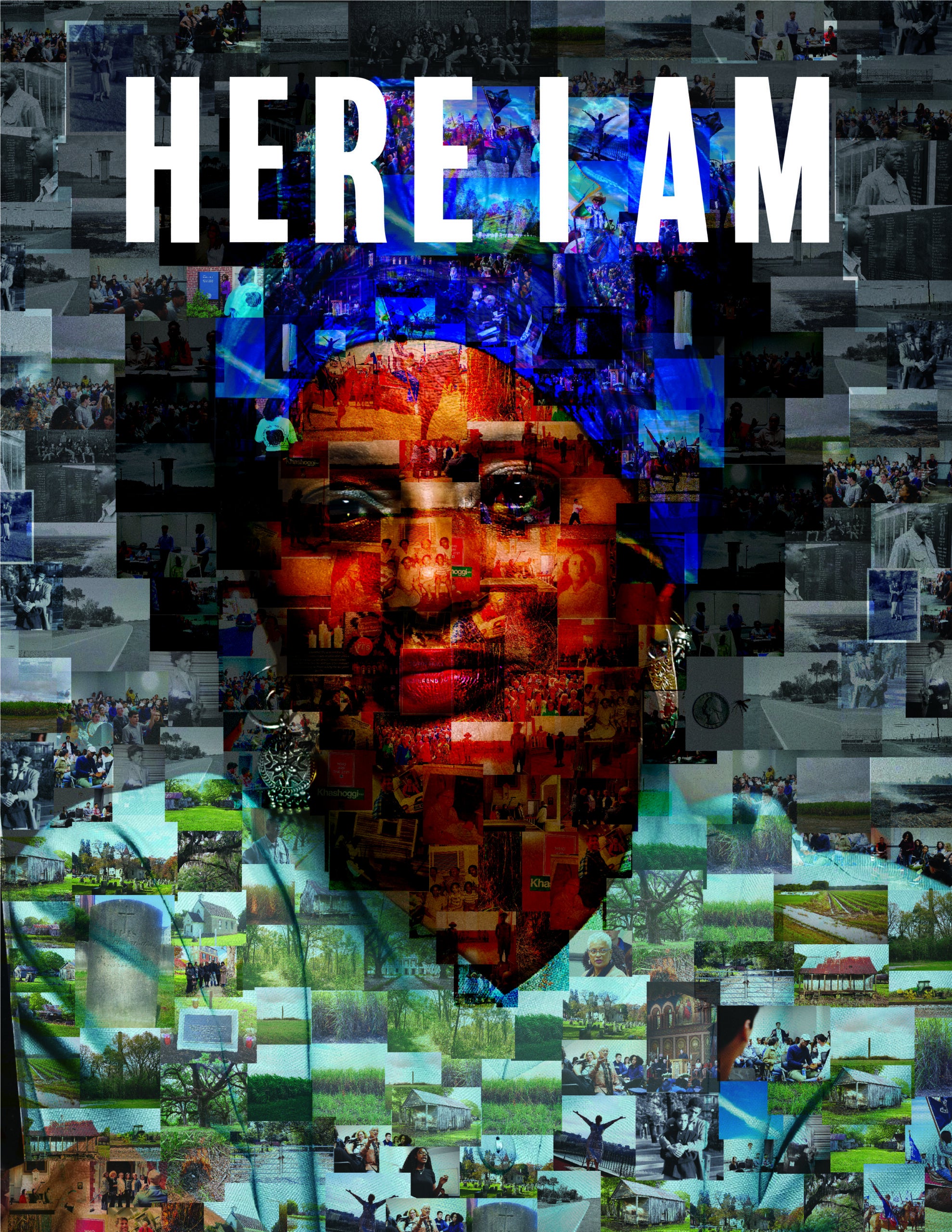 Here I Am
World Premiere Virtual Performance Created by the Laboratory for Global Performance and Politics in partnership with the GU Theater & Performance Studies Program.
"Our ancestors have waited patiently through centuries for us to come to the table of acknowledgement. Here I Am fulfills my desire to give voice to those families, including my own, and to our tenacity and strength as a people — to close the full circle where we began our American lives three centuries ago and where we are today." – Mélisande Short-Colomb
Here I Am Premiered online in Conjunction with Emancipation Day the week of April 16, 2021.
A native of New Orleans who began her studies at Georgetown in 2017 at the age of 63, Mélisande Short-Colomb is a direct descendant of Abraham Mahoney and Mary Ellen Queen who were among the 314 members of the group known today as the GU272, enslaved people owned and sold by the Maryland Jesuits in 1838 to rescue Georgetown University from insolvency and bankruptcy.  More than an autobiographical chronicle, this ritualistic experience weaves narrative, music, and imagery, inviting the audience on an experiential journey exploring Colomb's loving and complicated relationship with the institution that enslaved her ancestors. Interrogating uncomfortable truths, rather than offering easy answers, HERE I AM challenges participants to bear witness and to reckon with their histories, and to imagine the future of racial justice in America.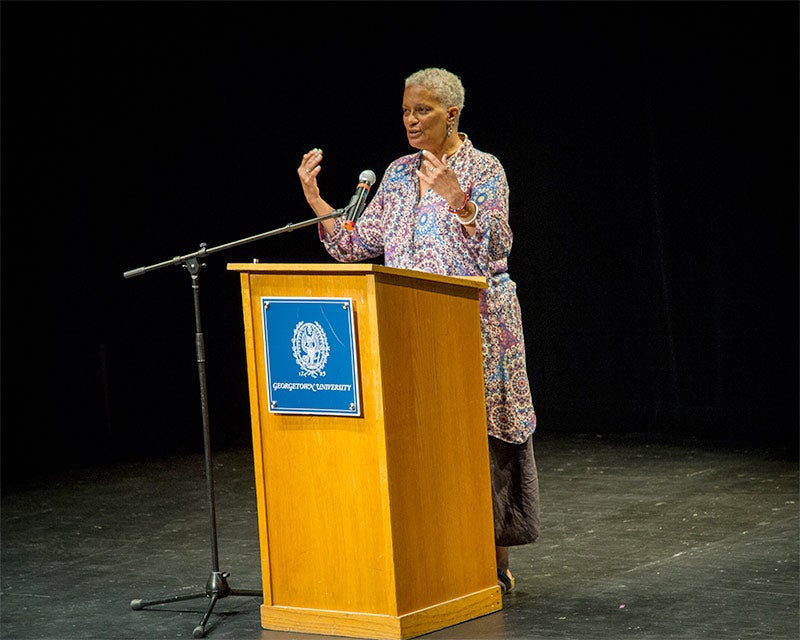 Mélisande Short-Colomb at the opening of the Gathering in 2019.
Colomb's personal story has been widely chronicled in numerous press outlets, including interviews with Samantha Bee and PBS NewsHour, a major National Public Radio documentary, feature stories in The Washington Post, The New Yorker, and on NBC-TV, and a cover story in the AARP national magazine.
Colomb serves on the Board of Advisors for the Georgetown Memory Project, is a founding Council Member of the GU272 Descendants Association, and was on the GU272 Advocacy Team. She was a leading voice in the GU272 student referendum, which passed with overwhelming student support in April 2019. She received the 2019 Fr. Bunn Award for journalistic excellence for commentary in support of the referendum.
Written and performed by Melisande Short-Colomb
Team of Co-creating Artists
Jeremy Bennett, Multimedia
Michael Donnay, Stage Management and Research Dramaturgy
Derek Goldman, Direction and Script Development/ Dramaturgy
Jared Mezzocchi, Multimedia Design and Direction
Andre Pluess, Sound Design
Nikkole Salter, Script Development/Dramaturgy and Direction
Alberto Segarra, Lighting Design
Somi Kakoma, Composer and Vocal Performance
Alex Troesch, Original Photography
Promotional video footage done by Katerina Vitaly.
* The Descendants Documentary Project, Additional Videography
*Bernie Cook, Ph.D., Producer and Director, Dawne Langford, Editor and Co-Producer, Mélisande Colomb, Co-Producer, Kuna Hammad, Videographer, Allysa Lisbon, Assistant Videographer
This event is part of the Georgetown University Theater & Performance Studies Program's 2020-21 15th anniversary season, "Seeds of Change: Reimagining the World," programmed by Davis Performing Arts Center Artistic Director Prof. Maya E. Roth.
Supported in part by an award from the National Endowment for the Arts, and by the Office of the President at Georgetown University. To find out more about how National Endowment for the Arts grants impact individuals and communities, visit www.arts.gov.