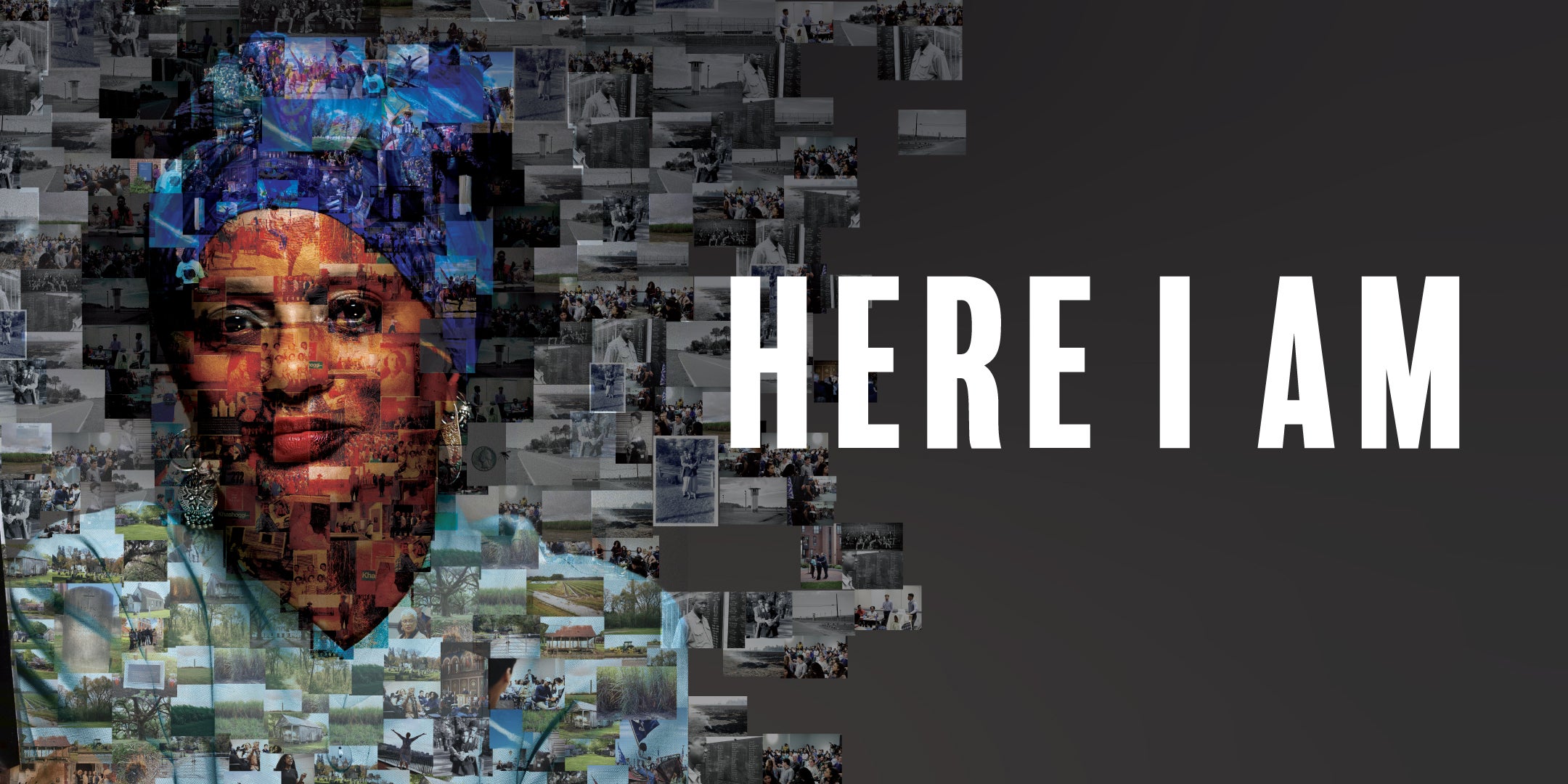 Here I Am
"The show is uniquely imagined… One could hardly find a more natural or compelling storyteller than Méli Short-Colomb. Her voice is a truly splendid instrument."
– Amy Kotkin, DC Theatre Arts
"A tale that would seem tailor-made for the stage. Which is where Short-Colomb has taken it."    
– Peter Marks, Washington Post
"Our ancestors have waited patiently through centuries for us to come to the table of acknowledgement. Here I Am fulfills my desire to give voice to those families, including my own, and to our tenacity and strength as a people — to close the full circle where we began our American lives three centuries ago and where we are today." – Mélisande Short-Colomb
The Lab is grateful to have had the opportunity to present the world in-person premiere of Here I Am at Gaston Hall on April 4, with a second performance on April 12, which was accompanied by the film, I Am The Bridge. This premiere on Georgetown's campus comes two years after the acclaimed virtual premiere and four years of development of the play for the stage by our team team of co-creating artists. The work seen on stage this past April is an embodiment of Méli's journey as a descendant of families who were enslaved and trafficked by the Society of Jesus in the documented 1838 sale. She is an essential voice for the GU272 community and an anchor in the conversations around reparations and social justice at Georgetown University and nationwide.
Following its celebrated premiere in an online/ virtual format in April, 2021, attended by thousands of audience members, The Lab is proud to present the long-awaited in-person premiere of Mélisande Short-Colomb's 
Here I Am
. 
Colomb is a descendant of families who were enslaved and trafficked by the Society of Jesus in the documented 1838 sale. 
Here I Am 
weaves narrative, music, and imagery, inviting the audience on an experiential journey celebrating her 11 generations of maternal grandmothers and exploring her complicated relationship with the institution that enslaved her ancestors.  
This performance of 
Here I Am 
at Gaston Hall comes two years after its acclaimed virtual premiere on April 16, 2021, in conjunction with Emancipation Day, where thousands of audience members attended the live/online version.
I Am The Bridge, a documentary film from Colomb's point-of- view, follows her time at Georgetown University and examines the possibilities of repair for the sin of American slavery and the contributions of generations of activists and artists working toward racial justice.
I AM THE BRIDGE FILM (WORK IN PROGRESS)
I Am The Bridge (2023) was produced and directed by Bernie Cook; co-produced by Dawne Langford, Christina Dropulic, and Mélisande Short-Colomb; filmed by Kuna Hammad and Jonathan Howard; and edited by Dawne Langford. The temporary soundtrack for this work-in-progress screening is by Grammy Award-Nominated Composer Carlos Simon, who will provide original music for the final version of the film.
In the I Am The Bridge documentary film, She finds herself drawn to courses through which she can engage her family's history and the legacies of slavery in America. Increasingly, she serves in the roles of teacher, elder, and witness. We see a student reparations movement born over a meal of jambalaya that Méli cooks with her younger classmates. On April 11th, 2019, Méli takes up a megaphone during a rally in the center of Georgetown's campus to implore her fellow students to vote to commit to a student fee of $27.20 per semester that will fund the first student-led effort toward reparative justice at an American university. At the start of her third year, Méli decides to step away from classes to focus on the development of a one-woman performance in partnership with the Laboratory for Global  Performance and Politics.
Descendent of Georgetown Slave Trade Victims Attends the University Nearly 200 Years Later
New York Minute Magazine
In the fall of 1838, 272 enslaved men, women, and children who had belonged to some of the nation's most prominent Jesuit priests were loaded onto ships and sold for a profit equivalent to $3.3 million today in order to secure the future of an institution now known as Georgetown University. New York Minute Magazine had the honor and privilege of conducting an exclusive interview with Mélisande Short-Colomb who, nearly 200 years after her ancestors were sold by the University, is now preparing to enter the second semester of her freshman year at Georgetown.
Colomb's personal story has been widely chronicled in numerous press outlets, including interviews with Samantha Bee and PBS NewsHour, a major National Public Radio documentary, feature stories in The Washington Post, The New Yorker, and on NBC-TV, and a cover story in the AARP national magazine.
Colomb serves on the Board of Advisors for the Georgetown Memory Project, is a founding Council Member of the GU272 Descendants Association, and was on the GU272 Advocacy Team. She was a leading voice in the GU272 student referendum, which passed with overwhelming student support in April 2019. She received the 2019 Fr. Bunn Award for journalistic excellence for commentary in support of the referendum.
Mélisande Short-Colomb
Mélisande Short-Colomb began her relationship with Georgetown University in 2017 as a descendant of two families enslaved and then sold by the Society of Jesus in 1838 to ensure the solvency of the institution. Following the Working Group on Slavery, Memory, and Reconciliation recommendations and with the support of President Jack DeGioia, Mélisande was one of two undergraduate students accepted into the College. Short-Colomb serves on the Board of Advisors for the Georgetown Memory Project, is a founding Council Member of the GU272 Descendants Association, and was on the GU272 Advocacy Team. She was a leading voice in the student referendum on the $27.20 reconciliation fee, which passed with overwhelming student support on April 11, 2019. She received the 2019 Fr. Bunn Award for journalistic excellence for commentary in support of the "GU272 Referendum to Create a New Legacy."
Additionally, Short-Colomb serves as a Research and Community Engagement Associate for The Laboratory for Global Performance and Politics. She is frequently invited to speak on the subjects of the GU272 and reparations. Her talks vary from testimony before the InterAmerican Commission on Human Rights, to speaking at the Brooklyn Historical Society, to a TEDx talk. Colomb's
personal story has been widely chronicled in numerous press outlets, including PBS NewsHour, Samantha Bee's "Full Frontal", National Public Radio, The Washington Post, The New Yorker, a cover story in the AARP national magazine, and on NBC-TV. A native of New Orleans, LA, she retired from a lengthy culinary career, most recently as Chef Instructor for Langlois Culinary Crossroads, to relocate to
Washington to attend Georgetown University. Her family includes four adult children and much-loved grandchildren, and scores of newly identified GU272 extended family members.
Jeremy Bennett
Multimedia
Jeremy Bennett is a DC area based projection designer and theatre artist. He is currently an MFA candidate in design at the University of Maryland College Park where his primary focus of study is projection design.Some of his most recent work has been featured at The Keegan Theatre in Dupont Circle; Trans Am, From Gumbo to Mumbo and the DC premier of Boy. Other credits include UMD Clarice Performing Arts Centre productions; The  Visit, The Heidi Chronicles.
Michael Donnay
Stage Management and Research Dramaturgy
Michael Donnay is a stage and production manager based in Washington, DC  with experience spanning theatre, new work development, live events, and  international work. He enjoys interesting theatrical challenges and getting to  tackle the unexpected. From performing as a sentient newt to designing  lighting for Hillary Clinton, his interdisciplinary background allows him to better  support a wide range of artists. Previous work with The Lab includes serving  as the stage and production manager for Remember This: The Lesson of Jan  Karski and the production manager for the inaugural CrossCurrents Festival.  He has worked with the Actors Theatre of Louisville, The Kennedy Center, The  Second City, Mosaic Theatre, Montana Shakespeare in the Parks, Urban Arias,  The National Theatre Institute, Georgetown University, Arts on the Horizons,  and the Notre Dame Shakespeare Festival. In addition, he has worked  internationally with 27 Degrees and Tacky Pioneer in London and has brought  work to the Edinburgh Fringe Festival. He is a graduate of Georgetown  University, where he studied history, and an alumnus of the Professional  Training Company at Actors Theatre of Louisville
Derek Goldman
Direction and Script Development/Dramaturgy
Derek Goldman is Chair of Georgetown University's Department of Performing  Arts and Director of the Theater & Performance Studies Program, as well as  Co-Founding Director of the Laboratory for Global Performance and Politics,  with the mission to harness the power of performance to humanize global  politics. He is an award-winning stage director, playwright/adapter, scholar,  producer, and developer of new work, whose work has been seen around the  country, off-Broadway, and internationally. His work has been seen at theaters  such as Steppenwolf, Lincoln Center, Arena Stage, Baltimore Center Stage,  Folger, Round House, Everyman, Mosaic, Theater J, Synetic, the Kennedy  Center, Ford's Theater, McCarter, Segal Center (Montreal), Olney Theater, and  others. He is the author of more than 30 professionally produced plays and  adaptations, including work published by Samuel French, and he has directed  over 100 productions. His engagement with global performance in recent  years has taken his work to Sudan, Cambodia, Bangladesh, China, Poland,  South Africa, Australia, Peru, Bulgaria, Japan, Armenia, Chile, the Czech  Republic, Italy, Spain, France, and throughout the UK, among other places.  He is a member of the Board of Directors of Theatre Communications Group  (TCG); Vice-President of UNESCO's International Theatre Institute, and  Founding Director of the Global Network of Higher Education in the Performing  Arts. Other upcoming/current projects include the original stage production  Remember This: The Lesson of Jan Karski, starring Oscar-Nominated actor  David Strathairn, scheduled to resume live performances this Fall at leading  theaters, and the forthcoming feature film version to be released later this year;  as well as his ongoing work on In Your Shoes based in the "Performing One  Another" methodology he has developed over the last decade around the  world (recently profiled on PBS Newshour and in The Washington Post). He  holds a Ph.D. in Performance Studies from Northwestern University and he  received the President's Award for Distinguished Scholar-Teachers at  Georgetown.
Somi Kakoma
Composer and Vocal Performance 
Vocalist, composer, and writer Somi Kakoma was born in Illinois to immigrants  from Uganda and Rwanda. Known in the jazz world simply as 'Somi', she has  built a career of transatlantic storytelling. She recently released a new live album  called 'Holy Room' which features the Frankfurt Radio Big Band and earned her a  2021 GRAMMY nomination for Best Jazz Vocal Album. That nomination made her  the first African woman nominated in any of the jazz categories. Her last studio  album, Petite Afrique (Sony, 2017), was a song cycle about African immigrants in  the midst of a gentrified Harlem in New York City that won her an NAACP Image  Award for Outstanding Jazz Album. It was also the highly anticipated follow-up to  Somi's acclaimed major label debut The Lagos Music Salon (Sony, 2014), which  was inspired by an 18-month creative sabbatical in Lagos, Nigeria and landed at  the top of US and international jazz charts. Both albums earned her ECHO Award  nominations for Best International Jazz Vocalist.
Somi was named a 2019 Sundance Theatre Fellow for her original musical about  the great South African singer and activist Miriam Makeba. Mentored by the  legendary musician Hugh Masekela, Somi is known both for her artistry and her  activism. She is a Soros Equality Fellow, USA Doris Duke Fellow, TED Senior  Fellow, and the founder of boutique cultural agency and record label Salon  Africana. In her heart of hearts, Somi is an East African Midwestern girl who loves  family, poetry, and freedom.
www.somimusic.com @somimusic
Jared Mezzocchi
Multimedia Design and Direction
Jared Mezzocchi is an Obie Award-Winning multimedia artist based out of Washington  DC. He is a resident artist at Woolly Mammoth Theater Company in Washington DC and has directed and designed at theaters across the U.S. including Milwaukee Rep, Portland Centerstage, Cleveland Playhouse, Arena Stage, South Coast Rep, National Geographic, National Gallery Of Art, and Centerstage Baltimore. In NYC, he has worked with Big Art Group, The Builders Association, Rob Roth, 3-Legged Dog, New Georges, and HERE Arts Center. In 2016, Mezzocchi designed projections for Vietgone at Manhattan Theatre Club, written by Qui Nguyen and directed by May Adrales, and received a Lucille Lortel Award, an Obie Award, and a Henry Hewes Award for his work. As a playwright, Mezzocchi was a 2017 fellow to the Macdowell Colony, as well as wrote and directed an adaptation of Oliver Jeffers' book How To Catch A Star at the John F. Kennedy Performing Arts Center, which received a Helen Hayes nomination for Best New Adaptation in 2018. Beyond the Kennedy Center, Mezzocchi has directed notable works at Roundhouse Theater, The National Players, and recently co-directed and media designed Sarah Gancher's Russian Troll Farm into a hybrid production that blends theatre, cinema and television technique into a live online performance. He is also a recipient of a 2012 Princess Grace Award for his work at HERE Arts Center (You Are Dead. You Are Here. by Christine Evans).
He received his BA in Theater and New Media: Film at Fairfield University and then went  on to receive an MFA in Performance and Interactive Media Arts at Brooklyn College.  He currently is an associate professior at University of Maryland, College Park, where  he built the projection design curriculum in the MFA Design Program. This fall, while on  sabbatical from UMD, he finished his book A Multimedia Designer's Method To  Theatrical Storytelling, which will be published through Routledge in spring 2021.
Mezzocchi grew up in New Hampshire, where he returns to every summer as producing  artistic director of Andy's Summer Playhouse, an innovative children's theater producing
original work by professional artists from across the country.
Andre Pluess
Sound Design 
Projects include the Broadway productions of The Minutes, 33 Variations, I Am My  Own Wife and Metamorphoses, as well as the Lincoln Center production of The  Clean House. His designs/compositions have been featured at regional theaters  throughout the country including the Oregon Shakespeare Festival, McCarter  Theatre, Center Theatre Group, Seattle Repertory, Yale Repertory Theatre, Arena  Stage, Steppenwolf Theatre, the Goodman Theatre, Chicago Shakespeare  Theatre, Berkeley Repertory Theatre, Williamstown Theatre Festival, La Jolla  Playhouse, The Huntington, South Coast Repertory and Playwrights Horizons. He  has received numerous awards for composition and sound design including  multiple Joseph Jefferson Awards, an Ovation Award, a Barrymore Award, a Lortel  Nomination and Drama Critics Circle Award. Film credits include the score for  Showtime's feature length documentary The Business of Being Born, as well as the  short films Cell Watch, Netuser and War Words. Based in Chicago, Andre is an  ensemble member of Lookingglass Theatre Company.
Since the Covid pandemic, projects include remote virtual collaborations with  Theatre Squared and The Civilians on the critically acclaimed Russian Troll Farm (selected as one of the top 10 productions of 2020 by the NY TImes) as well as  audio plays, site-specific interactive installations, and live broadcast performances  for Arena Stage, Milwaukee Rep. and American Players Theatre among others.
Nikkole Salter
Script Development/Dramaturgy and Direction
Nikkole Salter is an award winning actress, playwright, educator and arts  advocate. For her work she has received the OBIE, an Outer Critics Circle  Award, a Global Tolerance Award from the Friends of the United Nations, a  Selfdes-Kanin fellowship from the Theatre Hall of Fame, and most recently a  Lily Award for her contributions to the betterment of the theatre field. Her  writing has been produced on 3 continents in 5 countries, and been published  in 12 international publications and has been featured on the WNET program  "Theatre Close-Up." She is a graduate of Howard University and NYU.
www.nikkolesalter.com
Alberto Segarra
Lighting Designer
Selected Washington DC credits include: The Snowy Day (Adventure Theatre), Boy (Keegan Theatre), Earthrise (Kennedy Center), Blood at The Root, Helen Hayes Award  Outstanding Lighting Design (Theater Alliance), The Agitators (Mosaic Theatre) and  An Act of God (Signature Theatre). Other credits include: 1776, Priscilla: The Queen of  the Desert, Vicuña, Satchmo at the Waldorf, Independence Eve, Macbeth, Lucia de  Lammermoor, The Taming of the Shrew, The Magic Flute, Carmen, Hair, Cabaret, The  Glass Menagerie, and Romeo and Juliet. Mr. Segarra received his MFA in Lighting  Design from the University of Maryland – College Park. He is a proud union member of  local USA829.
For more, albertosegarra.com
Alex Troesch
Original Photography
Alex Troesch spent his childhood in Abidjan, Ivory Coast and Switzerland and  became interested in photography through the practice of black and white  printing. He attended the Ecole supérieur d'arts appliqués in Vevey,  Switzerland (CFC 1997) and later completed his training by assisting several  renowned photographers. At the same time, he published his first portraits and  reportages in the Swiss daily newspaper Le Temps and the magazine  Vibrations. In 2003, he moved to Brooklyn, NY to work with Swiss and French  press correspondents with whom he produced several long-term photography  projects in cities such as New Orleans (after Katrina) and Detroit (urban  farming). His work on the pointy boots craze of Matehuala, a small rural town in  northern Mexico was published in Time Lightbox in 2012 and also led to  exhibitions in New York and Europe. He is interested in North-South  relationships of power as well as issues related to reconciliation. Based in  Switzerland, he hopes to be able to travel back soon to the US.
www.alextroesch.com
This event is part of the Georgetown University Theater & Performance Studies Program's 2020-21 15th anniversary season, "Seeds of Change: Reimagining the World," programmed by Davis Performing Arts Center Artistic Director Prof. Maya E. Roth.
Supported in part by an award from the National Endowment for the Arts, and by the Office of the President at Georgetown University. To find out more about how National Endowment for the Arts grants impact individuals and communities, visit www.arts.gov.
Skip to content