Humanizing Politics Through Performance
Remember This: The Lesson of Jan Karski
National Tour
Chicago Shakespeare Company | Nov 3 -14, 2021
REVIEWS
"GRIPPING…Starring a virtuosic David Strathairn…under [Derek] Goldman's inspired direction." –The Washington Post
"A TOUR DE FORCE…Strathairn is a charismatic shapeshifter." –BroadwayWorld
"SUPERB…A searing and intimate study…portrayed with strength and vulnerability." –MD Theatre Guide
"INCREDIBLY MOVING…Strathairn is an actor of remarkable gifts." –DC Metro Theater Arts (Susan Galbraith)
"SPELLBINDING…Strathairn's performance demands to be seen." –Talkin' Broadway
"EXCELLENT…Goldman's direction manages the tricky task of keeping a one-man show moving fluidly." –Two Hours' Traffic
David Strathairn's spectacularly affecting performance as Jan Karski becomes not only an emotional but a moral experience. DC Metro Theater Arts (Sophia Howes)
Read more about Karski on the project page.
Welcome to the 2021-23 Global Lab Fellows!
All of us at the Lab are thrilled and proud to welcome the next cohort of the Global Fellows program!
We were deeply moved and inspired by an extraordinary pool of applicants from 38 countries, and it is a tremendous honor to bring together this courageous and visionary group of Fellows, all of whom have been making their work amidst intense challenges and upheaval.
Supported by a grant from the Andrew W. Mellon Foundation, this third cohort joins the continuing 2020-22 cohort whose fellowship runs through May 2022. Along with the Inaugural Fellows of 2019, the three cohorts of Global Fellows now comprise an increasingly impressive group from across the globe.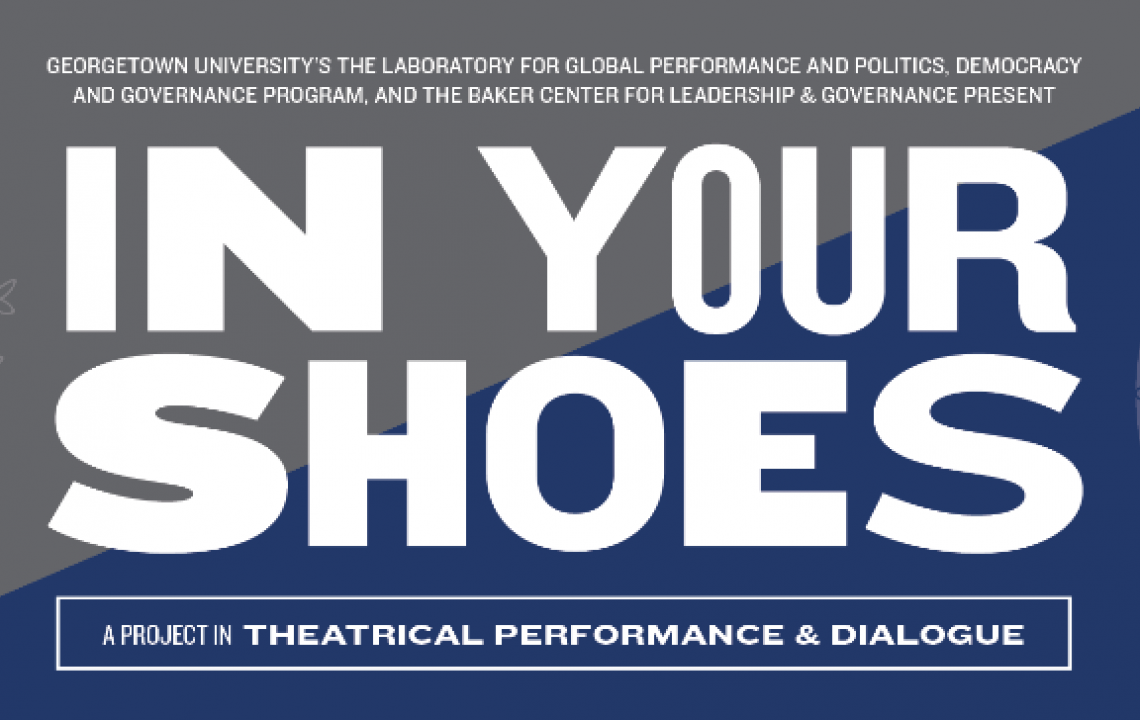 In Your Shoes: A Virtual Showcase
May 17, 5:30-7pm EDT
Join students, faculty, alumni, and staff for a free virtual performance and discussion, employing In Your Shoes™ acclaimed "Performing One Another" methodology for using performance to engage dialogue across difference. As recently highlighted in major features on PBS NewsHour and in The Washington Post, the evening will feature "After January 6th," a series of pair performances between Georgetown students and alums and our partners at Patrick Henry College, a conservative Christian College in Virginia, performing one another's personal responses to the January 6th events at the US Capitol.
In addition, the event will feature a series of intergenerational performances between our In Your Shoes™students/alums and diverse members of the Georgetown community, including performances by Prof. Tony Arend (Chair of the Government Department), Angela Jenkins (Administrative Coordinator, Department of Government), Fr. Gregory A. Schenden, SJ (Director of Campus Ministry) and Shiva Subbaraman (Emeritus, Executive Director LGBTQ Center and Women's Center). A discussion among participants will follow.
Join us on Youtube to share in this thought-provoking event.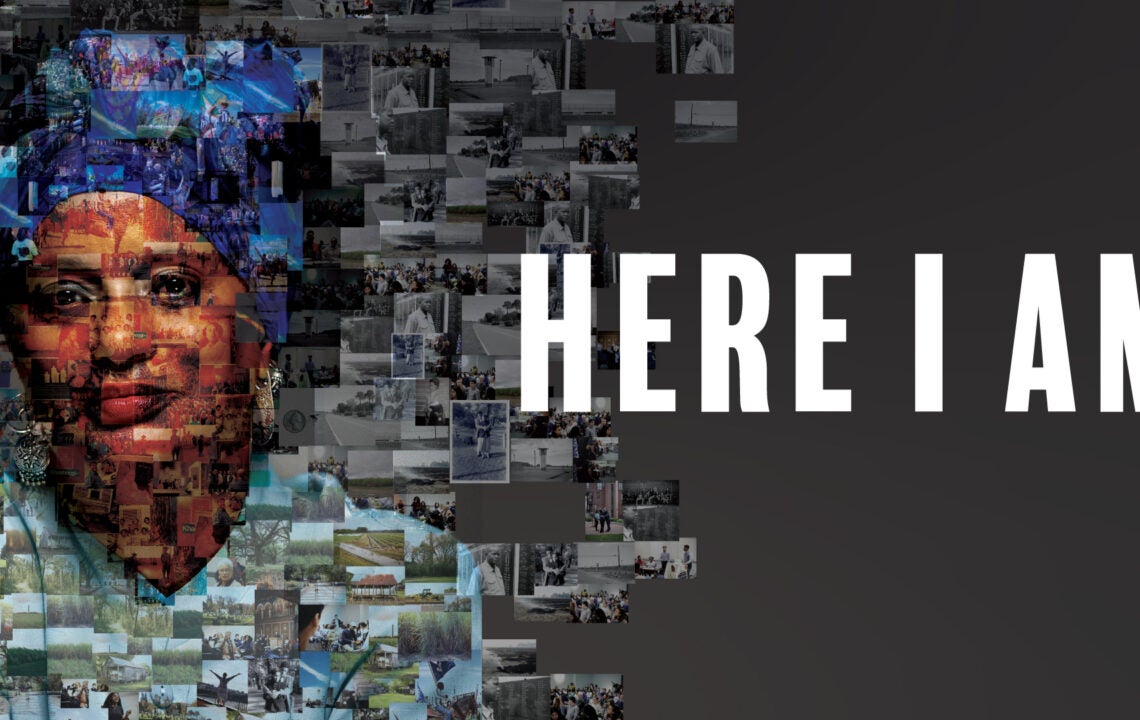 Here I Am
"Our ancestors have waited patiently through centuries for us to come to the table of acknowledgement. Here I Am fulfills my desire to give voice to those families, including my own, and to our tenacity and strength as a people — to close the full circle where we began our American lives three centuries ago and where we are today." –Mélisande Short-Colomb
Premiering Online in Conjunction with Emancipation Day the week of April 16, 2021
Preview: Tuesday, Apr 13 at 7:00pm EST
Thursday, Apr. 15 at 5:30 PM EST
Friday, Apr. 16 at 7:30 PM EST
Saturday, Apr. 17 at 3:00 PM EST
Mark your calendar and register for the Free online event at the Eventbrite: bit.ly/HereIAm21 
Team of Co-creating Artists
Jeremy Bennett, Multimedia
Michael Donnay, Stage Management and Research Dramaturgy
Derek Goldman, Direction and Script Development/ Dramaturgy
Jared Mezzocchi, Multimedia Design and Direction
Andre Pluess, Sound Design
Nikkole Salter, Script Development/Dramaturgy and Direction
Alberto Segarra, Lighting Design
Somi Kakoma, Composer and Vocal Performance
Alex Troesch, Original Photography
* The Descendants Documentary Project, Additional Videography
*Bernie Cook, PhD, Producer and Director, Dawne Langford, Editor and Co-Producer, Mélisande Colomb, Co-Producer, Kuna Hammad, Videographer, Allysa Lisbon, Assistant Videographer
A native of New Orleans who began her studies at Georgetown in 2017 at the age of 63, Mélisande Short-Colomb is a direct descendant of Abraham Mahoney and Mary Ellen Queen who were among the 314 members of the group known today as the GU272, enslaved people owned and sold by the Maryland Jesuits in 1838 to rescue Georgetown University from insolvency and bankruptcy.  More than an autobiographical chronicle, this ritualistic experience weaves narrative, music, and imagery, inviting the audience on an experiential journey exploring Colomb's loving and complicated relationship with the institution that enslaved her ancestors. Interrogating uncomfortable truths, rather than offering easy answers, HERE I AM challenges participants to bear witness and to reckon with their own histories, and to imagine the future of racial justice in America.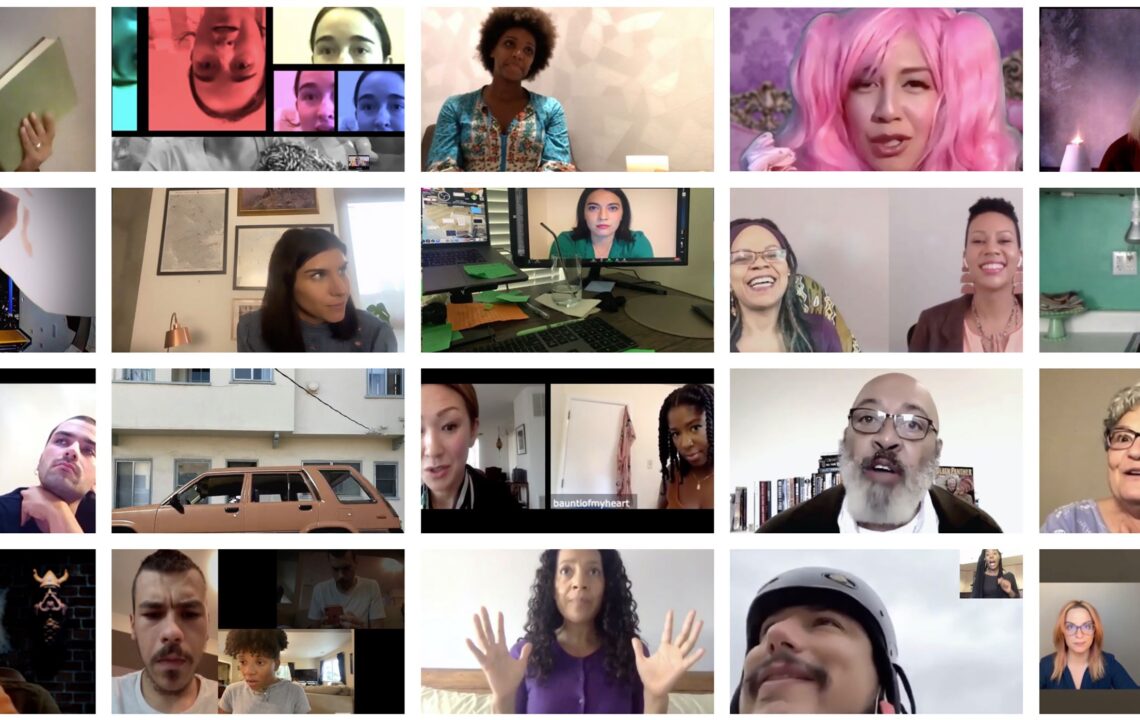 Flash Acts
Flash Acts premiered in October and is still live on the Flash Acts website.
This one of a kind virtual performance festival brought together twenty brilliant playwrights from the US and Russia, all creating ten-minute plays that explore the timely and resonant theme of isolation in ways that span the geopolitical, psychological, spiritual, and intimately personal. The resulting forty virtual productions offer audiences a feast of theatrical innovation – bold, tender, funny, and moving.
Read about the performance in this Washington Post article.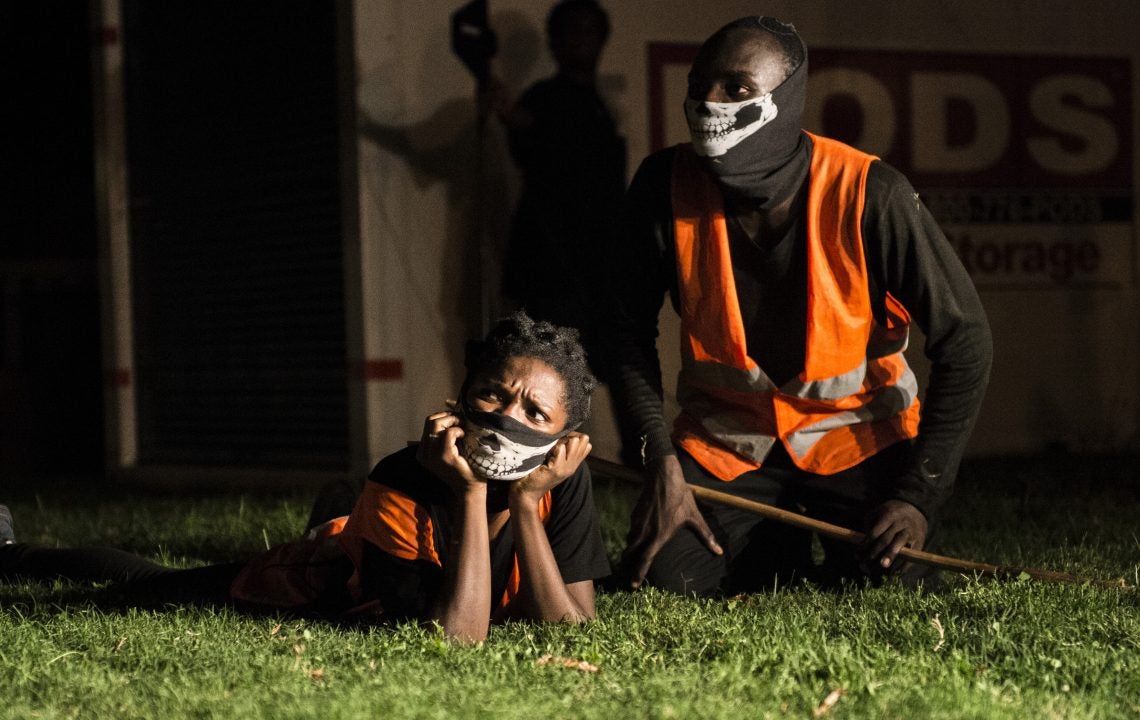 "Tennessee Williams would have smiled at the poetry unfolding outside the National Building Museum on Monday night...The tour is here via [The Lab], which has the great goal of giving international creative voices a platform in this fractious capital city. That's a timely mission, and plainly this is a troupe and a show worth hearing."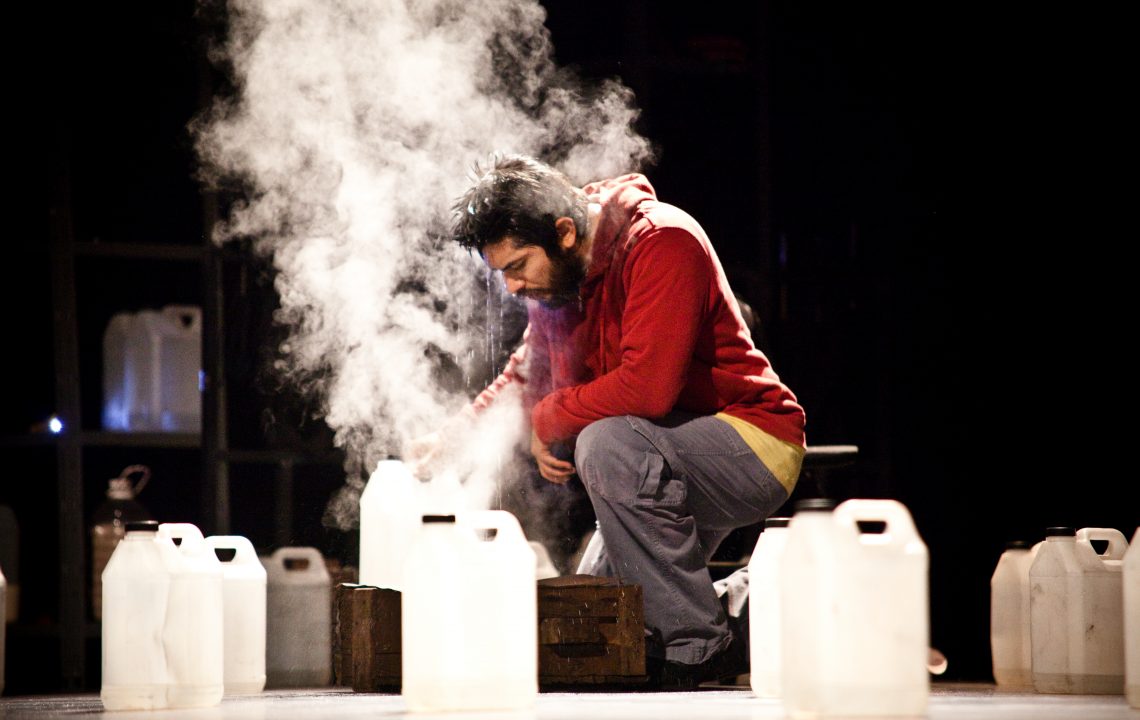 "That is why I think this effort that The Lab is doing today is so critical...the power of performance, the power of storytelling, and the power of narrative, are absolutely essential. In my mind, they are some of the only things that can actually have an influence on the political dialogue in this very, very peculiar moment in the politics of the United States and Europe."
— Dean of GU's School of Foreign Service Joel Hellman in his opening remarks at the 2016 TCG Global Pre-Conference, Finding Home: Migration, Exile, and Belonging, at Georgetown University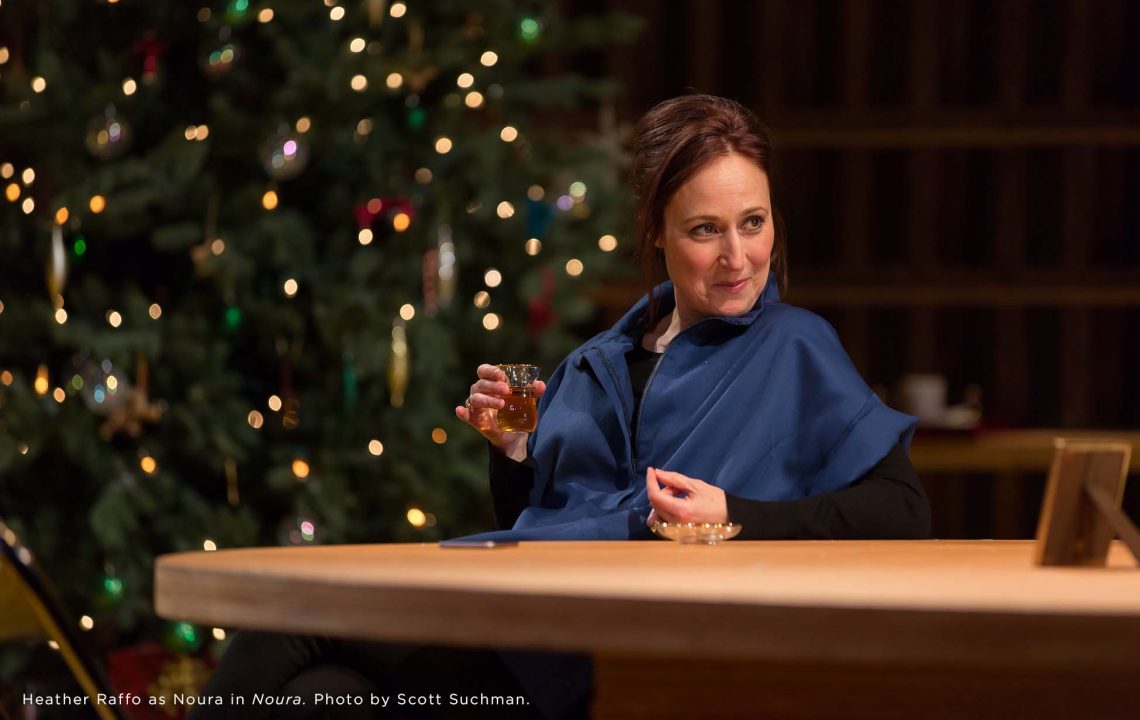 "The Lab brings policy experts, employees from the State Department and embassies, American and global theater practitioners, students, and community members that can speak firsthand to the experiences you're depicting on stage all in the same room-commenting and asking questions of your piece. There is no place besides The Lab that can create a conversation on a play like this. It was invaluable."
— Think Tank member Heather Raffo on The Lab's role in developing Noura.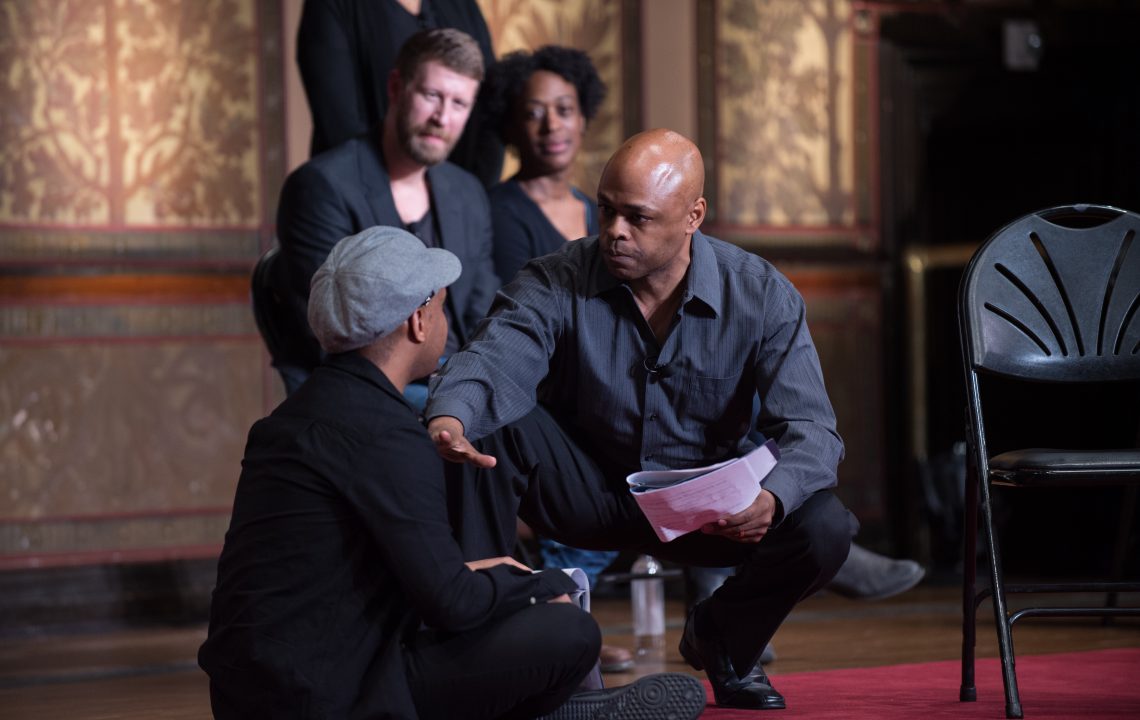 "Because ultimately when I dream forward, I see a world that fully utilizes the power of communal narrative to help re-humanize our families, our cities, our countries, and our world. But more importantly than that, theater ultimately re-humanizes the most powerful tool on the planet: the human heart."
— Lab Think Tank member Kwame Kwei-Armah's US World Theatre Day address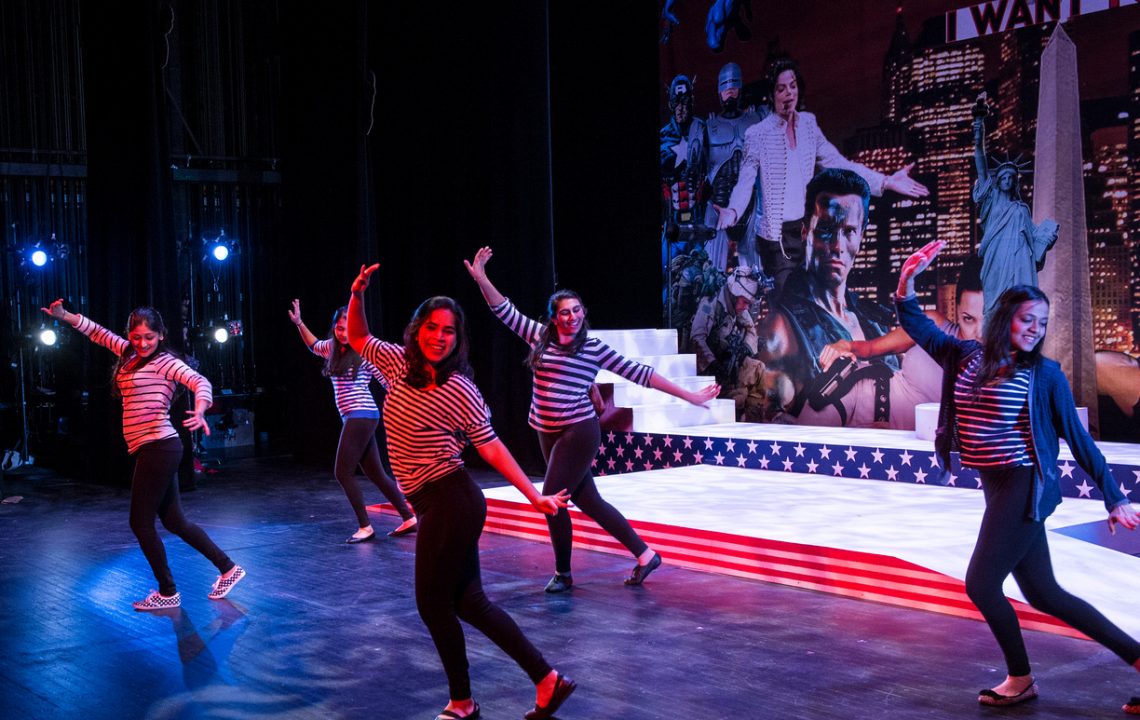 In this time of increased polarization, division, conflict, and lack of understanding between peoples and cultures, the need to bridge differences and to understand each other in human terms is greater than ever before. Refugee and migration issues, environmental and climate challenges, widening disparities and the rise of racism, Islamophobia, anti-Semitism, and prejudice of all kinds, all present problems that challenge the reach of traditional policy approaches. The time is overdue to develop a more humanistic approach to political and international affairs, one grounded in empathy and a sense of our common humanity.