The co-founders of The Laboratory for Global Performance & Politics, Professors Derek Goldman and Amb. Cynthia Schneider, took a group of students on a centennial trip to Cambodia to see local artists and changemakers in action.
Engaging the Personal and Political Through the Arts in Cambodia 
By Emily Kim
On an evening aboard a river boat, the Politics and Performance C-Lab listened intently to Arn Chorn Pond, flutist, founder of Cambodian Living Arts and genocide survivor. "My greatest wish is that children will carry musical instruments instead of guns," he told the group.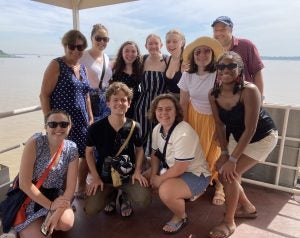 Rather than forensics, Politics and Performance: Confronting the Past, Shaping the Future explores the legacies of genocide through the arts. Asking how the performing arts play a role in memory and healing, Professors Derek Goldman and Amb. Cynthia Schneider,  co-founders of The Laboratory for Global Performance & Politics (The Lab) on campus, led a group of students to Cambodia where they saw local artists and changemakers in action.
The Politics and Performance C-Lab builds on the founding mission of The Lab: to draw on narrative, memory and acts of witnessing through performance in order to humanize global politics. While on campus, the class focused on building foundational knowledge of how the arts can be crucial to resolving and rebuilding from conflict. Once in Cambodia, however, students were struck by what felt like a "living laboratory," ripe for putting ideas into action.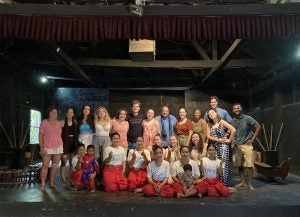 "I was, quite simply, blown away by the incredible talent, dedication and, above all, hope displayed by our Khmer hosts," Rebecca Tone (SFS'23) describes. "From the all-female drumming troupe MedHa to the modern dance duo New Cambodian Artists, the acrobats and organizers of Phare Circus to the actors and directors of Khmer Art Action, the passion for art as an agent for social change was practically tangible throughout our visit."
Tone also shares how there were many opportunities to get to know her fellow participants — and herself — in new contexts. "Not only do I feel closer to my classmates after this trip, but I also feel that I personally have grown as a result of their thoughtful insights, open-minded attitudes and willingness to share in so many emotional experiences with me," she observes.
While the group had moments of fun and bonding in more casual settings, they were also met with chances to collectively reflect on complex Khmer historical narratives. At one point, Georgetown students even staged an impromptu performance drawing on the English version of Soung Sopheak's original play "Drive Hom."
"The Georgetown students readily and expertly took on the challenge of interpreting the text, even adding a Greek chorus to emphasize key words," recalls Ersian François, general manager and associate producer at The Lab. "We then saw the Cambodian version of the same scene with the Cambodian actors, and it was just a magical moment of artistic and human exchange."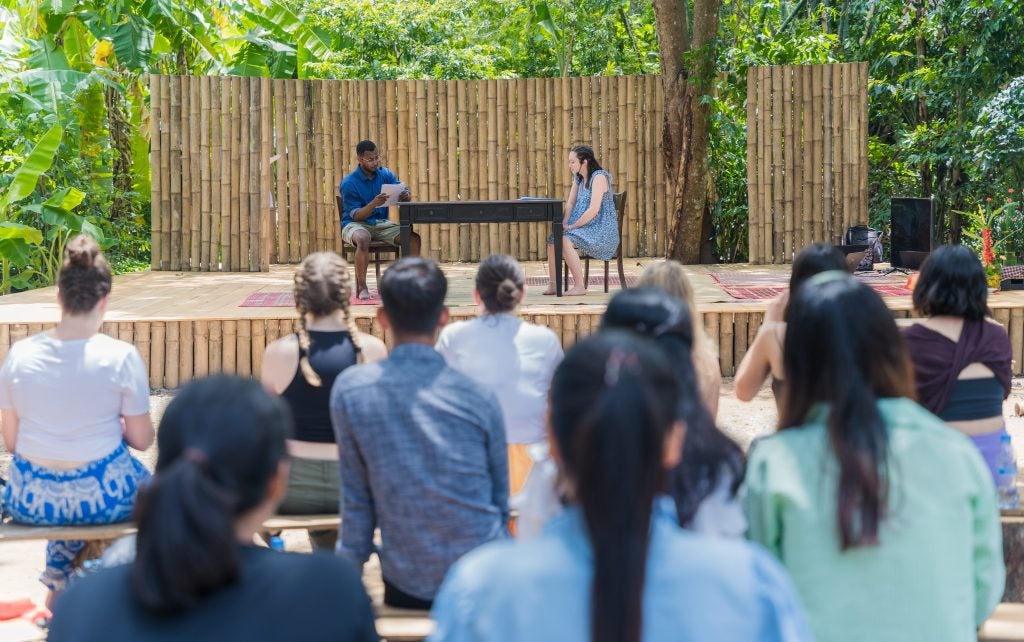 Tone echoes François' sentiments, conveying how the trip enhanced her understanding of art's role in confronting loss and rebuilding communities. "Traveling to Cambodia helped me crystallize in my mind that despite the tragic universality of suffering and conflict, hope and resilience are also universal, and humans have an incredible capacity for transforming profound pain into profound beauty," Tone reflects.