When music, movement, and bodies all come together to fill the vacuum in space, the arts can become a tool in guiding the audience to a state of belonging. Global Lab Fellow Sonya Armaghanyan recounts her experience at the East African Nights of Tolerance Contemporary Dance Festival, a festival founded and directed by Lab fellow Ruzibiza Wesley held in Kigali, Rwanda
I didn't imagine that I would leave Kigali carrying so much tenderness after attending the East African Nights of Tolerance (EANT) contemporary dance festival. Something has shifted in me- a movement within my body like an internal dance of its own. Now at the beginning of 2023, when Kigali and the EANT festival seem like a distant dream, my body still carries the tenderness, and I continue reflecting on the stories that were told through dance, movement, and the sound of the drums.
"Table of Silence" by Dancing Feet, Kenya/ photos by Leslie Akanyonyi
The theme of the EANT festival was 'Bodies Beyond Stories.' This theme was present through various layers of the festival. The traditional African dances, which told the stories of the ancestral past, now lived through the bodies of the young generations and transformed through the elements of contemporary dance- carrying the old and the new together. The bodies of African performers that bring the difficult narratives of colonialism and the personally lived realities of conflicts and wars in their countries continue to live and breathe with resilience beyond the stories of hardship. My body, which has shifted with vulnerability at the festival, now lives in a new story far from East Africa, yet melancholically yearning.

I arrived just in time for the opening event of the festival. My eyes searched for Ruzibiza Wesley, the founder and artistic director of EANT and the co-creator of AMIZERO Kompagnie- the first contemporary dance company in Rwanda. I could not wait to hug him. Ruzibiza and I are Global Fellows and met through The Lab. Aganza Kisaka, another Global Fellow and a talented actress, poet and director from Uganda, also came to Kigali for the festival. In the hugs with Ruzibiza and Aganza I felt a sense of belonging created through the stories and creative moments we have shared in the past. The feeling of belonging continued to move through me and, in unexpected ways, took a new shape during the festival days- at times also throwing me out of balance. I found a sense of collective belonging in the dance performances I watched, in every workshop I participated in, in conversations with dancers, and while dancing the nights away at the clubs in Kigali. "It has a lot of healing energy," Aganza told me about the festival.
Humans have an inherent need for belonging- to a geographical place or within a more abstract 'space.' The absence of it can create a vacuum. The arts can fill this vacuum, and my lived feelings at the festival were a raw manifestation of a beautiful process of finding belonging in its abstract yet rooted form. "It was a celebration. I loved the costumes and the story behind the hand gestures that the women use in the dance," said Junaid Jemal Sendi, the co-founder of DESTINO Dance Company from Ethiopia, about the traditional Rwandan dance Umushayayo. The dance borrows and resembles the graceful movements of animals, such as cows and elephants, and portrays elements from nature that Rwandan people have observed in their daily environment.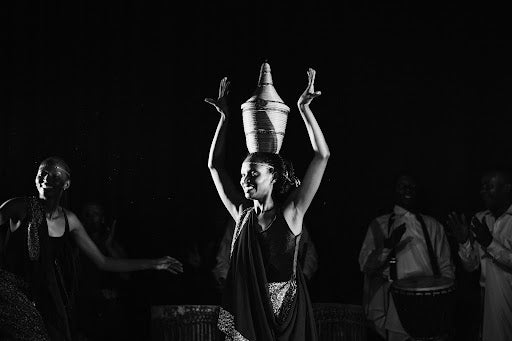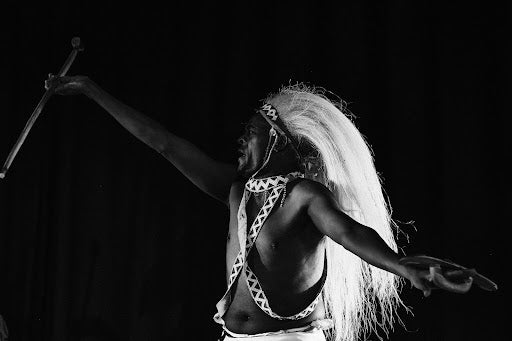 Umushayayo (on the left) and Guhamiriza (on the right) traditional Rwandan dances
Dancers: Ada Umugwaneza (on the left) and Sam Kwizera (on the right)/ photos by Leslie Akanyonyi
The days were filled with dance performances from Kenya, Tanzania, Uganda, Burundi, Ethiopia, the Democratic Republic of Congo, Côte d'Ivoire, Cameroon, France, and Rwanda. I felt the collective heartbeat of these communities. In the dance pieces, I witnessed experiences of struggle, separation, and oppression. I related to the need to hold on to something or someone, the tireless process of defining and redefining our identities, fears, uncertainties, transgenerational trauma, and the clash between society and the individual. Yet every time I saw limitless imagination and dreams and felt the resilience, the hope, and the abundance of love that, like an energy wave, was transferred from the dancers to the audience. 
"Why did you choose the word 'tolerance'? Why East African Nights of Tolerance?" I asked Ruzibiza. "I chose the word tolerance because, for me, it was essential to teach people about the act of accepting the other. You cannot have peace, you cannot have harmony, and you cannot have love if you don't accept the presence of the other in the same space. For me, a conversation starts by listening to what others say, whether you agree or not. Because dialogue is about understanding each other, but tolerance is about accepting the presence of others without necessarily agreeing with what they are saying. (…) A place where you have to listen to things that maybe you don't want to listen to, you must see things that you don't really want to see, in order to foster the idea of giving the space to talk and the space to express ourselves freely. (…) For me, tolerating someone is opening that space- it is your right to be, it is your right to speak, it is your right to share, whether others are accepting what you bring or not."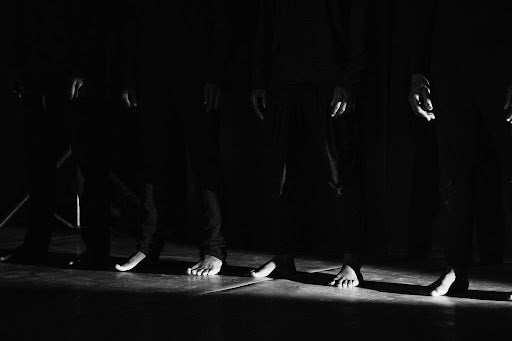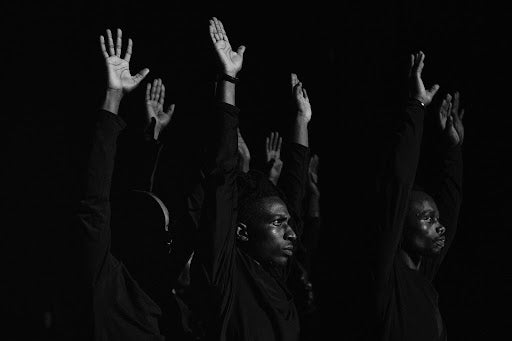 "Tshukudu" by Fire Dance, DRC Bukavu/ photos by Leslie Akanyonyi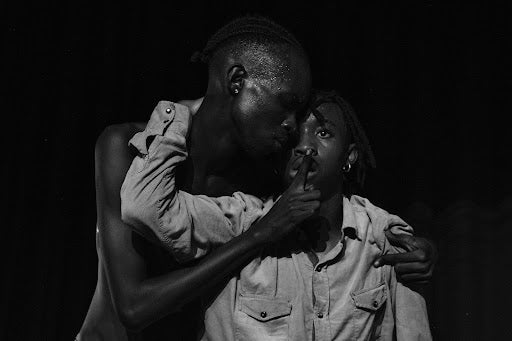 "Ghetto Kid" by Inshuti Dance Company, Burundi/ photo by Leslie Akanyonyi
As I listened to Ruzibiza, I thought back to Felicien Ntagengwa's words I read at the Kigali Genocide Memorial Museum: "If you knew me and you really knew yourself, you would not have killed me." I often think everything trickles down to the notion of identity- me and you, us and them. Who am I, and who are you? Who are we, and who are they? Division and separation, harmony, and togetherness. Every time the lights would go down in the audience, through dance, we would travel to a new reality, where an examination of our very own identities and of our own closely held truths would take place. These pieces were more than carefully crafted choreography and a presentation of an incredible technique. Through dance, the artists conveyed and helped the audience to see, to feel, to remember, perhaps in a new way, who we are. Once again, I was in awe of how intimate and raw this process of getting to know oneself and each other can be through the arts. I find it fascinating how our bodies can collect and store our life experiences and memories, including those of our ancestors, piece by piece, creating our identities which are continuously influenced by new encounters and narratives and have the capacity to transform.
"That was unique. The fact that we all could understand the stories delivered through movement, and yet we all speak different languages," said Aganza
It was the internalized perception of my own identity that moved me in-between contrasting feelings. In the festival's space, I felt part of the East African community where dance, beat by beat, created harmony and deep care for one another. And in this same space, I was displaced between feeling like an outsider and yet emotionally relating, in my own way, to the narratives that the African dancers shared. The stories relating to transgenerational memory and the history of colonialism were vividly present. And while I listened and soaked it all in, I felt strange to even try and convey these stories and truths through my writing. My voice is not enough. "Has Armenia ever been colonized?" Daudet asked me. I needed a moment to respond while thinking back to Armenia under Ottoman rule, Armenia as part of the Soviet Union, and how these chapters of history have shaped and continue to reshape the Armenian identity.
The process of learning and unlearning our identities, while finding interrelations in our stories and our dreams was an integral part of the festival. The piece "Ene Man Negn" meaning "Who am I?" by DESTINO Dance Company started with a movement portraying the Ethiopian ritual of blessing the space with 'chera'- a handheld piece with fiber strands swung in the air like a fly whisk. The dance was a beautiful flow between the preserved traditional Ethiopian dances and a contemporary movement. The piece portrayed the search for one's identity and the meaning of cultural and national identities. Survival of unique traditions and rituals in an era of globalization, where a sense of identity can feel disoriented. "Who you are is an experience that you go throughout all of your time, it doesn't stop. "Who am I?" is an experience that your body goes through," told me Addisu Demissie, the co-founder of DESTINO.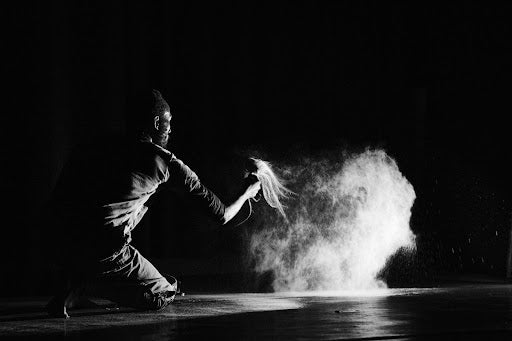 "Ene Man Negn" by DESTINO Dance Company, Ethiopia/ photos by Leslie Akanyonyi
For dancer and performer Daudet Grazai, the real home is inside him. It is inside his heart and is painted with a multitude of characteristics- "nice, bad, hope, expectations, curious, scared sometimes, with a strong roof, stupid, smart, peaceful…." Contrary to the rooted sense of home inside him, Daudet took the audience on a journey of displacement and migration with his solo dance performance. A bench, the central piece on stage, symbolized the boat that carried the life of an African migrant through the rough sea. The impressive and emotional choreography told stories of lives lost at sea with no one to find or care for them. Daudet told me that his message is political- humans and societies in Africa, Europe, or elsewhere are struggling because of systems. With his piece, he wants to raise awareness about these experiences. A journey of loss, endurance, resilience, and hope to find safety and a home. "The boat is everything you have…." Daudet added at the end of our conversation.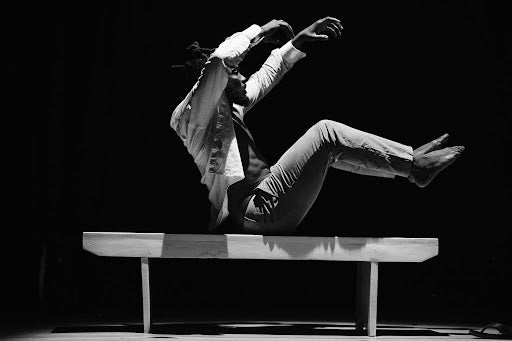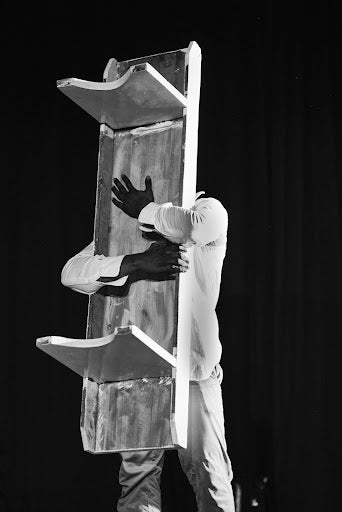 "Les Larmes De L'ocean" by Daudet Grazai, Cote D'ivoire/ photos by Leslie Akanyonyi
Our days and evenings at the festival expanded into the nights when we danced to the beats of hip-hop, afro-dance, breaking, freestyle, and afro-house music. I was filled with joy and amazement watching the dancers express themselves so freely through incredible movement and technique. It was a testament to tireless years of practice, but most of all, an embodiment of pure passion. "I dance because dance is my passion. It is not only my work- I love it," told me Nicolas Mutima Yanece, a dancer from the Democratic Republic of Congo. My first interaction with Nicolas was in a workshop (DESTINO facilitated that) where in pairs, we had to trust each other's movement (him leading and me following with closed eyes) through the space of the room. I am no stranger to this exercise and have experienced it many times in theatre practices. However, there was an added challenge of a more complex movement, as if we were improvising a contemporary dance by only trusting our instincts and each other. During this process, I was reminded of the almost unreal ability of artists to trust each other and embrace vulnerability openly. I then saw Nicolas on the dance floor and felt pure joy watching him dance. He embodied each movement, each beat, with such passion and freedom.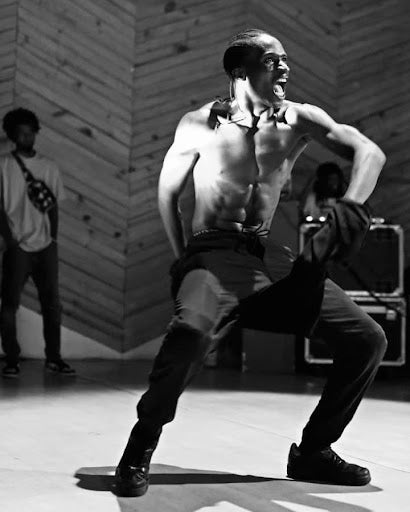 "I communicate messages with my movements. With dance, I am like a messenger. I dance to convey messages to people," Nicolas told me. "For you, what is an important message to tell the people in your community?" I asked him. "In Congo, when I dance, I convey messages of sadness, because we have lived through many wars. I always say to Congolese that we have to be together to fight against war. Because one day it will end," Nicolas responded . And so, when I watched him dance, I thought of how sadness and joy co-exist organically, hardship and lightness co-exist, and how aching and healing are not separate processes. Still, rather they flow within us in unison. Once again, I smiled, feeling with every inch of my body that dance, performance, and arts have the magical capacity to allow for all our vulnerabilities to shine with so much strength, creating a better humanity one movement at a time, one drum beat at a time, one hug at a time, one dance at a time.
At the EANT festival, in between the beauty of all these moments, I was reminded of what 'falling in love' feels like. The sensitive, vulnerable, beautiful, soul-nurturing, passionate and caring feeling touches the body deeply and leaves a long-lasting impression.
Sonya Armaghanyan is a 2021-2023 Global Lab Fellow at The Lab and the founder and the Artistic Director of The Postcard Theatre. She is a cultural producer and a community engagement specialist focusing on social cohesion and intercultural communication.