The Lab hosts a poetry reading and book launch party for the first chapbook, Watering Whole, by Georgetown Alum and Red House program specialist for Environment, Justice, and Education, Jan Menafee.
By Jan Menafee, poet and Program Specialist for Environment, Justice, and Education at the Red House at Georgetown University
In Early February, I had the privilege of hosting a poetry reading and book launch party at The Lab's beautiful new space. The event, titled Gathering at the Watering Whole, brought together an eclectic collection of Georgetown students, staff, faculty, and community members to celebrate my first chapbook of poetry, Watering Whole. While some of the attendees I have known as friends since my freshman fall at Georgetown in 2016, many more I met for the first time at the event. Through two hours of time together, we got to eat, play, learn, laugh, listen to music, and get to know one another through our stories with water.
The Lab space was perfect for the multiple purposes of our Gathering at the Watering Whole. We were able to offer food in the lobby and let people eat and interact with the sensory stations in the main room. Inspired by our own bodies of water and sense of playfulness, we set up five tables with different forms of water to engage with each of our five main senses.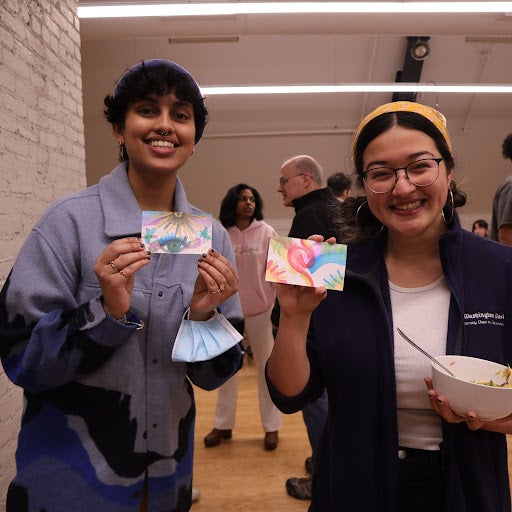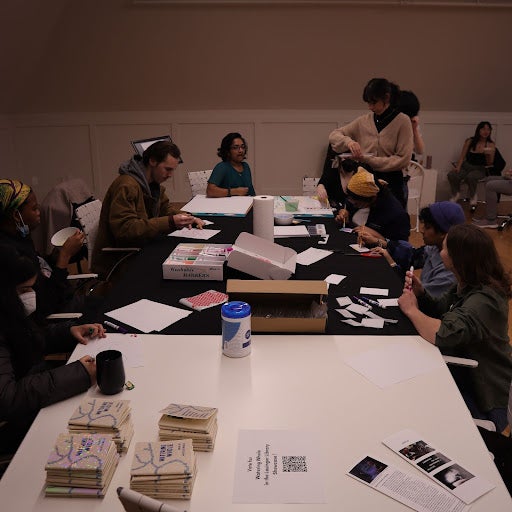 [
Guests utilizing sensory stations
]
Our "Sight" station had big sheets of paper and several watercolor paint palettes. Our "Smell" station had an essential oil diffuser with several scents for mixing and enjoying. Our "Hearing" station had two water-inspired playlists to check out on Spotify. Our "Taste" station had several kinds of tea for attendees to drink and savor. And our "Touch" station, the most popular one, had a wide array of fun, colorful, temporary tattoos. The first hour was filled with surprise as attendees connected with one another through these obvious yet fun manifestations of water in our daily lives.
[
Georgetown and Fillmore Center community members sharing art and food
]
The second hour featured a reading from me sharing poetry and reflection questions from Watering Whole. Whenever I asked a question, I would make time for anybody there to share a personal response with the group, and this was honestly my favorite part of the night because everyone's stories and perspectives were interesting and insightful. Waters, both the source of life and a basic human need, have incredible power to bring people together when we intentionally appreciate them in community. Even though my writing on water brought people to the event space, everyone's participation in the group discussion allowed us to transcend an individualist focus and truly feel connected and oceanic.
[
Poetry reading by Jan Menafee
]
Then after the discussion, when my friend and recording artist Kendall! played guitar and sang two original songs, we could all know that our night in The Lab was a special moment. It was a moment that I, and the several people that mentioned it, will cherish forever, and it was all thanks to Georgetown alumni and current staff members Ashanee Kottage, Hasini Shyamsundar, and Justus Pugh for helping me plan, prepare and facilitate for this event, as well as The Lab for being gracious hosts and The Red House and Earth Commons for offering their support.
 Jan Menafee  is a poet and Program Specialist for Environment, Justice, and Education at the Red House at Georgetown University