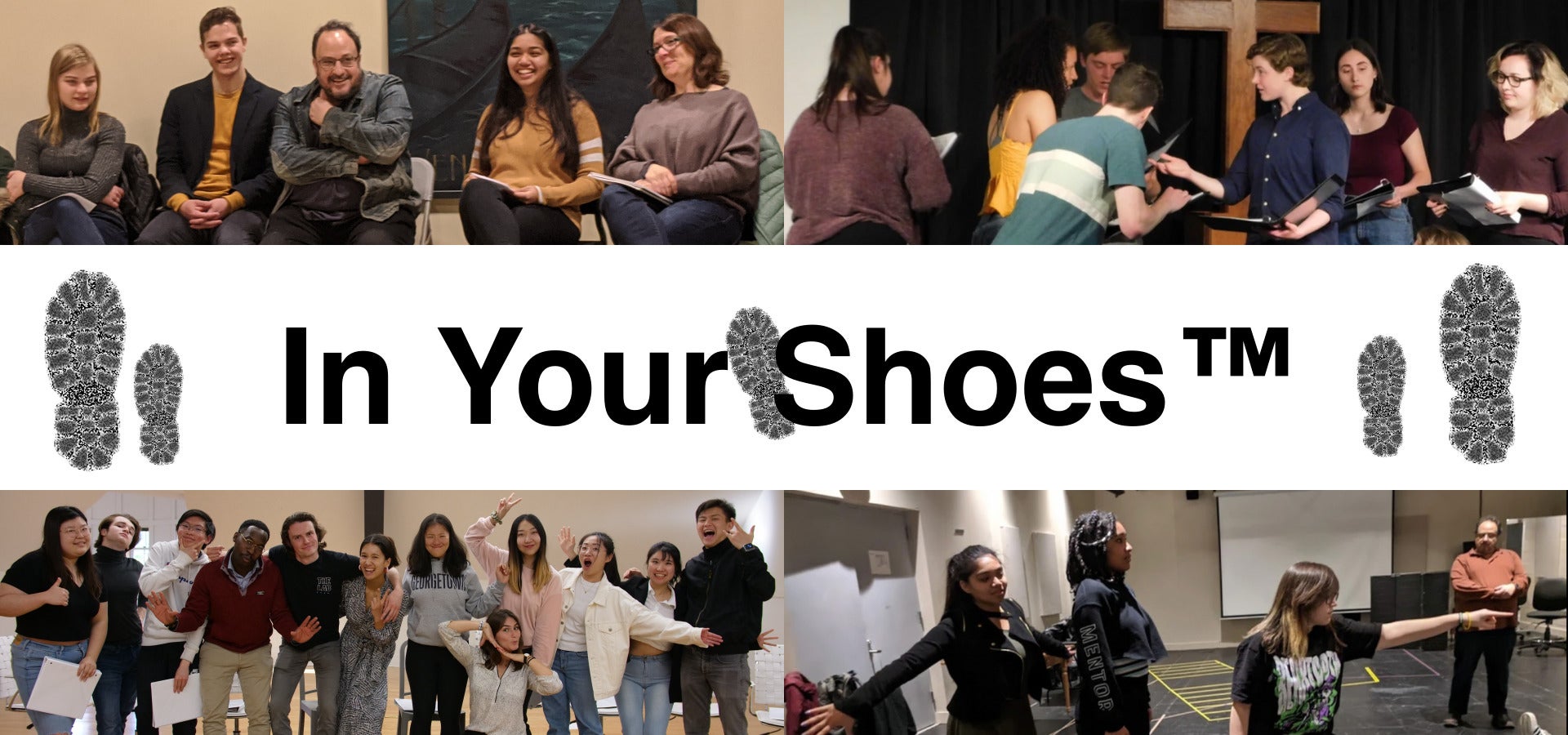 In Your Shoes™
In Your Shoes™ employs innovative techniques rooted in theatrical performance, group dialogue, and deep listening to offer a groundbreaking experiential approach to countering polarization, engaging across difference, and promoting civil discourse.
A signature methodology of The Lab created and developed around the world over more than a decade, In Your Shoes cultivates curiosity, empathy, humility, mutual respect, and self-discovery among participants of diverse cultural, disciplinary, ideological, and generational backgrounds. At a time when polarization is reaching unprecedented levels with devastating consequences for our individual well-being, our interpersonal relationships, and the very nature and future of our societies, In Your Shoes offers an experiential approach to fostering lifelong tools for deep listening and respectful dialogue across political, moral, social and religious differences. The process humanizes rather than demonizes those who see the world differently than ourselves, which lays a critical foundation for the essential work of civil discourse.
 "We all have a story to tell. But many times these stories are not told... In Your Shoes provides that platform for me to reveal those stories in a fruitful and thought-provoking way. But it also gets me to hear new stories, that I would have never imagined hearing."
In addition to its demonstrable impact in these areas of fostering dialogue across difference, cultivating trust and empathy, and countering polarization, In Your Shoes has been widely recognized as a vibrant artistic process that has been groundbreaking both for leading professional performing artists, and yet inclusive and accessible for populations that do not identify as performers. In fact, participants who self-identify as especially shy or reluctant around "performing" have always had disproportionately transformative experiences. Some In Your Shoes initiatives culminate in public performances where we "widen the circle" to bring a larger community of audience into the communal experience and conversation.
IN YOUR SHOES RESEARCH & PRACTICE CENTER
Acclaimed international theater-maker and educator Derek Goldman conceived, created and developed In Your Shoes and the "Performing One Another" methodology at its heart over a decade of intensive workshops in a range of global contexts, including China, Russia, Bangladesh, and Sudan, as well as with diverse and often polarized communities in the United States.  Working with a range of collaborating colleagues specializing in curricular design and transformation, inclusive pedagogy (with an emphasis on equity/diversity and anti-racist approaches), interfaith dialogue, conflict resolution and peace-building, movement/ dance, neuroscience and social psychology, The Lab has now launched the In Your Shoes Research & Practice Center. 
"We can talk theoretically about empathy, but to experience it is a whole other thing. In participating in In Your Shoes, it's like a third perspective emerged for me as I started to notice what I myself was experiencing as I shared my partner's narrative. That is empathy."
In addition to receiving the Provost's Innovation in Teaching Award at Georgetown, In Your Shoes has attracted feature stories in The Washington Post and on PBS Newshour, and has been experienced by thousands of individuals across the world, including artists, educators, activists, diverse spiritual/ religious leaders and congregants, global executives( from the World Bank and various industries), everyday citizens, as well as thousands of students across the world in a range of disciplines  (international affairs, medicine, arts and humanities, public policy, political science/ democracy studies, psychology, education, philosophy, theology, law, global health, environmental studies, and more). Through creative, substantive, and supportive explorations of common experiences that cut across ideological and cultural divides – loneliness, grief, hope, belonging, loss, anxiety about the future, family, faith, and the larger meaning and purpose of our human existence, In Your Shoes offers participants tools to listen deeply and to understand perspectives of those who are different from themselves.
Building on the successes of In Your Shoes and the intensive demand for and interest in this work, The Center offers a hub for researching, training, facilitating, practicing and disseminating the IYS process. The Center enables The Lab to further scale these efforts and to share In Your Shoes more broadly through additional curricular and extracurricular offerings,  as well as workshops and materials for training new facilitators and expanding our network. As we shape an integrative structure for this work that combines research, training and participatory practice, we are building a dynamic In Your Shoes ecosystem which engages a growing diverse community of facilitators, participants and researchers from a range of disciplines, as well as an expansive global network of collaborators and partners.

"I joined this project because I wanted to challenge myself to engage with unfamiliar spaces and frame my thinking around new political perspectives through voicing my experiences and sharing community with others."