Partner Festivals
Over the last 10 years, The Lab has contributed to a number of Festivals in partner with other organizations. Read more about our inter-organizational work and participation below.
Zeitgeist
Participatory Theatre
May 2014
Davis Performing Arts Center, Georgetown University
Washington, DC
This global symposium, tied to an international festival at the Goethe-Institut Washington, alternated between planned audience integrative experiments and reflective response sessions. Visiting experts from Austria, Switzerland, Germany as well as Think Tank member Michael Rohd (Sojourn Theater) and local theater artists from dog & pony dc, gave presentations which encouraged audience participation and highlighted their aesthetics, methodology and practice. 
In participatory theater, audience members interact and engage with the performance and the artists. This shift in the artist-audience relationship opens up opportunities to question form, aesthetics, and content in theater art, civil engagement and social justice.
Theater of the Voiceless
June 2013
Davis Performing Arts Center, Georgetown University
Washington, DC
Documentary theater possesses a unique ability to respond to issues of pressing political import and social justice, and provides a platform and voice for the dispossessed. This symposium and festival brought together leading playwrights, artists, and governmental, political, and cultural experts from the United States and German-speaking countries to discuss, perform, and celebrate the international power and vitality of this art form.
The culminating event of the Symposium was a staged reading of Milo Rau's Hate Radio, directed by Derek Goldman, which engages the Rwandan genocide by reconstructing the studio of the country's most popular radio station. Hate Radio featured Rick Foucheux, Caroline Clay,  Erika Rose, Kenyatta Rogers, Crashonda Edwards, Michael Anthony Williams, Baakari Wilder, and Joshua Street.
Produced in partnership with Zeitgeist DC (Austrian Cultural Forum Washington, Goethe-Institut Washington, and the Embassy of Switzerland).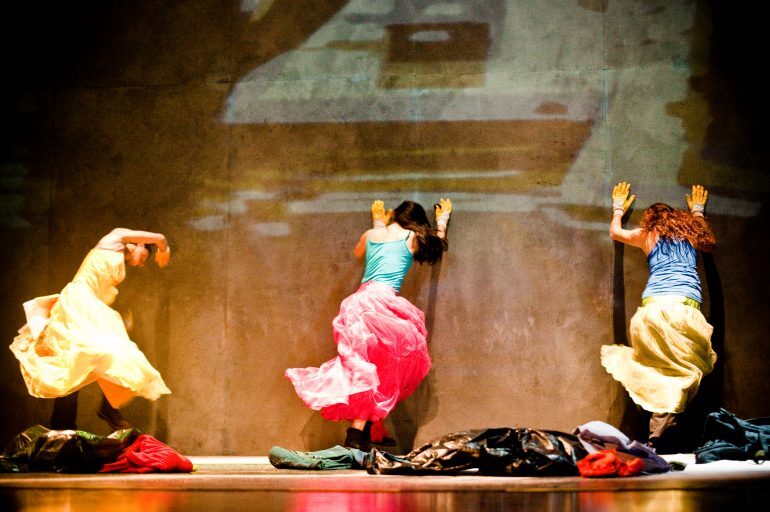 Global Pre-Conference
Beyond the Four Walls
June 2017
Portland Center Stage
Portland, OR
Building on the success of the 2016 Global Pre-Conference, the Global Theater Initiative (the Lab's partnership with Theatre Communications Group) hosted the 2017 Global Pre-Conference entitled Beyond the Four Walls, a meeting ground for artists and theatre leaders to embrace theatre's function as a space of solidarity that extends beyond physical, geographic, and cultural borders. Theatre makers from across the country gathered in Portland, a sanctuary city, to identify actionable steps participants can take to utilize theatre to ignite dialogue and humanize current issues of local, national, and global concern.
The Pre-Conference included an afternoon working session with global theater practitioners focused on action-oriented discussions and strategies. The evening event featured Teatro Línea de Sombra and their celebrated production Amarillo, which tells the story of a man who departs for the US-Mexican border and vanishes before reaching his destination. Through stunning projected images, bilingual monologues, and a sea of displaced objects and natural elements, this renowned company from Mexico City reconstructs his journey in a timely multimedia performance that travels imagined landscapes of both geography and cultural identity.
Watch the livestream of the 2017 Global Pre-Conference, courtesy of HowlRound TV:
Finding Home: Migration, Exile, and Belonging
June 2016
Gonda Theatre, Georgetown University
Washington, DC
Global Theater Initiative (GTI), a partnership between The Lab and Theatre Communications Group (TCG), hosted a Global Pre-Conference as part of TCG's National Conference. The Global Pre-Conference embodied our collective pursuit of a highly participatory, inclusive nation without borders that includes and celebrates all theatre citizens. The theme for the Pre-Conference was Finding Home: Migration, Exile, and Belonging, and included 200 participants from nearly 25 countries in dialogue with artists and leaders from across the country.
Through a dynamic and innovative range of performances, workshops, and discussions, we explored together the value of meaningful cultural exchange in the context of an increasingly polarized world, beset by so many forms of conflict and crisis (geopolitical, humanitarian, environmental, etc.).
The evening portion of the Global Pre-Conference was Prevented/Presented Performances. This forum focused on a range of performances from Serbia, Russia, Zimbabwe, Mali, Israel, Palestine, and Syria that due to political circumstances have not been able to be presented. The evening showcased the works themselves that were prevented as well as the complex reasons behind those decisions.
Watch the livestream of the 2016 Global Pre-Conference, courtesy of HowlRound TV: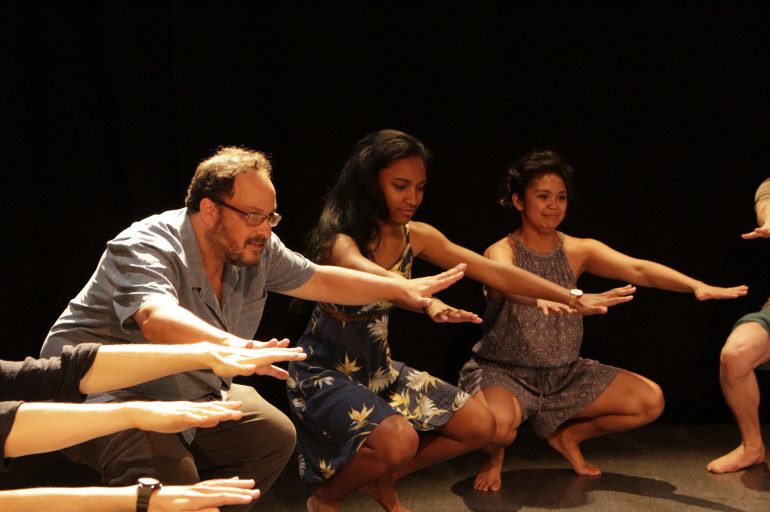 Student Festival and ITI World Congress
July 2017
Segovia, Spain
The Lab's significant global reach is manifest through its leadership role within the International Theater Institute (ITI) and through the creation of the UNESCO/ITI Network for Higher Education in the Performing Arts, co-founded by Lab co-director Derek Goldman.
July of 2017 marked a historic occasion in the history of ITI as the Network presented the inaugural Student Festival in Segovia, Spain as part of the ITI World Congress, the first time a student festival has been part of the Congress. The Festival, curated and directed by Goldman, manifested the new Network's values of deep cross-cultural exchange, inclusivity, artistic integrity and experimentation, and pedagogical innovation, and featured leading academies from Bangladesh, China, India, the Philippines, Slovenia, South Africa, Spain, Switzerland, along with a delegation of students from Georgetown University who, as the only North American delegation, presented their original devised work I Pledge Allegiance.
In addition to ten international performances, the three-day student festival included a series of workshops led by faculty from Bangladesh, India, Switzerland, and the United States. The central goal of the student festival was to encourage collaboration, and during the week of the World Congress 70 international students devised short group pieces around the theme of "home" and performed them for the Congress attendees. These performances took place in the former women's prison that now serves as the primary cultural center.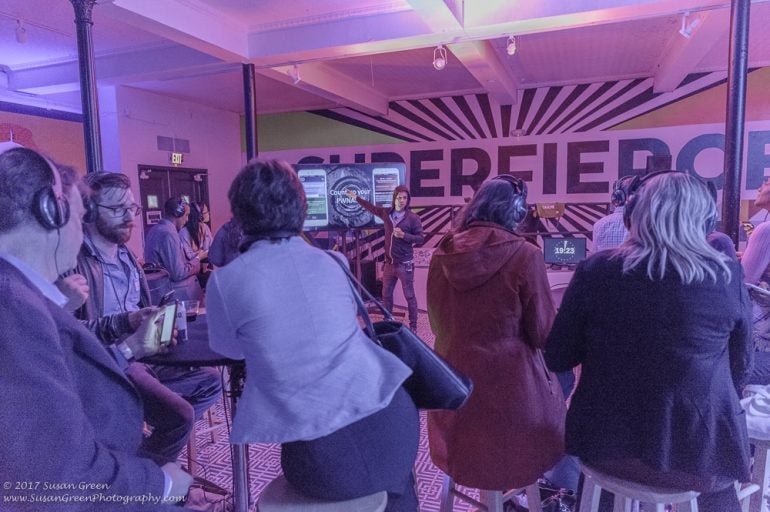 Digital Eye @BlindWhino
October 2017
Washington, DC
The Lab participated in Digital Eye @BlindWhino, an exciting, interactive event merging theater, film and a live game show that explored how the Digital Age is affecting our everyday lives. As technology moves towards a more intimate experience with its users, we find our private lives becoming the commodity for a global market of data-miners, phishers, and hackers. Our private selves – what we watch, what we like, where we go – can all be used overtly or covertly to determine what we do.
The two-day event included thought-provoking micro-plays and filmed performances produced by Europe's most innovative playwrights and directed by Washington's leading theaters, including Deburkanization, directed by Lab Co-Director Derek Goldman and featuring Felicia Curry. All four performances included a town hall with experts, curated and moderated by The Lab.