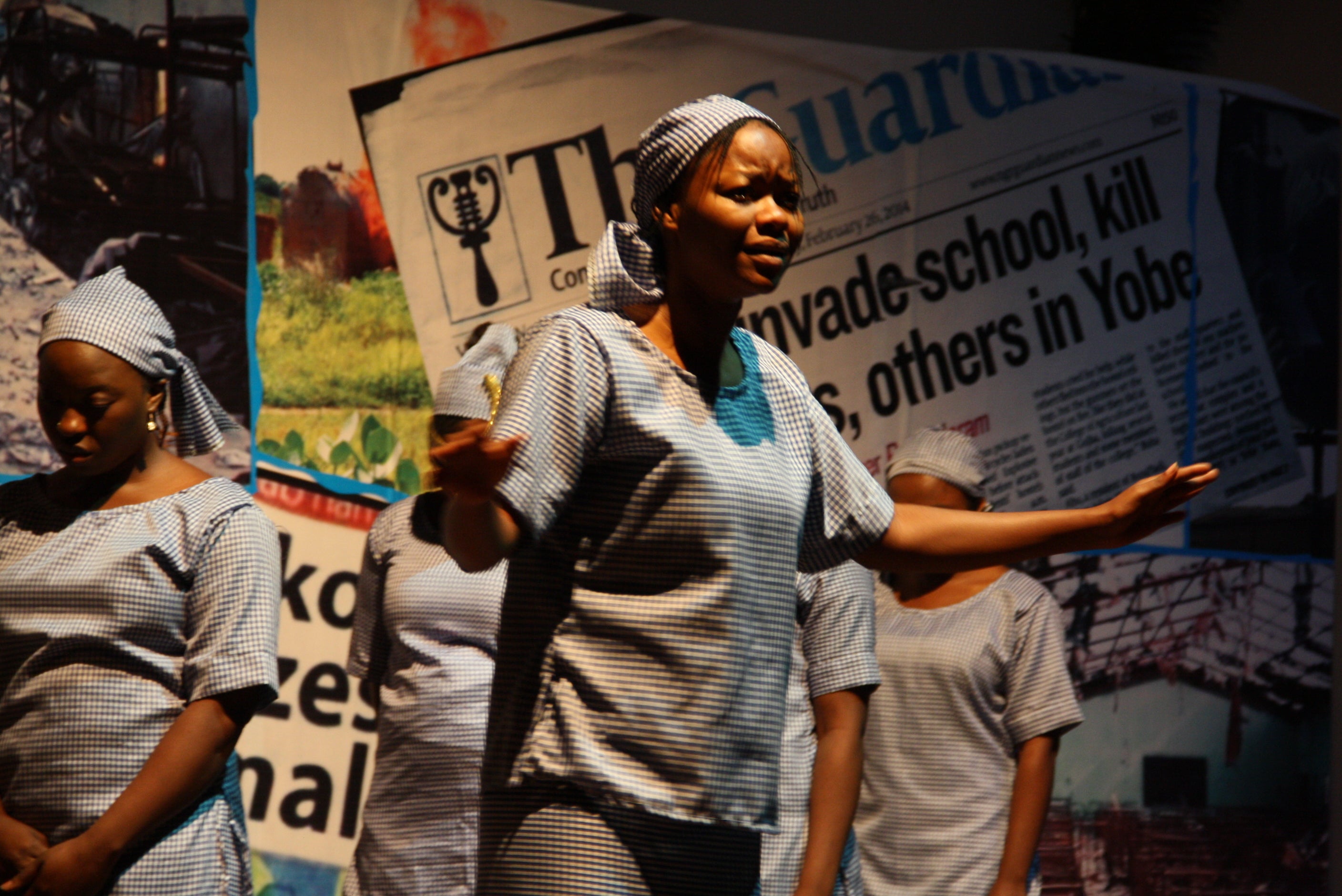 The Chibok Girls: Our Story
Presented as part of 
The Chibok Girls: Our Story, the US Premiere of Renegade Theatre's searing work of testimonial theater about the abduction of 276 girls from their school in the Nigerian town of Chibok by the Boko Haram in 2014, and the enduring reverberations of their story. Written and directed by Wole Oguntokun, The Chibok Girls: Our Story was presented in tandem with The Lab's special guest, Nobel
Prize winning playwright and author Wole Soyinka, who premiered excerpts from his brand new work A Humanist Ode for Chibok, Leah. This long-form epic poem pays tribute to 15 year-old Leah Sharibu, one of the 108 girls abducted in 2018 from Dapchi by the Islamic State for the West African Province (ISWAP), a splinter group of Boko Haram. Leah was the only one not returned after the Nigerian government paid an enormous ransom. She refused to renounce her faith and has been held captive since.
---
The Chibok Girls was be performed by:
Leelee Byoma
Tobi Igbenoba
Dolapo Kodaolu
Jennifer Osammor
Meg Otanwa
---
The Chibok Girls: Our Story is supported in part by John Manirakiza, Eucharia Mbachu, and Hyacinth Nwachukwu.
About the Director:
Wole Oguntokun is the Artistic Director of Renegade Theatre and Founder of Theatre Republic. He is also a Fellow of the International Society for Performing Artistes (ISPA). He was the founding producer and resident director of Theatre@Terra, a project he ran weekly for three and half years, staging plays at the Arts Centre known as Terakulture. He is the writer of stage plays such as Prison Chronicles, The Chibok Girls, The Tarzan Monologues and the head writer of the V-monologues-the Nigerian version of The Vagina Monologues, just to mention a few. Worthy of note is his work as Assistant Director to Nigeria's Nobel laureate, Professor Wole Soyinka in the Nigerian Premiere of The Beatification of Area Boy in the 2015 Muson Festival.
About Wole Soyinka:
Nigerian playwright and political activist Wole Soyinka received the Nobel Prize for Literature in 1986. He was born in 1934 in Abeokuta, near Ibadan, into a Yoruba family and studied at University College in Ibadan, Nigeria, and the University of Leeds, England. Soyinka is the author of five memoirs, including Aké: the Years of Childhood (1981) and You Must Set Forth at Dawn: A Memoir (2006), the novels The Interpreters (1965) and Season of Anomy (1973), and 19 plays shaped by a diverse range of influences, including avant-garde traditions, politics, and African myth.
An outspoken opponent of oppression and tyranny worldwide and a critic of the political situation in Nigeria, Soyinka has lived in exile on several occasions. During the Nigerian civil war in the 1960s, he was held as a prisoner in solitary confinement after being charged with conspiring with the Biafrans. In 1997, while in exile, he was tried for, convicted of, and sentenced to death for antimilitary activities, a sentence that was later lifted.
Soyinka has taught at a number of universities worldwide, among them Ife University, Cambridge University, Yale University, and Emory University.
CrossCurrents is funded in part by The Andrew W. Mellon Foundation. Additional support provided by The Revada Foundation and Samia Farouki.
Skip to content