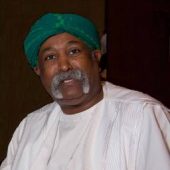 Ali Mahdi Nouri is a Sudanese actor and stage director who has demonstrated that theatre, music and drama have an invaluable role to play in promoting dialogue and supporting peacekeeping processes.
In 2000, Mr Nouri founded the Bugaa Theatre Group in Khartoum, internationally recognized today as the most convincing practical example of the instrumentalization of theatre for development and peace-building. Through the creation of his centre for Theatre in Conflict Zones, he succeeded in capturing the interest of morally and psychologically damaged young audiences, former child soldiers, victims and aggressors, and orphans bringing them to accept reconciliation and peace and, thus, aiding their successful reintegration into society.
Mr Nouri also is engaged in significant volunteer humanitarian work, notably with SOS Children's Village Sudan. He presented a paper at the United Nations General Assembly meeting on Child Rights, and was part of the delegation when the Sudanese Government signed the Convention on the Rights of the Child at the United Nations Headquarters in New York in 1990.