Mélisande Short-Colomb began her relationship with Georgetown University in 2017 as a descendant of two families enslaved and then sold by the Society of Jesus in 1838 to ensure the solvency of the institution. Following the Working Group on Slavery, Memory, and Reconciliation recommendations and with the support of President Jack DeGioia, Mélisande was one of two undergraduate students accepted into the College. Beginning as a freshman, and continuing to this day, she has developed an ongoing relationship with the Laboratory for Global Performance & Politics. Under the direction of Derek Goldman, Meli has written, developed, and will be performing her one person show Here I Am.
Meli serves on the Board of Advisors for the Georgetown Memory Project, is a founding Council Member of the GU272 Descendants Association, and was on the GU272 Advocacy Team. She was a leading voice in the student referendum on the $27.20 reconciliation fee, which passed with overwhelming student support on April 11, 2019. She received the 2019 Fr. Bunn Award for journalistic excellence for commentary in support of the "GU272 Referendum to Create a New Legacy."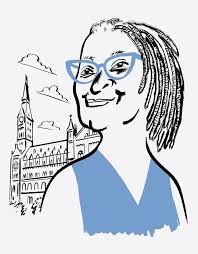 Additionally, Meli serves as a Research and Community Engagement Associate for The Lab, a position for which she is very well qualified given her high media profile. Meli is frequently invited to speak on the subjects of the GU272 and reparations. Her talks vary from testimony before the InterAmerican Commission on Human Rights, to speaking at the Brooklyn Historical Society, to a TEDx talk. Meli has been featured in print in outlets from the Washington Post and The New Yorker to the AARP Journal. Multiple news programs have had stories on Meli and she starred in a Full Frontal with Samantha Bee episode on reparations.
A native of New Orleans, LA, she retired from a lengthy culinary career, most recently as Chef Instructor for Langlois Culinary Crossroads, to relocate to Washington to attend Georgetown University. Her family includes four adult children and much-loved grandchildren, and scores of newly identified GU272 extended family members.