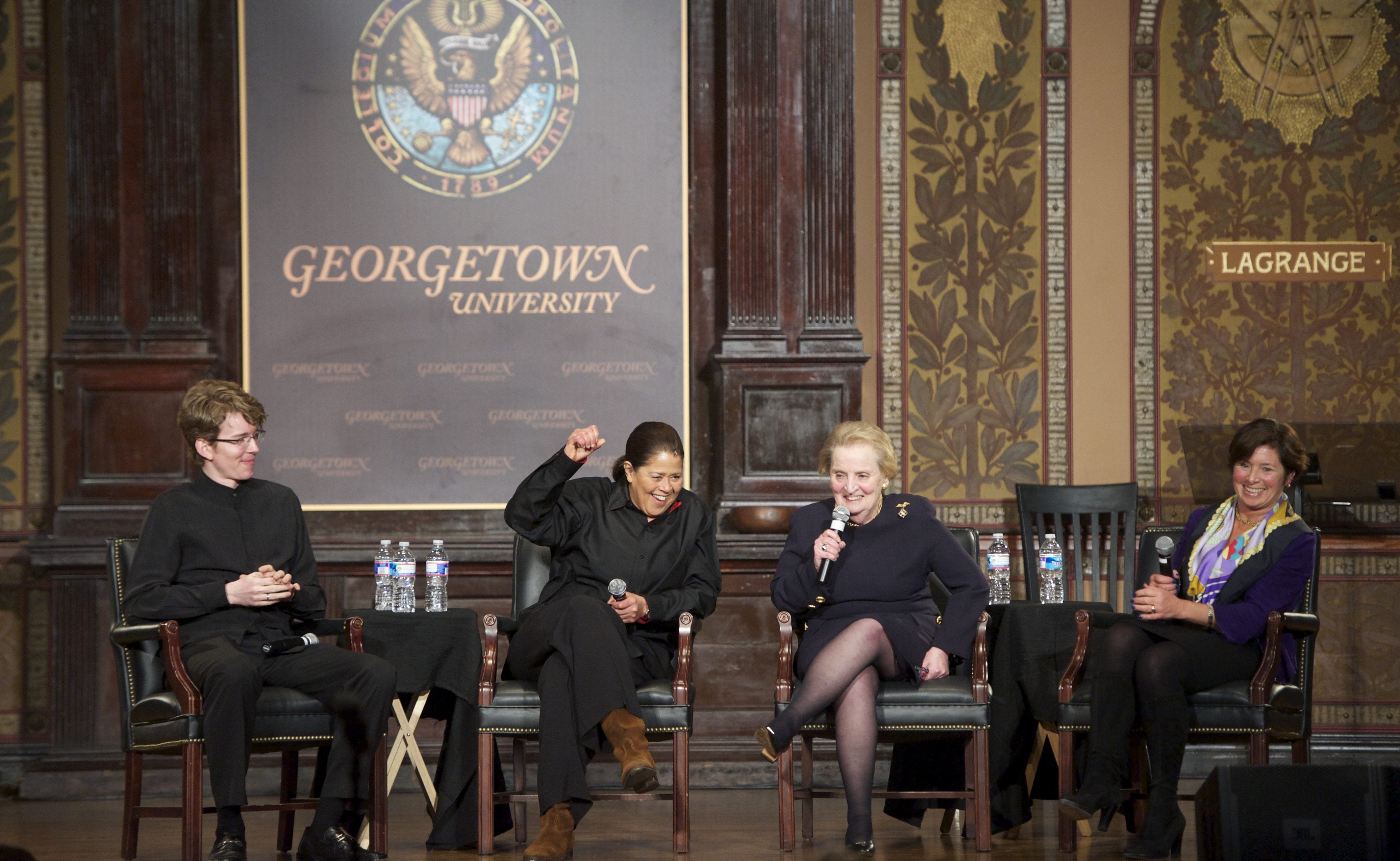 Residencies
The Lab has brought artists to Georgetown University over the past years to share their art, interact with students, and engage in dialogue surrounding performance and politics.
Somi
Presented as part of
"Petite Afrique" in concert

April 2019
Georgetown University
Washington, DC
Somi's residency feature two free events from the acclaimed transatlantic vocalist and songwriter Somi. The first, a full-scale concert performance of Petite Afrique, Somi's award-winning song cycle about the dignity of immigrants and the gentrification of Harlem's vibrant African quarter (Thursday, April 11 at 8pm, Georgetown University's Gaston Hall).  The residency also included various community engagement activities with students and faculty as well as a salon-style performance of selections from  Dreaming Zenzile, Somi's original modern jazz play based on the extraordinary life of South African singer and political activist Miriam Makeba (April 12, 4pm, Maria & Alberto De La Cruz Art Gallery).
Somi and her band continue to perform at international venues and stages around the world.  In her heart of hearts, she is an East African Midwestern girl who loves family, poetry, and freedom. The residency was sponsored by Georgetown SFS, with support from Georgetown College and the African Society of Georgetown.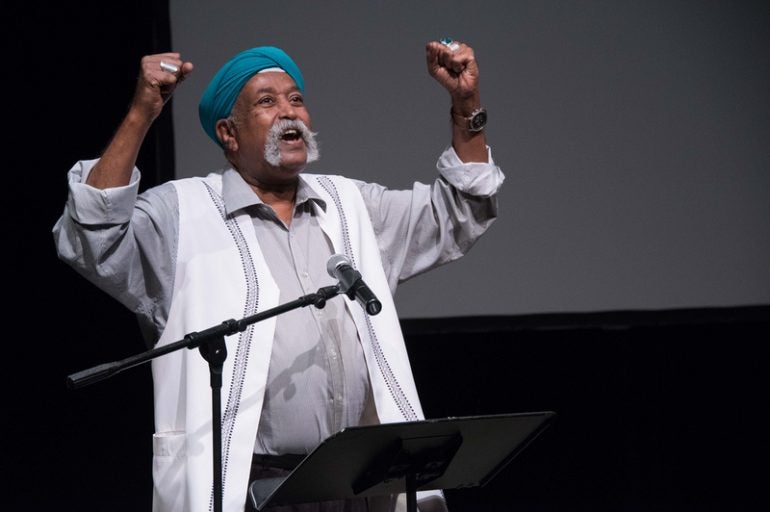 Ali Mahdi Nouri
October 2015
Georgetown University
Washington, DC
Lab Think Tank member Ali Mahdi Nouri has been in residence with The Lab many times over the years, leading workshops and visiting classes on campus. The Founding Artistic Director of Al-Buggaa Theatre based in Khartoum, Sudan, Ali Mahdi is remarkable artist and visionary thinker, who does groundbreaking humanitarian theater work with child soldiers, war orphans, victims, and perpetrators in addition to Founding the Al-Buggaa International Theater Festival. Ali Mahdi serves as the Vice-President of the International Theatre Institute, was named the UNESCO Artist for Peace in 2011. The Lab has an official partnership with Al-Bugaa Theater Company, which began in October of 2015.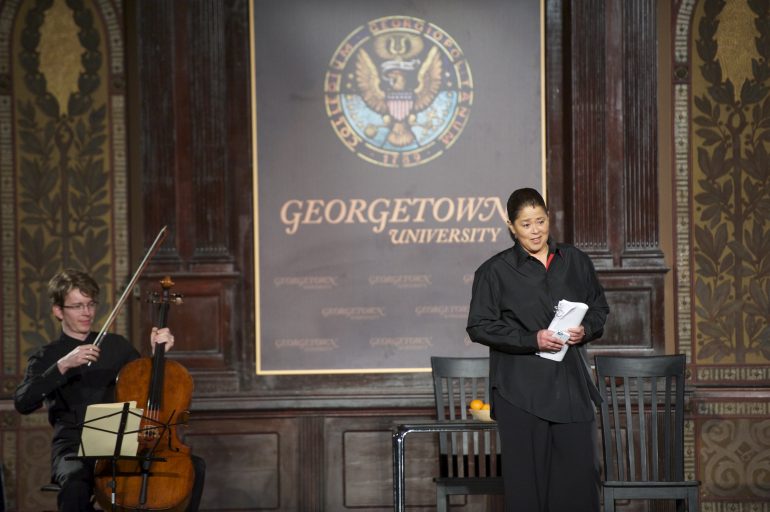 On Grace: Anna Deavere Smith
March 2013
Gaston Hall
Georgetown University
Celebrated playwright and actress Anna Deavere Smith and acclaimed cellist Joshua Roman participated in a residency with The Lab centered around the continued development of the work On Grace. The residency also involved public conversations with policy makers and members of the campus community, including Secretary Madeleine Albright, as well as classroom visits in the Department of Performing Arts and School of Foreign Service.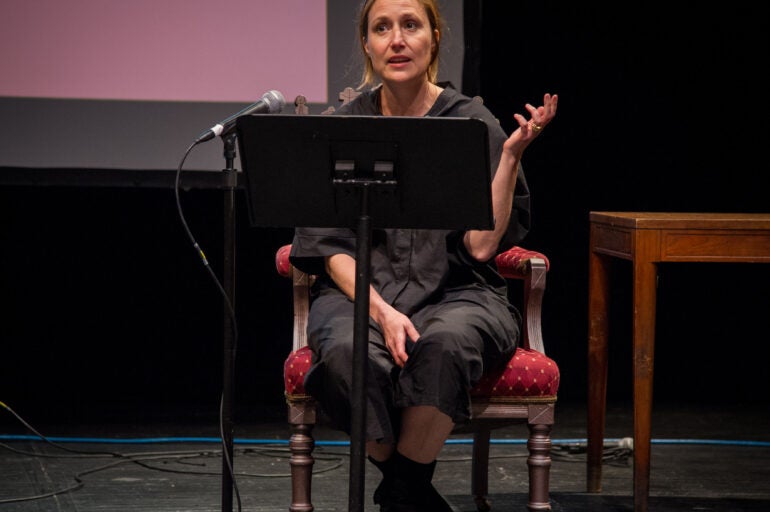 9 Parts of Desire: Heather Raffo
June 2012
Devine Studio Theatre
Washington, DC
Coinciding with the Convening on Global Performance, Civic Engagement, and Cultural Diplomacy, faculty and students from the University of Baghdad participated in a historic residency at The Lab, and presented a new Iraqi Arabic adaptation of 9 Parts of Desire by Lab Think Tank member Heather Raffo and translated and directed by Waleed Shamil. A portrait of the extraordinary (and ordinary) lives of a whole cross-section of Iraqi women: a sexy painter, a radical Communist, doctors, exiles, wives and lovers. 9 Parts of Desire delves into the many conflicting aspects of what it means to be a woman in the age-old war zone that is Iraq.
Supported by the National Theater / Ministry of Culture of Iraq in cooperation with University of Baghdad.