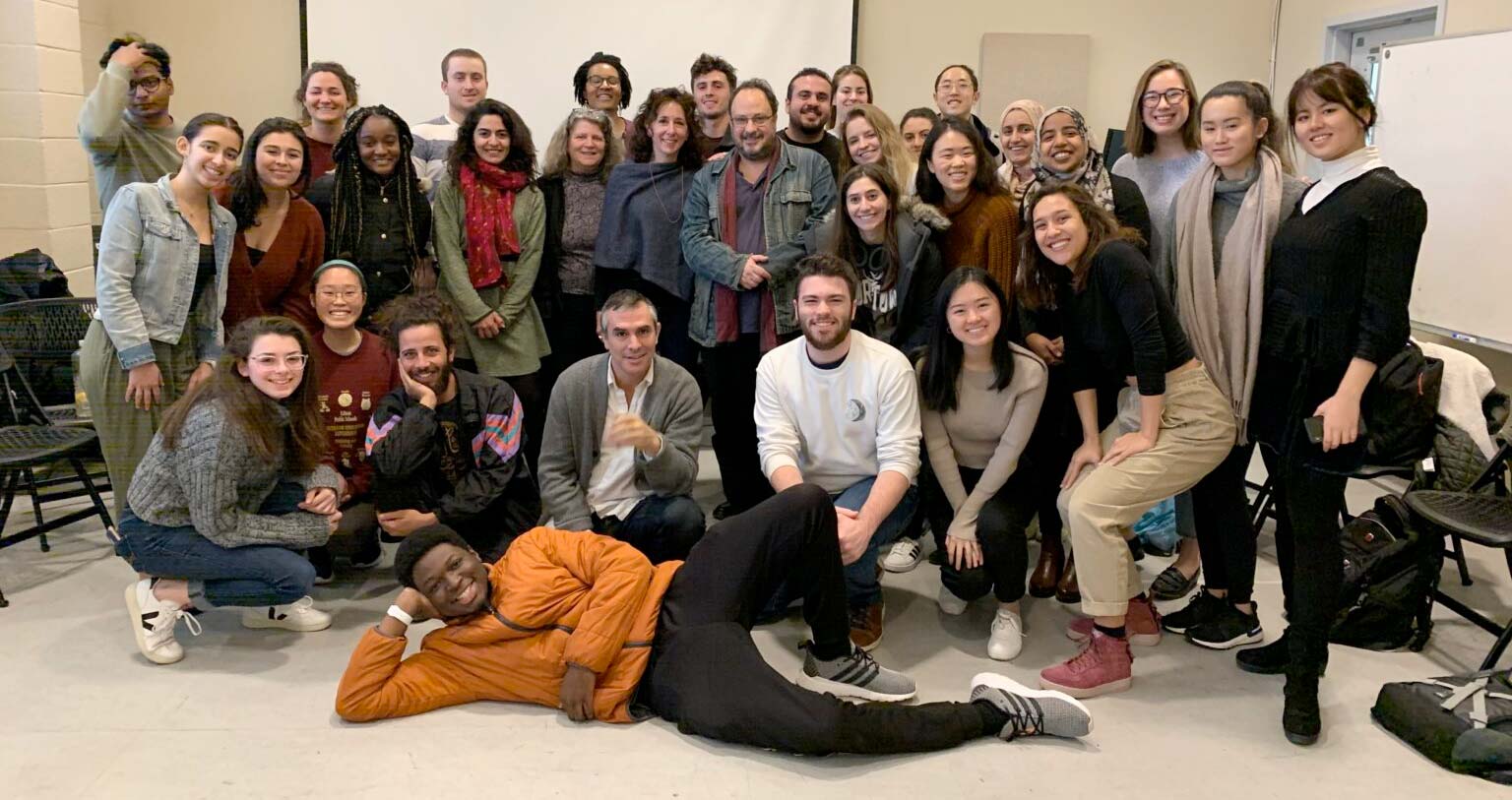 Lab PerForum
Since 2019 the Lab has conducted the Lab PerForum: a series of public discussions following performances at partner performances, such as The Kennedy Center. The Lab PerForum series provided intimate access to leading theater artists from around the world through panels, discussions, and interactive workshops. Through our partnership with the Kennedy Center's World Stages, The Lab's signature approach offers rare insight into the artistic approaches and social contexts of work from artists around the world who are using theater to engage the most pressing issues of our time. Check out our past PerForums below!
February 2020
"This one-woman show written and performed by Mary Jane Wells is based on the true story of a lesbian soldier in the U.S. Army: an outsider who wouldn't quit. She loved its challenges and thrived within that rigorous world. At the time she enlisted, before "Don't Ask, Don't Tell" was repealed, she was the only woman in her entire company and went on to lead a squad into combat. A survivor of military sexual trauma, she served on the battlefield alongside her assailant. Heroine is an incredible human story about one soldier's experiences, and what healing and forgiveness really mean."
February 2020
"Nominated for Quebec's 2016 Critic's Awards, Huff is a daring solo show by award-winning Cree actor and playwright Cliff Cardinal, one of the most exciting new voices in Canadian theater. In this wrenching, yet darkly comic tale, Wind and his brothers are caught in a torrent of drug abuse and struggling to cope with the death of their mother. Wind's fantastic dream world bleeds into his haunting reality, as he's preyed on by the Trickster through the hallways at school, the abandoned motel he loves more than home, and his own fragile psyche. With his signature biting humor and raw, vivid imagery, Cardinal expertly portrays over a dozen characters. " – Kennedy Center
January 2020
A Palestinian man decides to build a rocket to the moon in a shed. "This show is about people, about relationships between a father and a daughter, a mentor and an apprentice, a woman and her suitors," says writer and director Amir Nizar Zuabi. "Building a rocket is also a clear allegory of making art, for creating something extraordinary that the whole world must notice. If someone can get a rocket to the moon from Palestine, it's a celebration of our creativity, of our ingenuity. The rocket proves that we can be something."
March 2019
Making its U.S. premiere, this darkly comedic satire delves into the life of an affluent Egyptian family as they gather around the table for dinner. Although the meal never seems to arrive, the audience feasts on the absurdity and banality of these caricatures thriving in their self-absorbed philosophies. Created by acclaimed Egyptian playwright/director Ahmed El Attar, the play highlights the harsh indifference of the bourgeoisie in Egypt and the hollow exchanges which masquerade as human connection.
February 2019
Making its U.S. premiere, this collaboration between Denmark's artistic incubator Hotel Pro Forma and the Latvian Radio Choir daringly explores the Anthropocene, a new geological age characterized by the harsh impact of humanity on our vulnerable eco-system. Through a mingling of classical voice, electronica, dramatic staging, and movement, plus a dynamic backdrop of photography from NASA, this visual music performance addresses a broad range of environmental issues from climate change to soil erosion. Twelve unique soundscapes cover twelve different landscapes to tell the story of planet Earth and its future. In English.
November 2018
Set in barbershops in Johannesburg, Harare, Kampala, Lagos, Accra, and London,
Barber Shop Chronicles
welcomes you into this unique, intimate community where African men gather to discuss the world and their lives. These are places where the banter can be barbed but the truth is always telling. Following its critically acclaimed run at the Royal National Theatre in London, this "funny and joyous but equally poignant" play (
The Guardian
) will warm your heart. Directed by Bijan Sheibani.