After its celebrated world premiere in Washington as part of the GU SFS Centennial, The Lab is honored for collaborating with Human Rights Watch and Queen Mary University on a very special performance of Remember This: The Lesson of Jan Karski to commemorate Holocaust Remembrance Day and the 75th Anniversary of the Liberation of Auschwitz.
This performance was in London on Monday January 27th, 7:30 pm, at The People's Palace, Queen Mary University
Razia Iqbal moderated a post-show panel featuring Baroness Arminka Helic and QM Professor Penny Green along with David Strathairn and Lab co-director Derek Goldman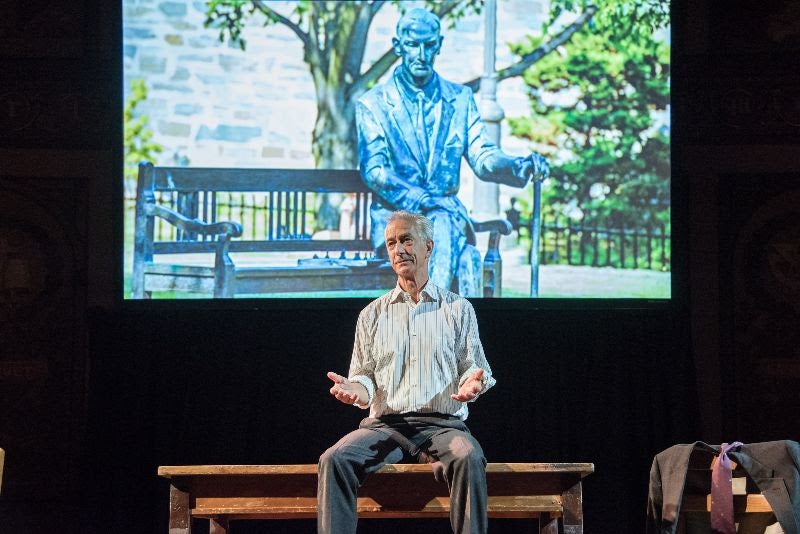 The Centennial Premiere
The opening night of the School of Foreign Service's Centennial Celebration on November 15th featured the Lab's performance of Remember This: The Lesson of Jan Karski. Co-authored and directed by Derek Goldman, the show stars Academy Award nominee David Strathairn (Good Night and Good Luck; Lincoln) in a virtuoso solo performance. The play explores the legacy of Jan Karski, Polish World War II hero, Holocaust witness, and late beloved Georgetown Professor. Building on earlier versions of the play with Strathairn and a larger ensemble, developed by The Lab and performed to much acclaim in New York, DC, Poland and other sites, this new tour-de-force solo performance brings the enduring lessons of Karski's extraordinary life—especially his belief in humanity, even in the darkest times, into the present moment.