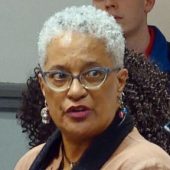 Mélisande Short-Colomb is a rising third-year student at Georgetown College, and, a founding member of the GU272 Advocacy Team. She also serves on the Georgetown Memory Project's Board of Advisors, as well as Council Elder of the GU272 Descendants Association. Mélisande is a descendant of two families sold in 1838 by the Society of Jesus to keep Georgetown College afloat. She is a recipient of a 2019 Fr. Bunn Award for journalistic excellence for commentary in support of the "GU272 Referendum to Create a New Legacy." The referendum was passed by overwhelming student support and vote on April 11, 2019.
Under the direction of Derek Goldman, Meli will be writing, developing, and performing her one person show Here I Am. The play interweaves her personal story of becoming a Georgetown student after discovering she was descended from slaves sold for the benefit of Georgetown, with archival excerpts that will bring in the voices of the slaves, the Jesuits, and others around the time of the sale.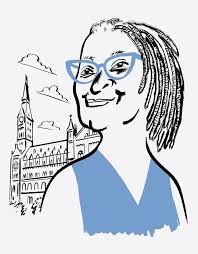 Additionally, Meli will serve as a Community Engagement Associate, a position for which she is very well qualified given her high media profile. Meli is frequently invited to speak on the subjects of the GU272 and reparations. She has appeared in venues as varied as the Inter-American Bank the Brooklyn Historical Society, and Columbia University. Meli has been featured in print in outlets from the Washington Post and The New Yorker to the AARP Journal. Multiple news programs have had stories on Meli, and she starred in a Full Frontal with Samantha Bee episode on reparations.
A native of New Orleans, LA, Mélisande began her studies at Georgetown in August of 2017, as one of two undergraduate students accepted into the college from the recognized descendant families. She retired from a lengthy culinary career, most recently as Chef Instructor for Langlois Culinary Crossroads, to relocate to Washington to attend Georgetown University. Her family includes four adult children and four granddaughters, and scores of newly-identified cousins.