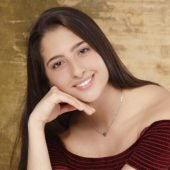 Lilinaz Hakimi is a senior at Bethesda Chevy Chase High School, enrolled in the full International Baccalaureate Diploma program. As a theater conservatory student and international relations enthusiast, Lilinaz is a high school intern at the Laboratory for Global Performance and Politics. Growing up in Iran, Lilinaz quickly found acting and art as a medium for self-expression. Living in a conservative community for all her childhood, she was able to take initiative, creating theater programs within her school and create pieces to perform alongside her classmates. 
After moving to the US in the 7th grade, Lilinaz quickly turned to foreign relations and international politics to gain a worldly view and to better understand global affairs. She took courses throughout her high school experience such as Comparative Government to open up the possibility of a future major in international relations. Through working with the Lab, Lilinaz hopes to merge her two passions for a greater good with the intersection of politics and theatre. 
In the past, she has worked with Iranian NGOs at the United Nations Women's Conference in New York to spread awareness about women suffering from HIV and Aids in Iran. She is a graduate of the Imagination Stage Theater Conservatory (2016-2018) as well as an active leader in her Mock Trial, Debate, and MUN clubs at school.