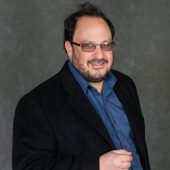 Derek Goldman is Professor of Theater and Performance Studies at Georgetown University and co-Founding Director of the Laboratory for Global Performance and Politics. In 2016 he was honored to receive the prestigious President's Award for Distinguished Scholar-Teachers. From 2007 to 2016, he served as Artistic Director of the Davis Performing Arts Center at Georgetown.
He is an award-winning stage director, playwright, adapter, producer, developer of new work, teacher, and published scholar, whose artistic work has been seen around the country, Off-Broadway and at numerous major regional theaters, as well as internationally. His engagement with global performance in recent years has taken his work to the Sudan, China, Poland, South Africa, Australia, Peru, Bulgaria, Armenia, Chile, Canada, New Zealand, Spain, France, and throughout the UK, and into collaborations with artists from Iraq, Pakistan, Belarus, Israel, Afghanistan, Palestine, the Congo, Czechoslovakia, India, Serbia, among other places.
He has worked at theaters such as Steppenwolf, Lincoln Center, Arena Stage, Folger Theater, Round House, Everyman Theatre, Baltimore CenterStage, Mosaic Theater, Synetic Theater, Theater J, the Kennedy Center, Ford's Theater, McCarter, Segal Center (Montreal), Northern Stage, Forum Theater, Olney Theater Center (where he is an Artistic Associate), and he is the author of more than 30 professionally produced plays and adaptations, including work published by Samuel French and produced internationally, and he has directed over 80 productions. Recent artistic highlights include A Streetcar Named Desire at Everyman (Wall Street Journal best of 2016); Our Class at Theater J (Helen Hayes Nominated for Outstanding Resident Play); his celebrated production of George Brant's Grounded at Everyman, Olney, and Northern Stage; The Diary of Anne Frank at Olney; The Brothers Size at Everyman Theater (many year-end awards including Baltimore Magazine's Best Production of 2011-2012); his world-premiere adaptation of David Grossman's celebrated novel Falling Out of Time (Theater J); his new adaptation of Three Men in a Boat with Synetic (Helen Hayes Nomination for Outstanding New Work/ Adaptation). Ongoing projects include Hope Dies, a new play commissioned by Ford's Theater inspired by and adapted from the work of the legendary Studs Terkel and My Report to the World, a new play about Polish World War II hero and Holocaust witness Jan Karski featuring David Strathairn which has been performed by the Lab in Poland (in conjunction with the opening of the POLIN Museum of the History of Polish Jews); New York and DC. Full bio here.