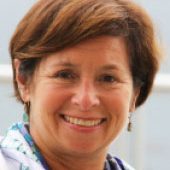 Ambassador Cynthia P. Schneider PhD teaches, publishes, and speaks about the importance of culture in diplomacy and international affairs, while putting these ideas into practice everywhere from war zones to Hollywood writers' rooms. 
At Georgetown, Prof. Schneider teaches in the School of Foreign Service and co-directs the Laboratory for Global Performance and Politics, an interdisciplinary initiative with the goal of humanizing global politics through the power of performance. From 1984-2004, she taught art history at Georgetown, and wrote books and organized museum exhibitions on Rembrandt and seventeenth century Dutch art. 
Dr. Schneider co-directs the Timbuktu Renaissance, a Mali-based platform for countering extremism and building peace and sustainable development through a focus on culture, which grew out of her work leading the Arts and Culture Dialogue Initiative at the Brookings Institution's Center for Middle East Policy. She also co-directs the Los-Angeles-based Muslims on Screen and Television (MOST Resource), which works with TV and film writers and producers to develop authentic and nuanced characters and plots involving Muslims and Muslim majority regions. 
As US Ambassador to the Netherlands (1998-2001) she led initiatives in public and cultural diplomacy, biotechnology (organized major international conference Biotechnology: the Science and the Impact, the first of its kind in the State Department as well a conference at the EU in partnership with Margot Wallström EU Minister of the Environment on Biotechnology and the Environment), cyber security (organized a conference with Rand and Shell on cyber security, featuring Esther Dyson), and military relationships and sales (awarded the Pentagon's Exceptional Public Service Award). 
Prof. Schneider has published on current issues in popular and policy outlets (USA Today, Los Angeles Times, CNN, Foreign Policy, Business Insider, Huffington Post), and has spoken around the world on topics involving foreign policy and politics and culture, including at TED. Her current book (in progress) is Culture Matters: Re-Imagining Diplomacy. 
Ambassador Schneider has a BA(1975) and PhD (1984) from Harvard University. schneidc@georgetown.edu.