CrossCurrents is a citywide biennial festival that highlights innovative artists from around the world who are harnessing the power of performance to humanize global politics. 
The festival will feature full-scale productions, residencies, concerts, and workshops, culminating in The Gathering, a four-day event with 200 visionary artists from around the world.
"CrossCurrents is in many ways the epitome and culmination of The Lab's seven years of work, as we bring together groundbreaking artists and performances from around the world that are tackling society's most challenging issues. These artists give us hope, and CrossCurrents will celebrate and amplify the power of their innovative work to offer models for resistance and transformation in these difficult times."
-Lab Co-Director, Derek Goldman
Watch the CrossCurrents trailer now!
---
Programming includes: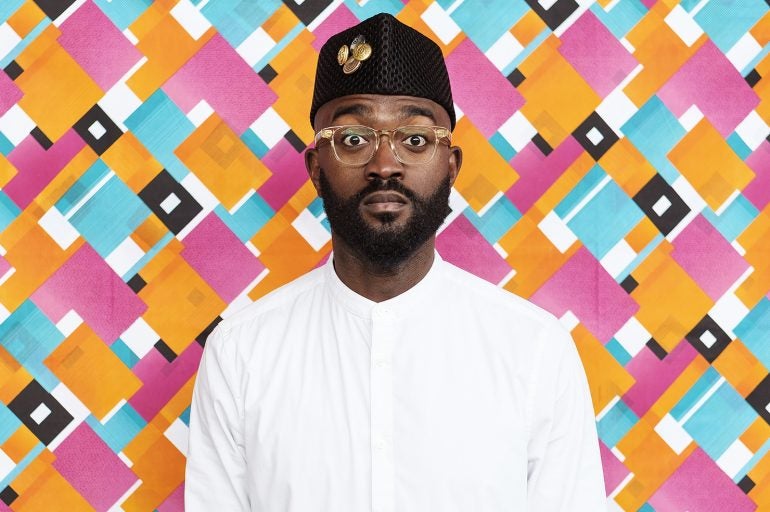 Just announced:
Throughout The Gathering, The Lab will present a suite of solo and pair performances from around the world, with limited ticket availability for the wider public.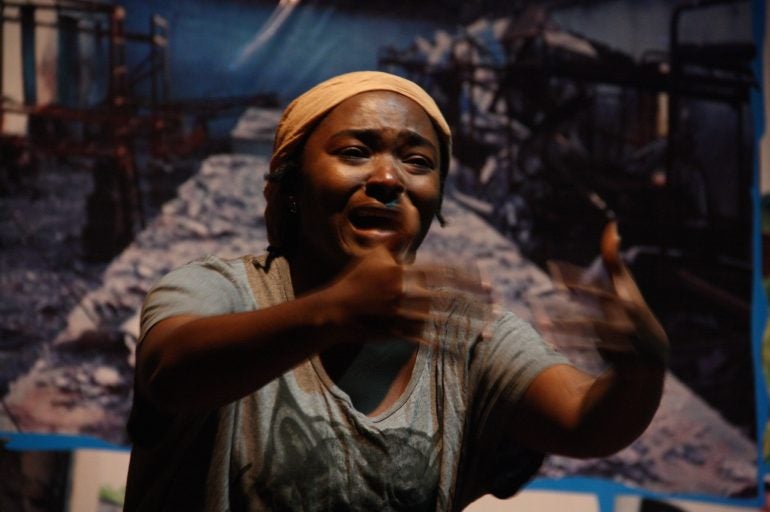 The Chibok Girls: Our Story
The US premiere of Wole Oguntokun and the Renegade Theatre's searing work of testimonial theater about the abduction of 276 girls from their school in the Nigerian town of Chibok by the Boko Haram in 2014, and the enduring reverberations of their story. Performed in tandem with Nobel laureate Wole Soyinka, premiering excerpts from his new work A Humanist Ode for Chibok, Leah.
May 7–9
Gonda Theatre
The Davis Performing Arts Center
---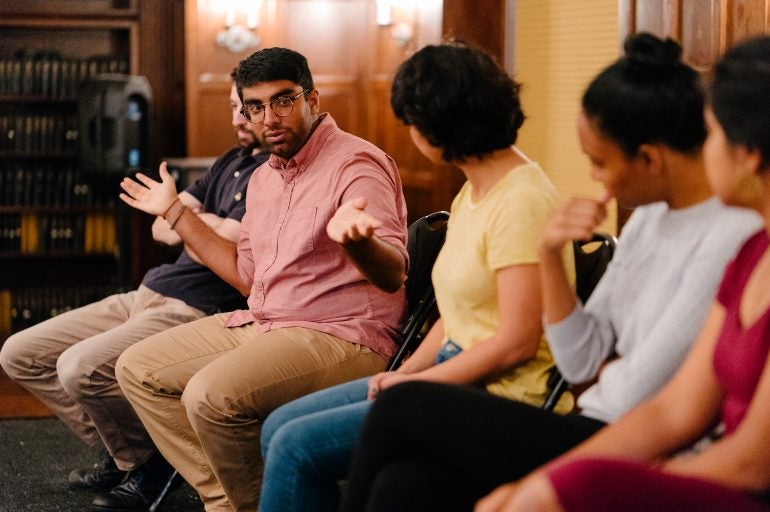 The Gathering
May 8–11
The Lab will bring together more than 200 visionary artists from more than 40 countries at every stage of their careers to celebrate and highlight how their innovative work harnesses the power of performance to address the pressing challenges of our world.
In addition to the performances of The Chibok Girls: Our Story, a suite of solo and pair performances from around the world will run in repertory throughout The Gathering (exact titles and times here), with limited ticket availability for the wider public.
While the sessions are by invitation only, they will be available to the public via livestream by HowlRound Theatre Commons, and members of the press with credentials are welcome to attend.
---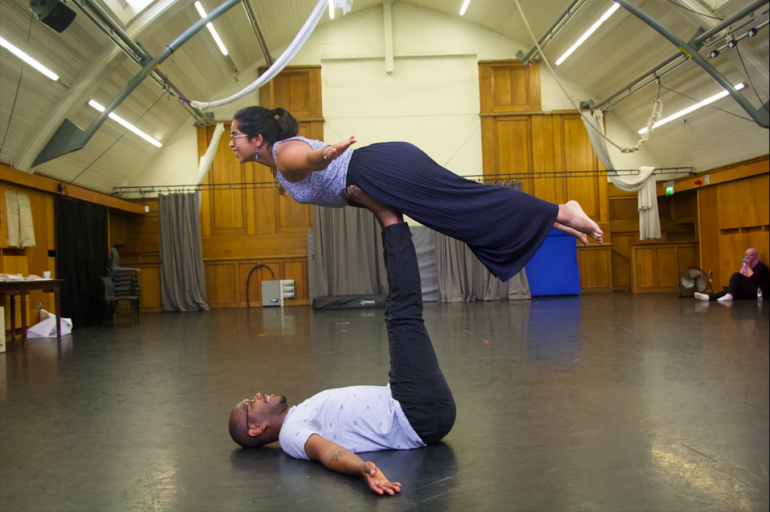 EUNIC Artist Residency
May 6-7
EUNIC Washington, the network of European Union National Institutes for Culture, has developed together with The Lab a week-long European Theater Residency project, featuring theater artists from seven European countries.
As a prelude to the official opening of The Gathering, the European artists will participate in a public "Meet & Greet" discussion on May 6, where they will share their personal experience in collaborative theater making and addressing pressing social and political topics in their work.
---
Past Programming Includes: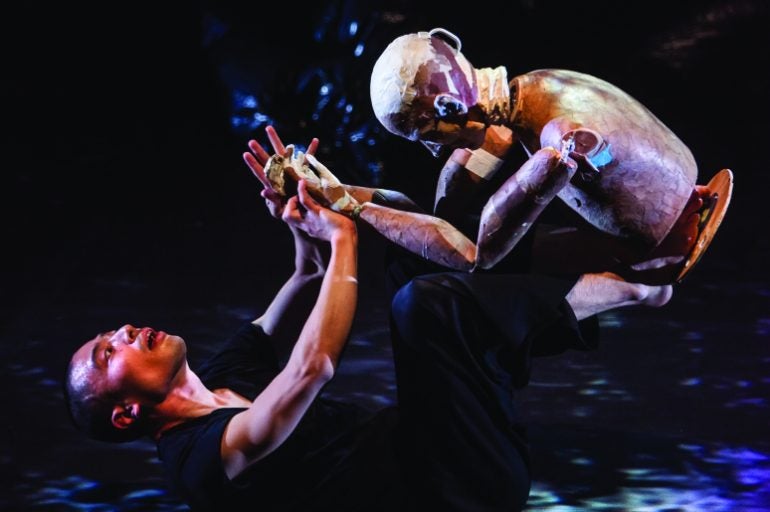 Falling Out
New York's Phantom Limb Company, known for its marionette puppetry and multimedia theatrical production, has created this haunting response to the Fukushima nuclear disaster in collaboration with butoh dance master Dai Matsuoka. Falling Out is the company's final installment in an environmental trilogy exploring our changing relationship to nature over time. Presented by The Lab, in partnership with the Kennedy Center.
April 4–5
Terrace Theater
the Kennedy Center
---
Somi in Residence
A free, full-scale concert performance of Petite Afrique, Somi's award-winning song cycle about the dignity of immigrants and the gentrification of Harlem's vibrant African quarter and an intimate salon performance from Dreaming Zenzile, a modern jazz opera based on the extraordinary life of South African singer and political activist Miriam Makeba.
April 11 & 12
Georgetown University
FREE
---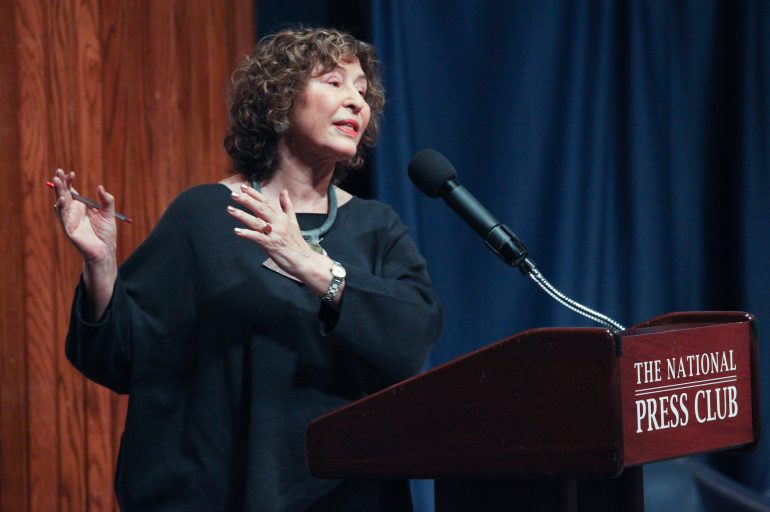 Republics of Imagination
An evening of cross-cultural performances inspired and co-curated by celebrated author Azar Nafisi (Reading Lolita in Tehran, The Republic of Imagination), highlighting the dangerous power of performance and literature in repressive times. Presented in partnership with Woolly Mammoth Theatre Company. The performance will feature an ensemble of leading DC actors including Rick Foucheux, Jon Hudson Odom, Howard Shalwitz and others, and will be accompanied by a discussion with Azar Nafisi, Derek Goldman, the participating artists, and David Smith, Washington DC bureau chief of The Guardian.
April 15
Woolly Mammoth Theatre Company
FREE
---
Beyond CrossCurrents
Washington D.C. is a vibrant city with a history rooted in art and culture. We encourage you to join our partners at their events in the city while you enjoy CrossCurrents at the same time. These partnerships are an effort to continue building Washington D.C. as a place where currents cross and artists working at the intersection of performance and politics are uplifted.
---
CrossCurrents Collaborators
CrossCurrents benefits from expansive partnerships with theaters, embassies, museums, and policy organizations to produce a diverse range of discussions, workshops, residencies, and performances across numerous venues.
To date, our CrossCurrents collaborators include:
Alliance for New Music-Theatre, Arena Stage at the Mead Center for American Theater, the British Council, Cambodia Living Arts, Edinburgh International Culture Summit, EUNIC, Smithsonian's Freer|Sackler, the Goethe-Institut, Imagination Stage, Mosaic Theater Company, Octopus Theatricals, Olney Theatre Center, The Romanian Cultural Institute, Round House Theatre, Shakespeare Theatre Company, Studio Theatre, The John F. Kennedy Center for the Performing Arts, Theater J, Woolly Mammoth, as well as the Embassies of Austria, Czech Republic, Greece, Italy, Spain, and Sweden.
CrossCurrents is funded in part by The Andrew W. Mellon Foundation. Additional support provided by The Revada Foundation and Samia Farouki.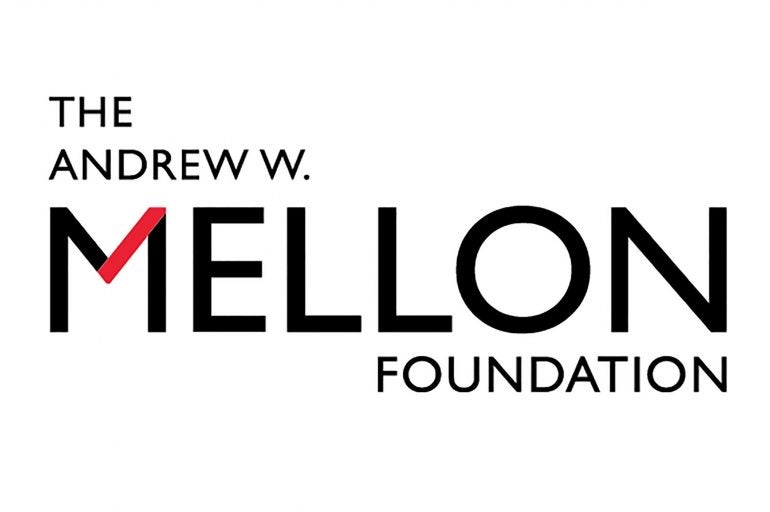 CrossCurrents is proud to celebrate the Centennial Anniversary of Georgetown University's School of Foreign Service.
Marketing support by PatientRock Marketing.
---
Photo Credits (from top)
Photo of Phantom Limb's Falling Out courtesy of Sierra Urich. Photo of Phantom Limb's Falling Out, courtesy of John Kohler Arts Center. Photo of Lab Think Tank member Azar Nafisi, photo by Jordan Silverman/Georgetown University. Photo from Wole Oguntokun's Chibok Girls: Our Story, used with permission. Photo of Lab Fellow Manuel Francisco Viveros and Devika Ranjan by Michaela Farrell. Photo of Lab Fellow Faisal Abu Alhayjaa by Baha Sweden.
Falling Out is co-presented in collaboration with The John F. Kennedy Center for the Performing Arts. It will be a part of the Kennedy Center's Direct Current Festival.
The CrossCurrents festival is not associated with the CrossCurrents Foundation.