Call for Applications
Applications Due: June 7, 2021
Program Dates: October 2021 – May 2023
PROGRAM OVERVIEW
We are currently inviting applications for The Lab's 2021-2023 cohort of the Global Fellows Program. Applications are welcomed from performing artists who also define themselves as community-based and/or globally-minded activists, educators, or policymakers working at the intersection of performance and politics/social justice. 
The Fellows Program is a serious commitment. Please read through the program outline thoroughly before beginning your application. 
Fellows will join an intimate community of like-minded peers and groundbreaking artist-activists from around the globe whose work engages the most pressing issues of our time. At the same time, Fellows will be able to build relationships with Lab Team that facilitate the Fellows Program. The Program brings together artists from across cultural, geographic, disciplinary, and generational boundaries to cultivate interdisciplinary conversation and sharing of practice.
"Being one of the Lab Fellows means so much to me – as an artist, as a Syrian woman, and as a refugee. This is an amazing group of people, and I'm so proud to be one of them. We are more than friends, we've been united under the name of humanity, culture, and art, a connection that eclipses the different places we're from. These are relationships that will last forever." – Reem Alsayyah, Inaugural Lab Fellow 
"Never have I thought a number of people over the world would feel like a family like this group does now to me (I cried once when we were having a monthly meeting as it was so moving, that rarely ever happened). I'm grateful for this global family." – Tra Nguyen, Current Lab Fellow
"Practicing and existing in the global south occasionally disadvantages you from the rest of the world. There appears to be an invisible man-made wall for meaningful association and collaborations. Being part of the Lab has unfastened precious and stimulating connections with people from all over the world. I now have a second home which has broken all those barriers, pays attention, and expresses genuine interest in what I am feeling and doing."-Lloyd Nyikadzino, Current Lab Fellow
PROGRAM SPECIFICS
The Lab Fellows program is structured around the following primary activities: 
Monthly virtual meetings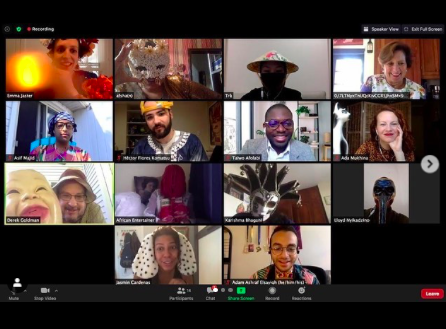 All Fellows are required to attend 90-minute virtual meetings via Zoom, hosted monthly over the course of the Fellowship. Exact dates and times will be determined by September 2021 in advance of the Fellowship start date. Fellows must commit to attending every meeting. Each virtual meeting will be centered around a theme chosen by the Fellows and each Fellow will be asked to lead a discussion for part of one meeting. These meetings may also occasionally include guest speakers from The Lab's expansive network of leading artists and changemakers.
*Note: High speed internet is necessary to connect to Zoom.
Annual in-person convenings (two total)        
All Fellows will attend a weeklong in-person convening during the course of the Fellowship and a second, more public facing gathering to culminate the program in the spring of 2023. Travel and accommodation for both of these convenings will be fully funded.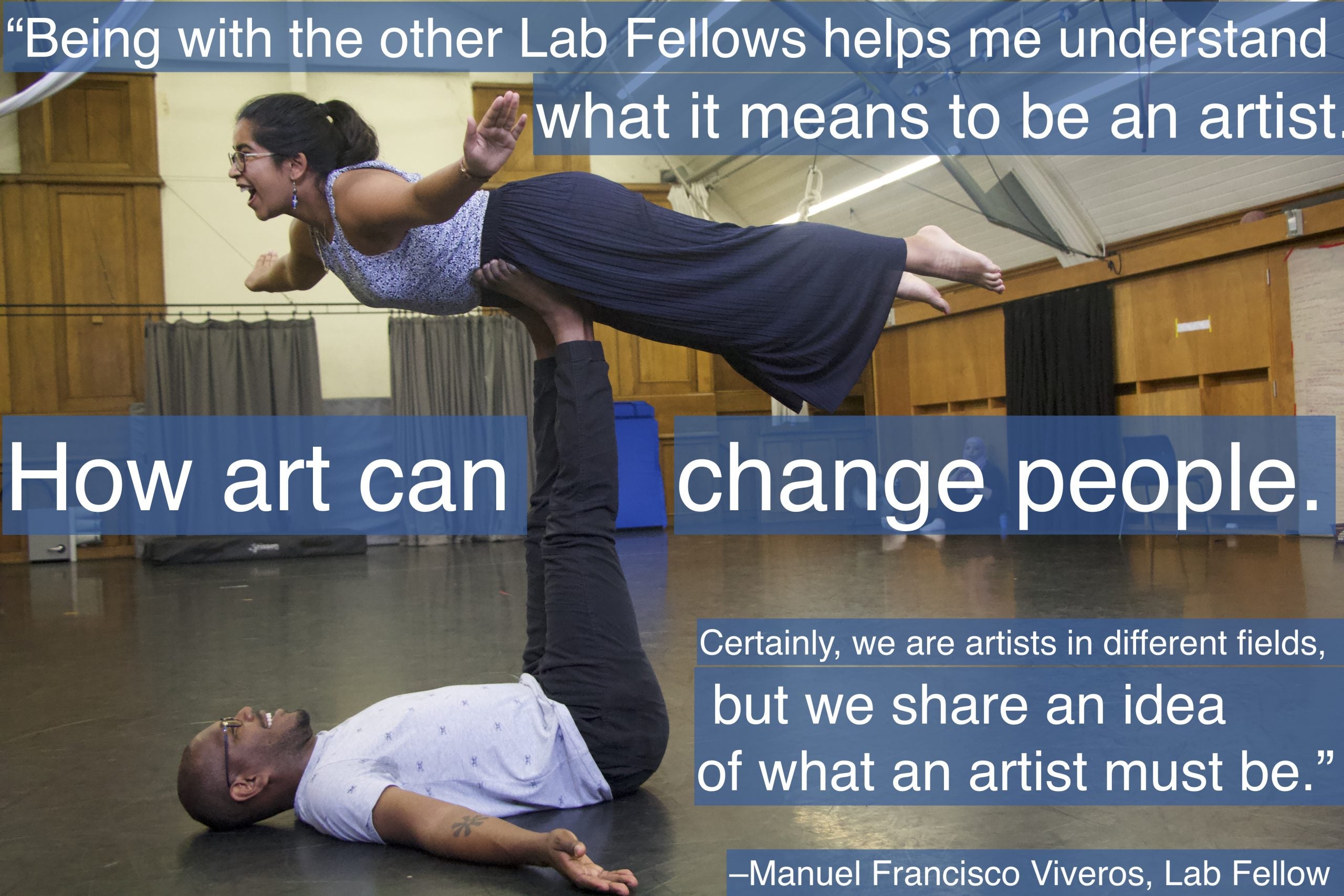 These convenings will bring Fellows together in a rigorous and intensive environment, with programming that addresses the issues and challenges they are facing in their own work. 
The convening locations will be determined based on maximum accessibility for all participants. Fellows will participate in workshops, attend performances, and lead/contribute to discussions associated with the development of new theatre, performance, and art. Each Fellow will be required to attend the convenings.
A second in-person convening will take place in spring 2023. Fellows will have the opportunity to share their work with the broader Lab community and their international partners. Details about this convening will be shared with Fellows as the dates approach.
"Despite not being able to convene in person due to COVID-19, the online engagement with Lab staff and my fellow colleagues has been inspiring, thought-provoking and constantly reminds me of the power of theatre in our world…"-Karishma Bhagani, Current Lab Fellow
Access to funds 
During the program, each Fellow can request up to $2,500 annually in funds from The Lab to support a range of activities. Fellows can propose to use funds for: travel to attend conferences and residencies, involvement in research trips and festivals, new collaborations with other Fellows, the development of individual work, or other relevant activities. Fellows are responsible for reporting to The Lab on these funded activities, including in the form of blog posts, social media, or other written reports.
Attending and/or participating in Lab event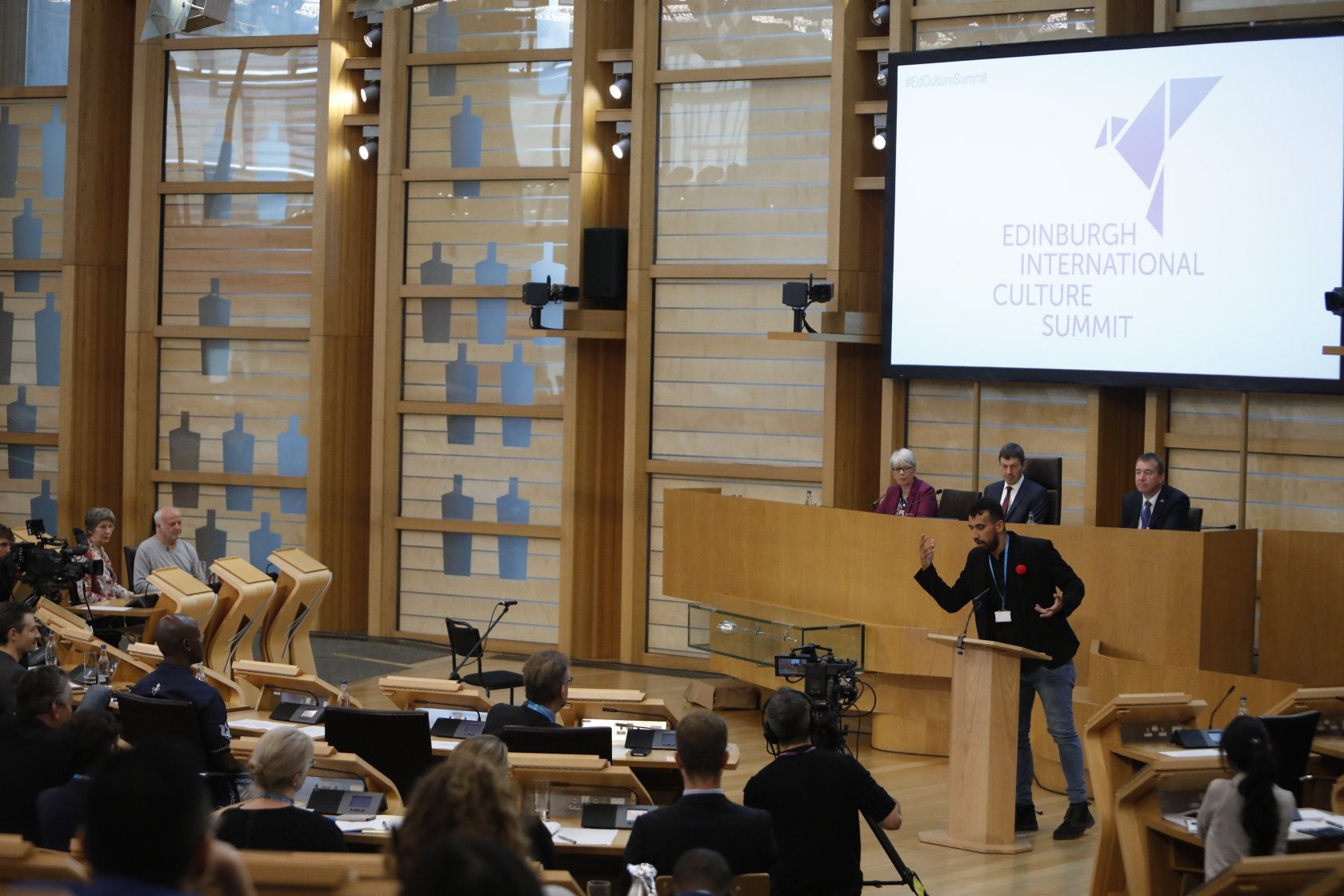 Fellows are encouraged and welcomed to interact with Lab programming held at Georgetown and around the world, including productions, workshops, residencies, co-produced events, the International Theatre Institute's World Congress, the Edinburgh International Culture Summit, and more. The Lab prioritizes opportunities for Fellows to participate in and have access to these projects and artists, whether as active collaborators, assistants/associates, or observers. Participation is not required and will depend on Fellows' individual availability. Existing Fellows have developed numerous collaborative projects among themselves, often working not only across cultural borders but also across disciplines and genres in exciting and new configurations. This kind of collaboration among Fellows is strongly encouraged.
We strongly suggest preparing your application in advance in a separate document and then pasting responses into the online application. You will find all of the questions for the application at the link above or please reference the PDF document of Global Fellows Application Questions 2021-2023.
After reviewing applications, Lab staff may request additional information from applicants. If need be, we will reach out for a Zoom interview. All applicants will be notified of their status in August. The Fellowship will take place from October 2021-May 2023.
Any questions should be directed to labfellowship@gmail.com. 
For more about the Lab Fellows, watch this video from the 2018 UK residency.
"The most valuable part of The Lab's Fellowship is an amazing opportunity to meet with first-class artists globally. As an artist-scholar, the idea of networking and connecting is central to my career. With the pandemic came isolation and this made the need to reach out and be reached out to very important. The Lab's fellowship program afforded me this privilege. I am building relationships with artists and practitioners that are already leaders in their countries."-Taiwo Afolabi, Current Lab Fellow